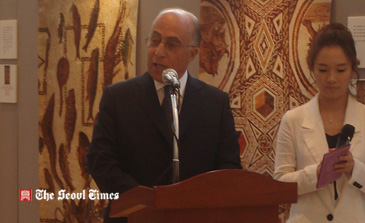 Tunisian Ambassador to Seoul Mustapha Khammari
Tunisian Ambassador to Seoul Mustapha Khammari hosted an exhibition of mosaics' photos and replicas under the title of "Tunisian Mosaics" in commemoration of the 40th anniversary diplomatic relations between Tunisia and South Korea.Scores of high-profile guests were invited to the opening ceremony for this exhibition held at the Raemian Gallery in Unni-dong, Jongno-gu, Seoul on May 29, 2009.Among the guests were Mr. Kim Jin-Soo, director-general of the Ministry of Foreign Affairs and Trade's African and Middle Eastern Affairs Bureau, and Mr. Alan Timblick, head of Seoul Global Center of the Seoul Metropolitan Administration.Both of them delivered congratulatory speech.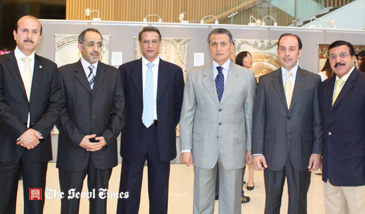 Top foreign envoys at Tunisian Mosaic Exhibition
The exhibition was designed to discover some of the most renowned artistic oeuvres from the unique Tunisian mosaic collections which date back to the 2nd and 3rd centuries A.D.In a welcoming speech Tunisian Ambassador to Seoul Mustapha Khammari said "this exhibition is planned to build more bridges between the two nations."
The Tunisian envoy dubbed this exhibition as "the beautiful and meaningful exhibition of photos and replicas illustrating thousands of years of Tunisian history."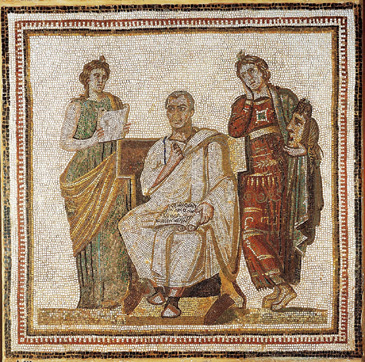 The famous mosaic from Sousse, one of the masterpieces of the Bardo Museum. Virgil listening to two muses dictating his poems. This is probably the most faithful portrait of the author of the Aeneid.
Mosaics, which is the art of creating images with the assemblage of small pieces of colored stones or other material, was born somewhere in the Mediterranean basin and used initially as a decorative art of floors and pavements in ancient Punic and Roman villas.Splendid mosaics floors are found in Roman villas in Carthage and still seen in a unique collection in Bardo Museum in Tunis, Tunisia.
For details or inquiries please contact the Tunisian Embassy in Seoul at 790-4334.