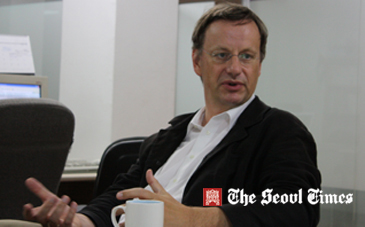 Swiss Prof.Dr. Ludger Hovestadt visits Seoul for a conference on combating carbon emissions and climate control.
Prof. Ludger Hovestadt from the ETH (Swiss Federal Institute for Technology), Zurich, visited Seoul recently, to talk about sustainable energy, as part of The Third Connected Urban Development (CUD) Global Conference on the 21-22 May 2009 at the Westin Chosun Hotel. The conference was co-hosted by The City of Seoul and global telecommunication company CISCO. The foundation of the CUD is a commitment to the Clinton Global Initiative (CGI), to reduce CO2 carbon emissions, addressing the challenges of global climate change and sustainability.Seoul was one of the first three founding cities to collaborate on CUD initiatives, along with San Francisco and Amsterdam, who have both hosted previous conferences. Other cities to have joined CUD since its establishment include Madrid, Lisbon, Birmingham and Hamburg, in 2008. The theme of the Seoul conference was "Connecting Cities for Sustainable Living: An Urban Revolution."Prof. Hovestadt, who is the Chair of Computer Aided Architectural Design (CAAD) at ETH, Zurich, led a discussion on "The E-Planet," as part of a plenary session at the CUD conference on "Connected and Sustainable World—Urban Eco-Map and Planetary Sensing." The need for change on how we obtain, provide and manage energy, not only within in our homes and cities, but on a more global scale is just one of the Swiss scientist's primary concerns and research interests. Taking time out from his busy schedule at the conference and other scientific conventions around Asia, Prof. Hovestadt, talked to The Seoul Times about sustainable energy, the digital future and a tiny microchip device developed at ETH that could radically change our approach to how we utilize electrical energy. According to the professor the answers to our energy problems are simple and not quite as complex as think. What complicates and confuses people on the energy issue is a kind of bat and ball political arena, which has created a hysterical panic, that energy sources are becoming deeply scarce, even privileged and that we must all pay the price for such a terrible outcome with catastrophic proportions. That is of course, if we are to believe the disastrous environmental picture Al Gore has painted for us in his documentary movie "An inconvenient Truth." Prof. Hovestadt does not believe in Al Gore's apocalyptic nightmare vision. His belief is that science and technology have the answers and that we could be now on the verge of a much safer, cleaner affordable energy. "For too long now, humanity has been looking down below its feet in its search for energy, when in truth there is far more renewable energy above the surface, we should be looking up, not down" Said the professor, referring to the immense potential of solar energy. The development of solar energy and nanotechnology is becoming so advanced that now there is tremendous opportunity with limitless possibilities. These include a transparent solar film which, at a fraction of the cost of silicon cells, are far more robust and energy intensive. The comparison, Prof. Hovestadt made was that solar technology was on par with digital technology advancements with computer memory, in that once upon a time storage capacity for hard drives were kilobytes, then megabytes, gigabytes and now even terabytes are possible for consumers. And just as capacity grew, the cost of producing them fell and made them more widely accessible.In the not so distant future, he also noted that energy farming will become more wide spread, cost effective and highly practical. "Just think," said the professor with a smile, "you could have all your solar energy on top and still have vegetables growing underneath and why stop there, building windows or perhaps even the spray paint of your car could soon be generating power." However, the professor pointed out technology should not just be about making energy, but also conserving energy or using it intelligently. Why take all the responsibility of doing that by yourself when in a small microchip can manage all that for you? That was exactly the question that Prof. Hovestadt and his colleagues at the Swiss Federal Institute, looked into a few years back, when considering a new energy efficient type of electrical design for the house of future. The result was a tiny device called the "Digitalstrom" a microchip that controls and organizes all household devices.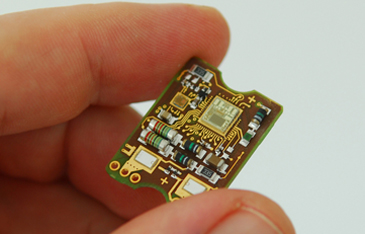 The Digitalstrom, regulating and controling electric systems within the home.

The Digitalstrom monitors and regulates electrical current in the house, switching off devices completely or powering them down into low standby mode, from only a few switches in the home. This innovative and highly practical artificial intelligent system is centrally controlled from the sophisticated Digitalstrom microchip, which is no bigger than size of a small coin. It can also be activated remotely via telecommunications over the internet, a PDA or even a cell phone. "No longer will you have to worry, when you leave the house, have I left the iron or oven on, you can quite easily get that information and send a request to the Digitalstrom to deal with it" says the professor. It is also possible to monitor the amount and cost of electricity being used in the home and program it. It even checks faults in devices that are running, for example a broken seal in a refrigerator, which is using more power than it should be. The system has been in development for 3 years now, and is soon to become the standard in electrical wiring in newly built houses in countries in central Europe. The collective result of this possibility, would save millions of Euros and ease power consumption from national electrical power grids in unnecessary usage, not to mention lowering the risk of fire damaged homes through faulty appliances or over strained power circuits in the home. Prof. Dr Hovestadt, is confident that science and technology is providing much more ways to produce and conserve energy that even someday, we may even become totally self sufficient, in our own power management, with cleaner, renewable energy. "If we embrace these new technologies, there would be absolutely no need for traditional fossil fuel and certainly not nuclear power stations, without having to resort to turning the clock back to living like cavemen, power is a big part of our lives, we need it, and there is sufficient energy around us not to make, any change to our lifestyles. The gap is closing, we can now provide enough viable energy solutions to make the required energy we need and conserve it, to a very cost effective level." To find out more about the Digitalstrom, Connected Urban Development, or Prof. Dr Hovestadt and his work at ETH, Zurich (The Swiss Federal Institute of Technology) please visit the following links:DIGITAL STROMwww.digitalstrom.orghttp://www.youtube.com/watch?v=UIfbRY1AifECONNECTED URBAN DEVELOPMENThttp://www.connectedurbandevelopment.orghttp://www.youtube.com/watch?v=NfRVCaoRnggProf. Dr Ludger Hovestadtwww.caad.arch.ethz.ch