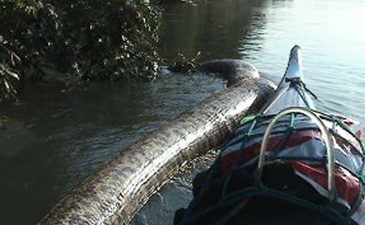 40-meter-long snake found in Amazon

Nearly half 100-meter-long gigantic snakes, often depicted in ancient epics, may emerge as real ones in front of our eyes as overseas media keep reporting the presence of them.The Ulster Star of Great Britain recently reported that Lisburn men spotted a giant anaconda as long as 40 meters in the middle of Peruvian Amazon.Also Daily Mail of Great Britain earlier this year quoted the New Straits Times of Malaysia as reporting that local villagers living along the Baleh River in Borneo found the 1,000-foot-long mythical snake.The following is the full story of the reports.
Ulster Star's story:
IT SOUNDS like an Indiana Jones adventure. After 23 years of research including the detailed study of ancient art, cultures spanning 3,000 years and three continents to the latest in satellite imaging technology, a father and son make an extraordinary trip deep into the heart of the Peruvian Amazon to confirm their theories that this is where a giant anaconda with a difference lives.But that's precisely what Lisburn man Mike Warner (73) and his son Greg (44) have done, seeking evidence that this was the home of the Yacumama and actually capturing a picture of the creature. A leviathan of the jungle, which reports say reaches 40 metres in length and two metres in diameter, it dwarfs any snake known to science.This anaconda is not green but dark brown and is known by the locals as the 'black boa' or 'Yacumama.'"Yacumama is translated as Mother of the Water and reports of this giant snake abound throughout the Amazon basin and history."Mike, who is partially sighted, has spent 23 years researching the beast but it was only six months ago when his son discovered his research documents and they decided to take part in the incredble journey. Cryptozooologist Mike of Hillhall spent his life savings setting up the expedition with Greg to find out more about the snake, which reports say can engorge water then shoot a monkey out of a tree like a water canon.The team spent 12 days in March using the latest satellite equipment to take images of the huge reptile and were able to officially announce the discovery on May 2.The explorers were dogged by hazardous weather conditions in the middle of the rainy season but eventually managed to take off by hydroplane from the Amazon River on day five of the expedition."Despite being buffeted by a freak storm we managed several flyovers at an average altitude of 400 feet recording video footage from two cameras at either side to the rear of the aircraft and Greg, located in the front with the pilot, taking around 300 still photographs" said Mike who had his 73rd birthday while in Peru.After an exhausting 12 days in the jungle and a 30 hour trip back home the father and son team were finally able to examine their photo evidence in more detail, over 700 photos and five hours of video"The data is immense and will take months to fully appreciate but already it supports our theories of 'channels' created by these giants as they make their way through the dense jungle knocking down trees 90 feet tall, but more importantly we managed to catch one of these reclusive giants on camera as it made its way through one of its watery channels."It was Colonel Percy Fawcett, who was commissioned by the Royal Geographical Society of London in 1906 to map an area of the Peruvian Amazon in a dispute over rubber production who, after an encounter with a giant anaconda, first documented large 'trails 6 feet wide' or what are now called 'channels.'And according to Greg it was the link made between his account and the evidence of large irregular 'channels' at the site they visited that led to the discovery.They have now shared their findings with the Peruvian government, the National Geographic Society in Washington and Queens University in Belfast.The team will now spend months analysing the footage and plan to return to same location in October to get thermal imagery which will help find the numbers of anacondas. This time they hope to bring with them a television crew.Greg concluded: "The real hero is my father. It must be incredible to have spent 23 years researching this and then to succeed in an expedition where others had failed."There was an amazing postscript to their trip when an anaconda, believed to be the one they located in March, is thought to have been responsbile for smashing the house of an elderly couple in a small village in Peru earlier this week.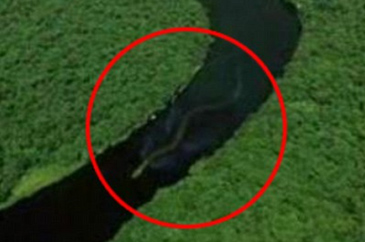 Borneo's Nessie: The image that sparked fears a giant serpent was stalking the river Baleh.

Daily Mail story:
According to legend, the Nabau was a terrifying snake more than 100ft in length and with a dragon's head and seven nostrils.But now local villagers living along the Baleh river in Borneo believe the mythical creature has returned after this photo of a gigantic snake swimming along the remote waterways has emerged.The picture, taken by a member of a disaster team monitoring flood regions by helicopter, has sparked a huge debate about whether the photos are genuine or merely the work of photo-editing software.Even the respected New Straits Times newspaper in Kuala Lumpur has asked readers to make up their own minds about the photos.Villagers who claim to have seen the snake say they have given it the name of Nabau, after an ancient sea serpent which can transform itself into the shapes of different animals.
People who have studied the photograph of the shape taken from the air have dismissed suggestions that it's a log.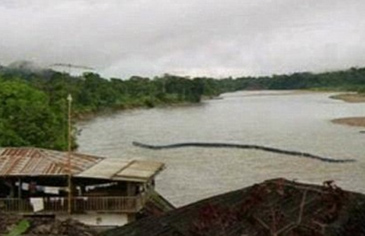 Mythical: A second frame appears to show something snake-like in the water off a remote village.
As one writer asked: 'A log can't be that winding, can it?' Others have suggested it's a speedboat, but this has been dismissed because of the twisting wake.The most common accusation is that the photo has simply been manipulated on a computer, while others complain that the river is a different colour to the real Baleh rover which is a murky brown.But villagers who insist the snake exists say that photos of the creature being taken in different parts of the river prove it is swimming about.Earlier this month scientists unearthed the fossil of a killer snake that was longer than a bus, as heavy as a small car and which could swallow an animal the size of a cow.The 45ft long monster - named Titanoboa - was so big that it lived on a diet of crocodiles and giant turtles, squeezing them to death and devouring them whole.Weighing an impressive 1.25 tons, it slithered around the tropical forests of South America 60million years ago, just five million years after the last dinosaurs were wiped out.Partial skeletons of the boa constrictor-like prehistoric killer were found in a Colombian coal mine by an international team of fossil hunters.