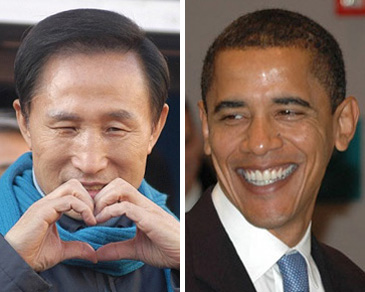 S. Korean President Lee Myung-Bak with US President Obama
On the occasion of South Korean President Lee Myung-Bak's visit to the United States for a meeting with US President Barack Obama, CSIS prepared a press briefing.The briefing was delivered by Dr. Victor Cha, CSIS Senior Adviser and Korea Chair; Steven Schrage, CSIS Scholl Chair in International Business; and Charles Freeman, CSIS Freeman Chair in China Studies.
In addition to a discussion of President Lee's visit, CSIS scholars addressed the recent nuclear and missile tests conducted by the North Koreans, the succession plans of the Kim Jong-il regime, the suicide of former South Korean President Roh Moo-hyun, and other associated issues.
Here is the full transcript.H. ANDREW SCHWARTZ: Good morning, and welcome to CSIS – Center for Strategic and International Studies. I'm pleased to have some of my closest and favorite colleagues here today to talk about some crucial issues surrounding the visit of President Lee next week, and also some of the associated issues in the region. I have here Victor Cha, who is our newest member of CSIS. He is the CSIS Korea chair. Of course, many of you know Victor from his former life at the White House – on the National Security Council as the deputy director of the Six-Party Talks. Victor also is a professor at Georgetown University. I also have Steven Schrage, who's our Scholl chair in international business. And I have Charles Freeman, who is our China studies chair. And you guys have their bios, so I won't go further into that. And I know everybody's busy and wants to get to some questions, so we'll start off with some remarks by Victor Cha. Dr. Cha. VICTOR CHA: Thank you, Andrew. Thank you all for coming this morning. I don't know if the White House has yet done their background briefing in advance of the visit, so – oh, good. So then, this is – (Laughter.) MR. SCHWARTZ: Now you get to shape it. MR. CHA: Then we get to shape it – right. Well, I think – you know, let me just sort of give you – start out with some initial comments on what I think this visit will be like by President Lee. And then we can talk about any other issues that you would like to, based on my and Steve and Chas's comments. You know, this is – it's the first visit by President Lee to the United States in the Obama White House. He will have an Oval Office meeting and a lunch, which – you know, every White House is different. For this White House, that's a lot of time – an Oval Office meeting and a lunch is a lot of time. And I think he'll be here two-and-a-half, three days, and do meetings on the Hill – meet with Cabinet secretaries. And I believe CSIS is also – we are also hosting an event for him with foreign-policy luminaries. The agenda, I think, is a very broad one for the visit. I think one of the first things that the president will do, President Obama will do – he'll personally give his condolences with regard to the passing of the former South Korean president Roh Moo-hyun. Some of you may know, I – myself and Michael Green were asked by the administration to be part of a presidential delegation that went to Seoul for the funeral of the South Korean president. It's worth pointing out that the United States was the only country to send a presidential delegation for the funeral. And that did not go unnoticed by the South Korean government, or by the public. In terms of the broader agenda, you know, I think since the Clinton administration, really, the United States and Korea have been increasingly talking about this alliance – not simply as a bilateral alliance focused on issues on the peninsula. Those are clearly important. But there's a new – there's another aspect to this relationship that is really more of a partnership between countries with common values, that are working together around the world – the so-called "global agenda" for this alliance. And there's a lot there to talk about. As many of you know, South Korea was very involved in Iraq. It had the third-largest ground contingent in Iraq. Those troops have left, successfully completing their mission. But the South Koreans have also been very active in terms of development assistance to Iraqi reconstruction, signing an agreement last February, I believe, for something like $3.5 billion. So quite a substantial sum. In Afghanistan I think the Koreans are also committed to working with President Obama in the war in Afghanistan. I don't think that the administration will push South Korea for combat troops, because I think they are sensitive to being seen as trying to force allies to do things that they may not want to do. But I think the Koreans are still going to be very enthusiastic about providing some sort of assistance – reconstruction assistance – to help in that effort. The Koreans are involved in peacekeeping in Lebanon. There's a whole variety of things: the Gulf of Aden; the antipiracy measures. These all, I think, are going to be framed as part of this broader, more mature alliance between the two countries, where they're working together around the world. This is a long way, right – a long way – from where this alliance started, right? This alliance started in 1953, between a country – and it's a militarily occupied country, where many people didn't expect South Korea would advance beyond a small developing economy, at best – these were USAID experts – at best producing light-manufactured products. Right? That was the estimate back in the 1950s. And you look at Korea today – the seventh-largest economy; a vibrant democracy. This is all a success story that is a part of the alliance relationship. On the bilateral issues, there are clearly many. Steve will talk about the free-trade agreement, so I won't say anything there – except that I hope they find a way forward. There are a series of base-realignment agreements between the U.S. and Korea, that are in the process of being implemented, returning 60-plus camps and bases, which I think the two leaders will not get into the weeds on, but certainly call for these agreements to continue on schedule. And that everybody should keep turning the dirty, to make sure that the projects move forward. I think the two leaders will reaffirm OPCON transition, and the time line for OPCON transition. Although there's a lot of questioning now in the expert community about whether that time line of 2012 for the turnover of wartime operational control to South Korea makes sense, given where we are on North Korea. But I think they will, at the policy level, certainly affirm that process. And I think they will also give voice to some of the projects that have started, that really help to build the future generations of the alliance: the visa-waiver program; and something called WEST – Work, English Study, Travel. Again, these were both programs that started last year, and they encourage exchange among the younger generations between the two countries – which is important to building the future base of the alliance relationship. The final issue, of course, is North Korea. I don't think you'll see any daylight between President Lee and President Obama in terms of North Korea. President Lee has made very clear that he will condition inter-Korean assistance on progress in the Six-Party Talks – which, as a former negotiator, I have to tell you, is music to our ears – because that wasn't always the case – because I think both leaders are committed to a negotiation process and a diplomatic solution. But when there are no negotiations, you have to focus on counterproliferation. And I think that, in this sense, both leaders are strongly supportive of the U.N. Security Council resolution – that will come out, hopefully, today – which carries with it not only the financial measures against the North, but what we hope, I think, will look like a very enhanced international inspection regime to prevent the transport or transfer of weapons and/or technology in fissile material. That, perhaps, will be the most-important outcome of this resolution – that both countries, I think, will strongly support. For the United States, obviously negotiation is the way to get denuclearization. But if they continue to do these tests, it's absolutely imperative to set up a robust international inspection and counterproliferation regime. And, hopefully, this resolution will do that. So with that, Andrew is opening remarks. STEVEN SCHRAGE: Thank you. And almost every discussion today seems to start about the global economic crisis, and it really has been a tsunami that's altered perceptions and priorities around the world. But amid these shifts – and, I think, as Victor noted in his opening statements – there's probably no two nations that are at the center of more challenges – whether it's North Korea and proliferation; finding a new way forward for the global economy and the G20 – than the United States and Korea. And while recent U.S. and Korea security issues have made headlines, perhaps no single issue is more important to the long-term impact on this critical alliance – America's position in Asia, in what many predict will be an Asian century, with its dynamic economies, and the future of overall global trade and economic relations, and how the fate of the KORUS FTA is determined. And after sitting in the White House and the president's inbox – actually, two presidents' inbox – for almost two years – in some sense, it could be the elephant in the room when the two presidents meet. And they may be hesitant to address directly, and in detail, in terms of how to go forward. Yet, I think, how the presidents deal with KORUS in their meeting on Tuesday – whether it merely merits broad statements about, you know, finding ways forward, or whether it actually merits concrete action – and, importantly, hard time lines for action and direction – will say a lot. Not only about the U.S. commitment to Korea, and to the world's most dynamic economic region, but also whether the U.S. is in danger of kind of, by inaction, abdicating its role as kind of the leader of the movement pushing forward for trade and open economies, which will be so critical to the world's economic rebound. And, I think, when you look at the KORUS, it's historic not only because of its size – it's clearly the largest FTA since NAFTA for the United States. But it's important because of some of the broader impacts that Victor mentioned, including cementing the alliance, and finding a way forward on trade. A strategy, really, which, at the end of the Bush administration, hit a brick wall. And I think KORUS could serve as both a model for moving forward when it gets resolved, and, also, potentially, as a hub for a multilateral effort across Asia – and even globally, which many are exploring. And I think the Obama administration deserves a lot of credit for its recent statements about trade: being open to trade; finding commitments to ways forward. And looking beyond the Bush strategy to find a new way forward, given how much our trade agenda had stalled over the last year. But I think time is of the essence, particularly for two critical reasons. First of all, the world is watching, and it's watching more than a bit nervously. America has been the central pillar, again, of open market and the international system before the financial crisis, that really generated unprecedented prosperity and development around the world. And now the WTO is saying trade's collapsing at its greatest rate since the Great Depression, and we've seen buy-America provisions – unprecedented U.S. intervention in industries like the auto industry – that often seem designed to save U.S. jobs, or preserve U.S. jobs. So the world is really wondering how this is going to affect our overall trade policy, and how things are going to go forward. Secondly, the world – particularly rising Asian powers, where much of the key opportunities lie – are moving forward, and they really risk leaving us behind. Korea has already signed or launched over 20 trade agreements. We've seen U.S. trade with Korea, that was once dominant, fall behind China, Japan, and now the EU. So we're really at a risk of seeing our position in Asia – and in Korea, more generally – decline. And the real danger is just strategic drift. I think we'll hear nice things about the Korea FTA and the trade agenda. But if there's this kind of benign neglect, despite positive statements, that allows KORUS to kind of drift off into space, with no clear time line for action, we're really going to be wondering what's going to happen next, and where we go. You know, it could be a major setback for the United States, and kind of an international embarrassment, if, by the time the G-20 rolls around in 2010 we haven't acted on this – and Korea's chairing the G-20. And nations start to look at: Well, all these commitments we've made – you know, that I think the Bush administration and the Bush administration are restoring trade – are seen as empty promises, if we don't launch into this major agreement that's sitting in the in-box. By the time the U.S. hosts the APEC summit – especially, 2010 could be a very difficult year for trade, with congressional elections – we could find that, you know, the U.S. has really been kind of left in the dust on trade, as the torch has been passed to China, and other competitors, who are moving forward with trade agreements across the region. So I think the time for action really is now. And I think the Obama administration, you know, has said some great things, and has some very talented people for moving forward. It's just a question of whether we're going to see real actions, at a very politically difficult time, and given the crowded agenda, to move these forward. So it's going to be very interesting to read the tea leaves after this meeting, and see if we get some more clear direction on what the next steps are. With that, I'll turn to Charles. CHARLES FREEMAN: Thanks. I'm sort of the odd man in the room here. We were talking about the visit of the South Korean president, and you've got a China guy in front of you. And I guess all that that says is, perhaps, Andrew's recognition that, like it or not, even if there is no de jure G-2 out there between the United States and China, certainly, this administration believes that every global issue, and every region, has a China factor. And that's certainly true in the case of the peninsula. We can talk, at some length, if that's of interest, about the evolution of thinking about the North Korean issue in Beijing, because there is a very definite evolution there. But I'll leave that for Q&A, in case someone wants to talk about it.What I will say – and to pick up on some stuff that Steve was talking about, the Korea-U.S. free-trade agreement – they're really at a very difficult point. We've had President Obama talk about the FTA during the campaign, and just after the campaign, as being seriously flawed. You had USTR Ron Kirk in March call this, at his confirmation hearing, call the FTA "fundamentally unfair." That makes life extremely difficult. And you've got Charlie Rangel – Ways & Means – essentially saying that the trade agenda will follow – will only come up after both the health-care and climate-change issues are dealt with. So you know, that's a tough row to hoe. I think, you know, the fundamental flaw, or the serious unfairness of the FTA, as defined by the administration and others in Congress, relates to, in large part, the protection of the South Korean government for the South Korean auto industry. It's very difficult, in the wake of some of the activities going on with GM and Chrysler, for the United States to continue to hold out protection of an auto industry as some reason for fundamental unfairness in FTA, but I'm sure all this can be worked out. I guess I'll stop there. And if there are questions that relate to China, I'll be happy to respond. MR. SCHWARTZ: We're going to take some questions now. And if you could use the microphones and identify yourself, that would be helpful for the transcript. Questions. Jill Dougherty. Q: Victor, I just wanted to ask you – you were talking about this U.N. Security Council resolution. Some have said it looks pretty tough, from what they were talking about. I'd be very interested, in your viewpoint, how tough it really is. And does it actually authorize the use of force for any interdiction – let's say on the high seas? MR. CHA: I mean, the short answer to your second question is, I don't think so. I don't think that it authorizes the use of force. Having said that, though, this is clearly – this resolution, at least from what we've seen of it, based on press reports and everything else, definitely has value added – because – I mean, for a number of reasons. First, if we talk about the financial – what are called – you know, had been popularly termed "financial sanctions" – when the United States first did this in 2005, what we basically did was, the Treasury Department issued something called a section 311 advisory to U.S. financial institutions, to beware of doing business with one bank in Macao – because that bank was believed to facilitate some bad North Korean business. It was a very limited action against one bank. What that, then, created was a ripple effect – because other banks, and other regulatory agencies, started to ask Treasury: Why are you doing this? So when they heard why the Treasury Department was issuing this advisory to its own financial institutions, they started looking into accounts that they had that might be of North Korean origin, or that might be considered – (inaudible). And that, then, led to this ripple effect throughout the region. Now, that doesn't mean everybody did it. There were a lot of countries, or regulatory agencies and banks that were not interested in doing this, because they didn't believe there was enough evidence out there. And when the United States went to these countries and said, Look – you know, this is what we understand to be the problem – you know, it was the United States going and trying to ask other countries if they'd be willing to do something. If this becomes part of a U.N. Security Council resolution, it's basically making this a U.N.-mandated action. Which is very different from the United States going to one country, after another country, after another, saying: Could you do this? So that's one thing that's very different. The inspection regime – I think if the bar for an effective inspection regime is, Will every country go as far as the exercise of the use of force to stop a ship on the high seas?, that is certainly – that's very effective, but a very high bar for an inspection regimen – because that is probably your worst-case scenario. That would be when you know there's something bad on the ship, and it's not stopping anywhere before it gets to its receiving destination. And I think, yeah – many countries are hesitant to do that – because, you know, it could be interpreted as an act of war. But there are many other things that can be done, including heightened custom inspections; container-cargo inspections; getting countries to participate in terms of the practice of bunkering, when ships stop along the way to getting their final destination. And if all of this becomes part of a U.N. Security Council resolution, that, again, makes it – it institutionalizes an inspection regime. It institutionalizes PSI, in a way that had not been the case before. So again. Even if we don't have authorization of the use of force to intercept a ship, there are still many things, potentially, in this resolution that take us further down the road of an effective inspection regime. And, I think, basically, that was – that has been the administration's strategy. I think they're committed to a negotiation path, as they said. They want to get back to the negotiations – but, clearly, they're not getting an answer on the other side of the phone. And as the North continues to do the things that they do, the most-immediate threat to the United States is the proliferation threat. And, therefore, the North Korea actions provide a good opportunity to get international cooperation on institutionalizing some sort of counterproliferation regime. Q: Could I just add one quick question on that? Maybe not so quick. But the fact that it looks as if this could pass, and that you have the Russians and the Chinese aboard, what does that say to you, in terms of how the atmosphere has changed? MR. CHA: I think it says quite a bit. I think the atmosphere has changed quite a bit. You know, I think, initially, people thought – or some people were saying that the Chinese were not nearly as motivated after the second test as they were after the first test. I have to tell you, they were quite motivated after the first test – I remember it very well. And in the case of the second test – again, I wasn't on the inside. But, to me, it was not a question of what the Chinese were saying publicly – it was really a question of what they will do on this resolution. And it appears, based on what we see in the reports, that the Chinese and the Russians are cooperating quite a bit on this resolution which shows that they, too, I think, understand that this North Korea problem is not simply one where they can muddle through anymore, and hope that the status quo won't be destabilizing. I think they see that the status quo, as it is today, is inherently unstable. And, therefore, they are acting with other P-5 members to counteract that. Q: Thank you. MR. FREEMAN: I mean, that sort of raises the issue of where the Chinese really are. There has been a definite evolution in Chinese thinking, particularly on the inside, about the North Korea threat and the question of stability. But there is, still, a very, very sizeable swath of the foreign-policy establishment in China that believes that the only reason that the North is doing these things is because it perceives a – it's trying to do this for its own security reasons. And it doesn't fear China as a threat – it fears the United States as a threat. And, therefore, the way to get North Korea back in line is to just have the United States and North Korea have some sort of arrangement between them. That has been countered by some very public, including the blogosphere going nuts, about: This has been a slap in the face by little brother to big brother in China. And so there's this – despite the sloth-like tendencies of the foreign-policy establishment to react to cataclysmic change in China, I think, at the leadership level, there's a reaction to public perceptions of what the North is doing vis-à-vis China and vis-à-vis its big brother. And that, I think, has done an awful lot to motivate them in the current climate. Q: Could I ask about KORUS? What, from the summit, would signal to the world that they're serious about pushing KORUS through, as opposed to the benign neglect that you talked about? And, also – I apologize if you guys covered this before I got here. But there are reports that there possibly could be another nuclear test in response to the U.N. Security Council resolution that's coming up. What does that do for possible further sanctions, or a possible different reaction from the world, if there is one? It's hypothetical, but – MR. SCHRAGE: I think the clearest, you know, sign would be something along a time line of action – trying to move it this year, before the G-20, or some of these major events that are coming up. Barring that – which I'm not sure they would be that specific. You could look at things like – I expect they'll establish working groups – how aggressively they're doing outreach to the Hill – because most of the issues that remain regarding – (inaudible) – were really determinant on terms of how the Hill is willing to deal with these issues. So kind of the level of commitment that you're seeing from the administration, to reach out to stakeholders and start resolving these issues, as opposed to just kind of a more general commitment at some point in time to work through them – because, you know, as Charles mentioned, there are a lot of, you know, serious issues out there, and there's a lot of statements out there. The Obama administration has very much moderated those statements over the last couple of months, but it's going to be a question of the political will to drive this forward. And a lot of people say, you know, there's not the political space for trade agreements right now, and I think that may be true. But I think it's also true that there's almost never the political space. You know, CAFTA and NAFTA is not very easy, at any point in time. So it's going to be a question of how much political capital the administration or others are going to put in to advance it. And so I think those will be key signals, beyond even, you know, the idea of a clear time line. MR. CHA: Well, on the first part, Foster, on the FTA – I mean, I think I would agree with Steve. I mean, you know, they'll say the right words, I think, after the meeting, but it's really a question of what we see – you know, whether we see elements of any traction on the ground. You know, they'll talk about finding a way forward – but, then, you really want to see: What are they –? Have they started working groups? You know, do they have time lines? These sorts of things. On, you know, the possibility of a third test – you know, I wouldn't put it past the DPRK to do something like that. Every move – they have essentially, since the end of 2008 – at the end of the Bush administration, when they walked away from the verification protocol – when they refused – when they agreed in concept to the verification protocol, but would not put it down in writing, at the last round of Six-Party Talks. All right, from that point till today, they have basically telegraphed every move that they've made. And they appear to be telegraphing, again, the possibility by saying, very clearly in advance, that they will retaliate against this U.N. Security Council resolution. What sort of additional measures would be taken? Well, I think the first thing is, it would give a great deal of motivation to U.N. member states to really enforce the resolution. I mean, the problem we've had in the past is that there've been, you know, quite impressive chapter 7 unanimous resolutions that have not been enforced. But, you know, if they were to respond by doing tests, I think that would certainly increase the participation rate in this resolution. The other thing that, I think, also relates to this question, and to Jill's earlier question, is, something else that is different about this resolution is that it will also have an enforcement-monitoring mechanism within the Security Council. Which means that the Security Council will actually be going around and saying: Are you enforcing the resolution? Are you enforcing the resolution? And, I think, then, they will make public who is not enforcing the resolution. You know, another possible area – and I don't know the extent to which this is just, you know, something I think that's been brewing. But the idea of not just sanctioning, directly, the front companies and others that are involved in DPRK proliferation financing, but actually going after facilitating companies – something that's known as "secondary sanctioning." You know, basically imposing sanctions on companies that might facilitate the front companies. In the academic literature, that's known as secondary sanctioning. It's much more comprehensive, but it's extremely effective. And, you know, that might be another route that might be considered if there were a third test. Q: (Inaudible) – within the U.N. or – MR. CHA: I think it would have to be within the U.N. From a U.S. perspective, I think, you know – and it came up in the Senate hearing yesterday, the whole question of whether North Korea should be put back on the terrorism list – would, I think, be on the table. MR. SCHWARTZ: David. Q: Thanks, Andrew. David Jackson, USA Today. Going back to China, there are some people who seem to think that China could stop North Korea tomorrow if they wanted to. But they don't really want to, because they see this as kind of a test – their test – of the Obama administration. Do you think China's playing a double game here? MR. FREEMAN: No. I think there are a lot of people in China that don't believe they have the authority over North Korea that many of us believe they do. So I think they're very wary of exacting too much punishment on North Korea for this. You know, I don't think that – the consensus that's coming out of, at least, the people that we talk to in China is that this is not – at least, the Chinese don't perceive this to be a test of the Obama administration. I think, to the extent that there is a consensus beyond sort of the older guard that has a prism that views North Korea issues as strictly responding to their own sense of insecurity at the hands of the United States. Beyond that, I think that the real consensus among the ones that are closer to the fire, as it were, of leadership is that this has much more to do with succession than anything else. And that this is just about conditioning – this is an internal North Korea issue, and less about what the Obama administration says or does. And, frankly, in response to domestic North Korean politics, China doesn't believe it has the ability to move that machine 2 or 3 degrees to the left or right. It just doesn't. MR. SCHWARTZ: I'm going to go to the back, and then back to Ed. Q: Okay. I'm Tam Wa (ph) from Radio Free Asia. I have two questions – one for Dr. Cha, and the other one to Dr. Freeman. And the first question is, a lot of experts I talk to say that this U.N. resolution may not work effectively, as it did with the first one. And one expert said that, you know, both presidents of the United States and South Korea should discuss a new approach to North Korea's nuclear problem, following the likely failure of U.N.-led sanctions. And do you think the two presidents should discuss – is there any possibility to discuss this matter? Such as, you know, the future Northeast framework. And this is for Dr. Cha. And the other is, today I read a report that, you know, Mr. Jong Dyung Weia (ph) – I'm not a Chinese expert – a professor at the Institute of Strategy at the Central Party School in Beijing. He said, in an interview with Jana (sp) News Agency yesterday, he said that, literally, without military sanctions included in the U.N. resolution, North Korea is afraid of nothing – and, you know, this is not effective at all. So, you know, could you make comments on that? Thank you. MR. FREEMAN: I mean, I think what it shows is, there is an increasing diversity of opinion in China about North Korea. And I think that there was a piece that someone in ted Chinese foreign-policy establishment did in Pacnet a week or so ago – Pacific Net – that really came down hard on North Korea, and demanded that the Chinese government do something very assertive to protect China's interest. So again – there is an evolution in thinking. Again, this is a very cautious leadership in China. And, ultimately, if they believe that anything that they do is going to lead to instability, they're not going to do it. The real thing is, Victor brought up at the beginning, is that they're starting to perceive that the existing situation is unstable – inherently unstable. And that just preserving kind of dialogue through the Six-Party Talks doesn't necessarily improve stability or even preserve stability. And that's a bit of a sea change. I think, to the question about, you know, What does China's active participation in the current resolution suggest?, there is a lot of language in the current resolution – the draft resolution – that really comes down quite hard on the North, and on the government of the North. And to the extent that China's mantras, going out into the world of foreign policy, are, one – we're going to try to preserve stability; and, two, we are going to avoid interference in another country's internal affairs. They've really crossed the line in interfering in internal affairs at this point. So they've really stepped out, quite in a much more serious rhetorical way, than they had before. Again. They're preserving some voluntariness in the resolution, that allows them to continue economic activity across the border – in ways that, I think, are going to be frustrating to the United States and others. But, again, I think they're moving increasingly towards a position that looks more like the one we'd like them to take – even if it isn't, in fact, all the way there. MR. CHA: On the question of whether, you know, these sanctions aren't going to work, so we've got to find a different way or a new path. I don't really – I don't think it's an either-or – I don't think it's binary – I don't think it's either-or. I mean, I think – well, first, we won't know if these work until we try them. That's the first thing. And so we can't shoot down the resolution's effectiveness before it's even been passed and attempted to be implemented. But, you know, I don't think it's a question of: Well, we'll try the sanctions. And if they don't work, we'll try another path. I think this administration – I think all the members of the talks sort of see this, really, as a dual-track approach, which is you always seek a negotiated solution to the problem. And I everybody wants to get back to the negotiating table, irregardless of whether they feel, in the end, it's going to be successful or not. But they feel that you need to get back to a negotiation track. But the North's actions up until this point have made the proliferation threat so apparent, that while holding out the potential and willingness to come back to negotiations, as Ambassador – (inaudible) – said yesterday, you've got to really ramp up the counterproliferation regime. And I think that's what we're seeing. Now, if they – you know, one of the things in response to this, and Foster's earlier question. If they do do a third test, I think, certainly, as I mentioned, they will ramp up on the counterproliferation side. But I also think that, if they did a third test, there would be a lot of efforts by both the Chinese and others to find the exit ramp – you know, to give the North some sort of exit ramp to get back into talks, before you get into an action-reaction spiral that really gets out of control. So I think everybody's looking for a way to help the North Koreans get out of the hole they've dug for themselves. Right? That's always been part of the exercise in dealing with this country. But, at the same time, everyone feels obligated, at this point, to maintain this counterproliferation regime. I think one of the interesting questions in the future is that, if it ever does get back to a negotiation track, will there still be enthusiasm for maintaining the inspection regime? There should be, in theory, because the problem is not solved. But the whole question of whether China or Russia – you know, once the North Koreans come back to Beijing, the Dayutai (ph) guesthouse, is there going to be a drop-off in enforcement? MR. SCHWARTZ: Ed. Q: Thank you. Good morning. I'm Ed Chen from Bloomberg News. On Saturday in France President Obama was asked about sort of the negotiations on and off, that go back a number of years – what that process has produced, aside from giving North Korea time to advance nuclear program and ambitions. And I think the president kind of hinted at some limits of U.S. patience. I wonder what we should read from that. And what are any alternatives, except to go back to the talks, and thereby perpetuate this process? MR. CHA: It's a good question – that, you know, you've heard a number of times different administration officials say: We're not going to rent this program for the third time, all right, if we ever get back to negotiations. And I can empathize with that, and it's a good sound bite, I think. But the negotiations – obviously, they aim at complete and irreversible denuclearization. And, understandably, people are skeptical about whether negotiations will reach that outcome. But negotiations are still important, because they do help to preserve some sort of cap in monitoring on what they're doing on the ground. If your choice is between no negotiations and completely runaway program, and a long slog of negotiations that lead to freeze, monitoring, and potentially disablement, I think most people would take the latter. I think – and again, this is a ground game, right? It's 1 yard at a time. You know, it's a 1-yard gain, it's a 2-yard loss and we've probably got like a 10-, 15-yard loss right now. But it's a ground game – MR. FREEMAN: Punt. MR. CHA: Right, punt. (Laughter.) It's a tough ground game but, you know, in a broader perspective, we have made some progress each time and first, during the Clinton administration, you had a freeze for compensation formula where you had, you know, for the first time you had cameras, locks, inspectors on the ground. Obviously, that all got unraveled but we came back the second time and got past a freeze to having inspectors from the six-party countries on the ground and you have disablement and the framework for how you would get to the third face. So there has been a framework that has been set up through this long ground game and, you know, you're never going to get sort of the 50-yard pass in the negotiations but they do help to prevent a runaway program. And I think the negotiations also offer a way for the five countries to coordinate and stay on the same page. Because I think, you know, as we used to always say in negotiations, if you can't get 6-0, then it's good to get 5-1. And that's another important part of the negotiation process. Q: Shaun Tandon with AFP. I wanted to see what your assessment was of the threat perception in South Korea, whether – when they come here whether Lee Myung-bak would actually be looking for more definitive security guarantees from the U.S. We saw Secretary Clinton made some remarks saying that, you know, if we allow this to go on that there could be an arms race in northeast Asia. Presumably, that was more of a reference to Japan than South Korea but in any case, to what extent do you think they'd actually be looking for something concrete in terms of guarantees? I think there's one report in Yeun Hap (ph) I think saying – I forget exactly what it was but saying that they would be looking for some sort of statement of the U.S. nuclear umbrella still covering the Republic of Korea. MR. CHA: Well I would imagine that there will be something of that nature. You know, after the first nuclear test, the first thing that was done was that Secretary Rice went to the region – I actually traveled with her – and part of that was to reaffirm the extended nuclear deterrent, an umbrella of the United States, to its allies. I think Deputy Secretary Steinberg this time did exactly the same thing and I would imagine that President Obama will do the same thing as well. And I think that's important; that's important for domestic consumption in South Korea. Beyond that, whether the Koreans will be actually asking for more things materially, I don't really know. We do have a fringe, a far-right fringe now in South Korea that are raising questions about the bilateral missile agreement between the United States and South Korea – about how that limits South Korea's ability to have missile deterrent against North Korea's missiles. I think some of this started coming out after the April launch where there were some of the, again, far-right politicians that were saying, you know, with this missile agreement, we can't reach Musudan-ri, which is the facility from which they launched the April ballistic missile. So I think you hear some of that but that's not mainstream I don't think. So I imagine that the threat for the South Koreans remains the threat that it's always been, which is the artillery that sits right across the border. And the long-range missile shots are certainly concerning to South Korea but I think they feel that the U.S. deterrent is still quite strong. Q: Corine Lesnes from Le Monde. One of the signature issues in foreign policy for this administration is no nukes, non-proliferation. How does this affect the credibility of the president do you think when he's going to be at the G-8 or pushing all this on the international scene? MR. CHA: Well, I mean, I'm sure Chaz (ph) and Steve might have comments on this. I think – when I listened to the Prague speech I was sort of thinking, well, what does this mean about extended nuclear deterrence. And I think the short answer is: I don't think it undercuts or raises immediate concerns for these countries that are under the nuclear umbrella because it's a vision, right? It's a longer-term vision that sort of puts of the United States in a position of saying, this is what we strive to get, which I think is quite helpful for the United States when it engages in negotiations with North Korea or Iran because it's already set out what its vision is – to reduce eventually to zero. So that vision, I don't think, links up operationally to any immediate changes in U.S. force posture in either Japan or South Korea. I don't know about the future but it doesn't now and for that reason, it hasn't had an immediate effect. I don't recall seeing – I don't know, Chaz if you – I don't recall seeing anything in the editorial pages of the major South Korean and Japanese dailies lots of concerns once he made the speech. MR. FREEMAN: No, I think that's right. I'm not sure that this has immediate impact on the sort of vision thing. You know, there are a lot of issues that plague the vision and to the extent that we are unable to effectively reassure Japan in particular about our unwillingness to tolerate a nuclear North Korea – well, that raises much more significant vision issues with a non-nuclear program long term. Ultimately, as in South Korea, the debate about whether to go nuclear in Japan is still a very fringe issue and it's not really an acceptable thing to really actively discuss in public. Although, you know, it's becoming more so. And if Japan were to truly feel under immediate threat from North Korean nuclear hostility, you know, Japan could go nuclear over the weekend and have 1,000 warheads by the following Saturday. So that would be – you know, there are reasons to be concerned. MR. SCHRAGE: And just the one thing I would add to that is as you noted, this is going to be an issue that's going to be discussed at the G-8 and it will be very interesting to see how it's broached when you have countries like Russia and the United States or any of the major European powers sitting around a table and what kind of language they can agree upon or lay forward and how that meshes with their own individual country statements. MR. SCHWARTZ: I'm going to ask a question myself. Victor, you're one of the few people who has had the opportunity to negotiate with the North Koreans. What are they like? What is it like negotiating with them? MR. CHA: On camera, huh? (Laughter.) Well, I mean, the first thing I'd say is we really only see a small slice of the North Korean system. We largely see their foreign ministry America affairs bureau people. These are the people that are involved in the Six-Party Talks and then had been involved in prior negotiations. So while we swap in and out over the years, they've got the same people at the table all the time. And I think, you know, that these – at least the people that we deal with, I mean, they speak a fair it of English; they study the United States so when we were involved in negotiations, they were certainly asking about the campaigns that were taking place in the United States, you know, who is this fellow Barack Obama? I mean, they were very interested and they were quite interested in Hillary and – but I wouldn't call it sort of very sophisticated knowledge of the United States. At the risk of upsetting any North Koreans, I mean, I would put it sort of at the level of maybe a high school-level understanding of American politics and the system. I think having said that, this foreign ministry group that we interact with sees past the capacity to push for its own interests as it also is able to see how the world views North Korea, which I think is a very different view from the people they report to who only have one view of North Korea which is their own view and one view of the world which is their own view. So I think it can be mildly embarrassing for at least some of our negotiation counterparts if we do a meeting with some of their superiors because they have to sit there and listen to – and we have to sit there and listen to things that their superiors says, which are clearly divorced from reality and they know it. But, you know, I think over time when you're involved in these things and they go for two weeks at a time, seven days a week, you know, I guess you develop a sort of mutual respect for each other even if you disagree with each other's policies. You know, they're on a very tight leash. One of the things that was surprising to me as an academic doing this – and I think I may have mentioned this to some of you before is that I thought going into negotiations that we would be the most inflexible delegation, that we would have the hardest time constrained by Washington, the interagency here and that the North Koreans would have the easiest time because they've had the hotline through the dear leader and that things would move very quickly. I found actually to the contrary; we were one of the most flexible and agile delegations because we were able to report directly back to our principals and get answers overnight and they were the ones actually that were quite inflexible because they sometimes waited days for an answer. So that to me was interesting. MR. SCHWARTZ: I wanted to see if Charles and Steve have anything they want to add about President Lee's visit coming up but I also wanted to ask, has the former president's suicide in South Korea – will that have any effect on the bilateral meetings with President Obama next week? MR. CHA: I think the concern at the time of the funeral was that you would have a rash demonstration in South Korea because of this outpouring of emotion being an opportunity for the opposition and NGOs to use candlelight vigils to completely immobilize and paralyze the Lee government. You know, as occurred during the beef demonstrations. And again, we were literally in and out so we flew in for the morning and the funeral and were out the next morning. But the evening after the funeral, I went out into the front of city hall where the candlelight vigils were and it was interesting to me because I didn't sense the same sort of intensity that you had with the beef demonstrations. They weren't nearly as crowded. Of course, it always gets a little rowdy after 10:30, 11:00 at night because people have had a little too much to drink but it wasn't – you know, it wasn't like the beef demonstrations. You can imagine it's certainly becoming like that because whenever you have huge masses of people like that in the evening sitting around, drinking, talking – you know, anything can happen. But the big difference between the beef demonstrations and the Roh funeral was that, two days after Roh Moo-hyun committed suicide, the North Koreans did a nuclear test. And I think that really has focused a good part of the South Korean public on that problem rather than on trying to disrupt things domestically. The other thing that I would say about the Roh funeral was that there was no – at least what we could sense – no anti-American sentiment. This was not something where NGOs or others tried to mobilize anti-American sentiment. And there, I do give the administration a lot of credit for taking a step very quickly and early to send the presidential delegation because the United States sent a presidential delegation. The Japanese sent former Prime Minister Fukuda, again, which was a very great and smart move but, you know, Japan will never get credit for that in Korea. (Laughter.) But China did not send anybody – anybody from capital, which was quite surprising. MR. SCHRAGE: Just quickly another thing to add. While the FTA's going to be very challenging, I think there's a number of opportunities to really deepen this relationship, particularly the G-20 when you look at it really emerging as this global forum for economic progress. And with Korea's leadership of that in 2010 and then U.S. sharing AIPAC in 2011, there's huge opportunities to really take this relationship to the next level. One views/use? the challenge of the economic crisis to solidify a much broader alliance going forward so I think, you know, these issues are both challenges but they can be looked at as ways to kind of build cooperation as well. MR. FREEMAN: Just a sort of broader point on trade. I mean, I know the FTA is going to very difficult. It's sort of like – there's a temptation I think within the administration, sort of like the movie "Fight Club," you know. The first rule of free trade is don't talk about free trade. (Laughter.) You know, and because – trade has become such a negative word in this town, political word in this town. If you go up to Capitol Hill, you talk about trade and people duck and cover. And I think that's misreading – frankly – the mood of the country. Yes, there has been tremendous vilification of business – big business in particular as a result of this series of unfortunate events and in the context of the economic crisis. But the Pew Center's annual study of political attitudes that came out in May was rather different. Rather than what I expected in that survey was, you know, a deepening of support for unions as protectors of the working class and a deepening vilification of business and greater antipathy for free trade, the numbers actually swung rather remarkably in the other direction. Much more greater support for free trade among the American public, the worst numbers in favor of unions in the last 20 years. And so a very gradual shift. Now, Capitol Hill tends to be 12 to 18 months behind political attitudes of the American people so that may not be reflected any time soon but I think that to the extent that the Obama administration really wants to say something more forward-leaning on the course of FTA, I think they've got more political space – at least public political space – to do than they may perceive because of attitudes on the Hill. Q: I'm wondering if it's premature to ask Steve for a couple of comments about the elections in Iran and if you think it is, I'll call you later. MR. SCHRAGE: That's a little bit out of my area of responsibility so – but we've got some other people that are really following that closely that should be able to help. (Laughter.) Q: I hate to bring it up as we're all kind of departing but I am fascinated with the succession issue and I just wanted to ask you: We all kind of know the basic thing that we're talking about so can you take us to the point of Kim and potential opposition by hardliners as it's described, the military hardliners who might be actually working at counter purposes? I mean, not very well phrased but can you give us a little light into that? MR. CHA: There are always potential scenarios where you could have this sort of infighting or where people reject the leadership. But the thing, I mean, that's interesting at least from what we see from the outside about this leadership transition is, you know, you have the youngest son. But what's most interesting is the role of the youngest son's uncle or Kim Jong-il's brother-in-law Chang Sung-taek, who is probably going to play a very important role as sort of a regent to the youngest son. But what's fascinating to me is this is the Chang Sung-taek who used to be the reformer in the North Korean system. He was sort of trumpeted as the guy who was all for economic reform and all this other stuff. And then he was purged; he disappeared for a while. And now he's back but he's back as a hardliner, which goes to show you: one, that there is no ideology in North Korea – hardliners or softliners – it's all about power. It's all about power. And Chang Sung-taek is back in the national defense commission which is the key decision-making body backed by state security folks, which is sort of the internal security agency which in any dictatorship is the hardest line of the hardliners. So it appears as though they've got the hardliners with them and that they are part of this overall process. I mean, sort of if you take pieces from political science about dictatorships – you take South Korea's dictatorship history and you look at the current North Korean situation. Sort of the key hardliners would be the ones who are involved in state security and then the ones in the military who are responsible for defense of Pyongyang – the Pyongyang defense command just like the Seoul defense command. Whoever in the military is responsible for protection of the capital city. Both of those groups have been co-opted I think into this sort of collective leadership so they know how to play this transition fairly well. Now, does that ensure that there won't be problems? Does that ensure that any of the other brothers might not get upset and look for allies? Or does that not ensure that the party or members of the party might get upset? We don't know. We just don't know. But at least looking at it from the outside, it appears to me that they are trying actively to compensate for some of the deficiencies of the youngest son by surrounding him with key people in the leadership that are both hardline – in other words, loyalists – but also carry all the instruments of force – that's internal state security and the Pyongyang defense command. Q: Thank you. Q: An extension of her question. Oh yes, Dr. Freeman, how do you – when you talk with Chinese experts or some people inside China, how does China view this Kim Jong-woon protected by Chang Sung-taek and its leadership? And, you know, what is the sense of China in relation to the succession processes? MR. FREEMAN: China doesn't care as long as it's stable. (Laughter.) I mean, they don't care who – I mean, and this is one of those cases where it doesn't matter whether it's black or white as long as the cat catches a mouse and so, you know, they'd be happy with whomever emerges as long as there's not refugees swimming across their border. You know, I'm not sure. I hope that answers your question. MR. SCHWARTZ: Thank you all for coming today to CSIS for this briefing. We will have a transcript out later today which will be on our Web site and also I'll mail it out to you. Thanks again.
H. Andrew Schwartz
Vice President for External Relations
Center for Strategic and International Studies (CSIS)
www.csis.org
(202) 775-3242 Office
(202) 294-5348 Cell