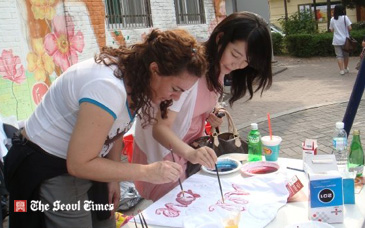 Participants paint T-shirts at the playground.
Photo by Adrie Erasmus
In an attempt to raise consciousness in Korea and hope in Africa, Little Travellers recently hosted the "Africa Pride in the park" fundraising event at the Playground in Hongdae, Seoul to promote African culture and raise money for the Hillcrest Aids Centre situated in South Africa's Kwazulu-Natal province. The vibrant and colourful displays at the event caught the attention and created a buzz with both local and international communities. Some came to the area exclusively for the event but many bystanders and youths eagerly got involved and were interested in the activities arranged by the organisers and volunteers. Echoing into the atmosphere were the pulsating beats of African drums as a drumming circle was open to anyone willing to learn how to play this very popular African instrument. A dye workshop was also arranged so that participates could make individual t-shirts and fabric designs.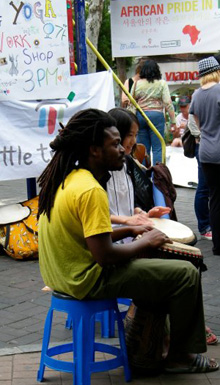 Drumming instructor creates the beat.
Photo by Caroline Bell
There was also a design table set encouraging handmade African jewellery such as beaded necklaces as well as bracelets. Food popular in South Africa such as "boerewors rolls" (barbequed sausage rolls) and "biltong" (dried meat) were also being sold. Information about preventing AIDS/HIV got passed on through an easy to play game controlled by the event volunteers. The key icons of the day were the "Little Travellers" beaded dolls and cellphone charms created by women affected by the HIV/AIDS pandemic. "The initiative to make these dolls started around a year and a half ago when ordinary people desperate to do something positive to ease the burden of their poverty stricken lives and dire illness," says Canadian born Craig Kulyk who works for the Korean branch of the Little Travellers organization. The sales of Little Travellers provide an income for over 100 men and women affected by HIV/AIDS which untimely goes toward feeding and educating their families, bringing some light to an extremely bleak situation. It is currently estimated that almost 6 million people suffer from HIV/AIDS in South Africa which is more than any other country in the world. The organization's mission is to provide "unconditional love to all those infected or affected by HIV/AIDS in any practical way." Thus far over $200,000 Dollars (250 million WON) have been raised to support people battling with the disease.Therefore the Little Travellers initiative has grown from grassroots level and has created chapters in Canada, America and now in Korea. Over 40,000 dolls have been sold since launching in South Africa with 100 percent of all proceeds going toward Aids relief in the region. For more information about this organization and how they continue to make a difference visit their website at www.littletravellers.net