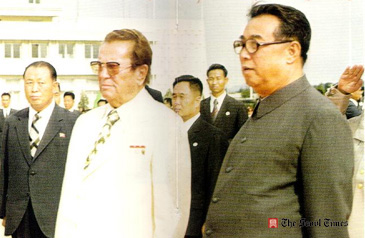 Kim Il-Sung with Tito: Kim Il-Sung (right) poses with Yugoslav Communist leader Josip Broz Tito(1892-1980). Kim Il-sung headed North Korea's government from 1948 until his death in 1994. Kim gained fame in Korea as a guerilla fighter against the Japanese in Manchuria during the 1930s.
If you're planning to visit North Korea anytime
soon — and now that it's opening up, this might be the time! — the U.S. State Dept. wants you to know that it's a criminal offense to dis the Dear Leader Kim Jong-il while there. In fact, as a tourist, you might be called upon by your government guide to show some expression of respect to the Dear Leader a few times during your stay.
It might even pay to bone up on some of the many published writings of Kim Jong-il, who has weighed in on a wide range of opics over the decades, many of them far from his collegiate major, economics.
In this 1968 essay — "On the Direction Which Musical Creation Should Take" — Kim shows his own singular, uh, taste as a music critic, as he raves against all piano playing and praises a new song about his dad! Here's an excerpt:
"I have called you creators here today to tell you which direction musical creation should be developed for it to conform with the Great Leader's revolutionary thought on art and literature. Recently some success has been achieved in musical creation. However, many shortcomings are still evident and these must be remedied.
Among the songs that have been composed recently,
"General Kim Il Sung is Our Sun," "The Azaleas of our Homeland," and "The People Sing of the Leader" are very good ... These songs are suited to the sentiments of our people and are also easy to sing because their melodies are elegant and yet soft and gentle.
Songs that are too jumpy with melodies that rise and
fall too sharply are both difficult to sing and unsuited
to the sentiments of Koreans...If composers are to
produce good songs, they must, above all else, have
a correct stand and attitude concerning music.
The Great Leader taught us that music, like all
other forms of art, should serve the revolution
and the people.
Listening to the song "General Kim Il Sung is Our Sun," I once again felt deep in my heart that the leader is a genius of art ... From now on, woodwind instruments should be used as little as possible in instrumental music. The use of the piano should also be reviewed. The piano does not stimulate the interest of people very much because it disrupts that melody when it is played.
The frequent use of the piano, in accompaniment, is
outdated and does not suit the tastes of our people.
In the future, the piano should not be used in a
performance or accompaniment by a single person.
Songs should be accompanied mainly by a small
instrumental ensemble. An orchestra of our national
instruments should be developed."
Essay from "Kim Jong-il: Selected Works" (1992),
Foreign Languages Publishing House, Pyongyang.