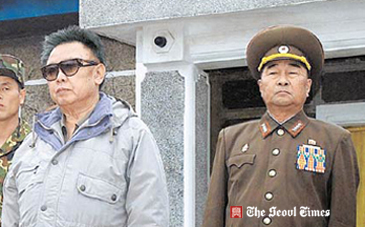 Kim Jong-Il with His General: North Korean leader Kim Jong-Il (left) is seen, in this file photo, visiting a North Korean army unit "1637" with his Army chief of general staff Kim Gyuk-Shik. The 67-year-old Kim was recently appointed to the chief of staff by the leader.
Just before they were busted near the China-North Korea border last March, Current TV's Laura Ling and Euna Lee found themselves within sight of a North Korean winter wonderland of snow-covered peaks, seven and eight thousand feet high, ranging from slate gray to white. On that day, the shallow Tumen River, the border between North Korea and China, was looking less like a river and more like a continuation of the ice that was already on the ground, according to photos taken around that time.
For the crime of crossing the border without a visa (and there is some dispute about which side of the line they were on), Ling and Lee have been sentenced to twelve years of slave labor (doing logging or mining, in all likelihood).
That sentence, by the way, is effectively a death sentence for many prisoners, who are forced to work 12-hour days of strenuous labor on dangerously small amounts of food. (Read about it in detail at http://www.hrnk.org/hiddengulag/part1.html.)
And this is one of the least sensitive areas
in the Democratic People's Republic of Korea
(DPRK), a desolate patch in the far northeast where
almost nobody lives (the only real city in the
vicinity is Yanji, on the China side, which is
around the size of Oakland, California).
The case of Ling and Lee underlines this lesson: the best way for any outsider — tourist or journalist — to see that northern area is from deep inside Manchuria (with binoculars), because that border is something of a Venus Flytrap.
As for visiting the rest of North Korea from the inside, forget it, if you're a U.S.citizen; North Korea is as reclusive and secretive as it's reputed to be. In the unlikely event that you are allowed entry, you would almost certainly be restricted to visiting Pyongyang, and only certain parts of Pyongyang at that, in a group led by a DPRK-approved tour guide.
Visitors would do well to heed the warnings and advisories about travel to North Korea posted on the U.S. State Dept. website, among them: your hotel room and phone conversations may be bugged; you can't take pictures of anything without permission; you can't pay for anything by credit card or personal check; you can't bring anything resembling pornography into the country; you can't take the subway or buy a bike; it's illegal to dis ruler Kim Jong-il; if you develop a medical problem, you should avoid surgery (because "functioning x-ray facilities are not generally available"); and if you run afoul of the many eccentric, arbitrary laws of the DPRK, you're on your own, as America has no diplomatic relations with the North (you would have to cry to the people at the Swedish Embassy in Pyongyang,
a "U.S. protecting power").
Whew! Still want to visit? If you could visit, you might want to start with the most private place in all of the DPRK: the Nuclear Research Center at Yongbyon.
It would be an exaggeration, though not much of one, to say that more Americans have walked on the moon than have visited the nuclear facility at Yongbyon, which seems as sealed and insulated as the heavy lead casks used for spent fuel rods.
Nestled in the Myohyang Mountains on the winding Kuryong River, at the point where the river becomes shaped like a horseshoe or a "U"(as in Uranium), Yongbyon is the heart of the nation's nuclear weapons development program. Not only is access to the center heavily restricted,but the only major highway to Yongbyon — the Myohyang-Pyongyang Expressway — is from Pyongyang and said to be for official use only.
In other words, when Kim Jong-il wants to drive to see his budding nukes, if he drives, he has to take the Expressway north for around 60 miles, traveling for around 90 minutes through plains and mountains on a highway that is, presumably, almost completely car-less and truck-less.
Around halfway there, he'd pass near the city of Suchon, site of a major uranium mine, and then veer northeast through the Myohyang Mountains, coal mining country.
After Kim arrives at the nuclear facility area — he probably exits the freeway near a town called Kaechon — he likely continues by local roads near the Kuryong to Yongbyon.
The nuclear facility, which is reportedly not linked to the rest of the DPRK's electrical grid, includes structures for fuel fabrication, uranium processing, assembly of fuel elements, etc. — in other words, everything required to makes nukes. Photos from a tower-toppling event at the site in 2008 make the center look like a factory in a green river valley. Satellite photos make it seem something like a warehouse district or a Burbank movie studio backlot for a nuclear disaster flick.
But Yongbyon is the real deal. Fueled by nearby uranium mines, with facilities for reprocessing plutonium, Yongbyon is currently back in operation, according to Kim Jong-il's ownrecent public pronouncements. And it's widely believed that Kim might soon have fully functioning Taepodong 2 missiles, which could deliver a nuke as far as the Golden Gate Bridge.
Several miles to the west are far more modest digs: the residences of nuke plant workers (the Homer Simpsons of the DPRK), according to online maps.
All told, there's probably a better chance that Yongbyon will be visiting America (so to speak) than that Americans will be visiting Yongbyon any time soon.
Far more accessible is Pyongyang, though that's not saying much. (For the record, I've never had the pleasure of visiting North Korea!) But it is possible to catch a flight into the capital from Beijing (and there have been irregular charter flights from Vladivostok, Russia, in the past). Pyongyang is a big, vertical city — slightly larger than Chicago — built mostly after 1953, after the Korean War destroyed much of the previous city.
But if you're looking for bars and restaurants, they're as scarce as street crime here, which is to say, almost non-existent. Built on the flatlands and low hills around the Taedong River, Pyongyang is full of tourist sights designed to praise and glorify the current and past governments of the DPRK.
Remember the Pueblo? Well, the North Koreans sure do, and they now have that U.S. Navy ship — the U.S.S. Pueblo, which was captured by the North Koreans in 1968 after it allegedly strayed into its territorial waters — on display in the river that runs through the capital.Then there's North Korea's Statue of Liberty — the Tower of the Juche Idea — a granite, riverside tower topped with a bulb shaped like a flame, which dominates a good part of the Pyongyang skyline. (Juche, by the way, is the guiding philosophy of modern North Korea, promoting self-reliance as a universal goal in both personal life and governmental policy.)
The city's subway, the Pyongyang Metro, seems more like an oddly ornate bomb shelter, around 360 feet underground, reportedly a record depth for a major city subway system. Even official photos reveal an overdressed facility, what with all those chandeliers and colonnades — not to mention the propagandistic mosaics and art at many of the stations.
To the northwest, there's an attractive hilly neighborhood called the Peony Hill (Moranbong) District, with elevations to around 300 feet (not quite as tall as, say, San Francisco's city heights). Near the Peony District is North Korea's Harvard University (such that it has one!): Kim il-Sung University, where Kim Jong-il studied economics in the early 1960s. Government-released photos of the campus make it look drab, sort of like a combination meat-packing plant and reform school.
A U.S. government map (stamped "Distribution Limited — Destroy When No Longer Needed") shows that the most notable landmark in the Pyongyang area is a large reservoir to the city's southeast that's absent on many other maps of the region. Farther north is the international airport, where virtually all passengers are either coming from or going to Beijing.
Much farther north is the Yalu River, which forms most of the border with China, and it's wide and partially clogged with islands claimed by both Manchuria and North Korea. It's an almost entirely mountainous region whose star attraction is Mount Baekdu, the highest peak on the peninsula at nearly 9,000 feet, with a lake near the top that straddles a once-disputed border.
Other areas along the Yalu are less idyllic, according to photos published by Reuters and other news organizations; the landscape around Hyesan, for example, is a forest of factory smokestacks; some of coastal Sinuiju, in the far northwest, looks very dilapidated.
Finally, truly adventurous travelers looking to enter the DPRK through a relatively weak border can try taking a train from Russia into the first North Korean town over the line, Tumangan. (There are recent reports of lucky westerners making the trip successfully and safely). The two countries share both an eleven-mile border in the northeasternmost part of the DPRK (which is around 90 miles west of Vladivostok) and railroad tracks, and those who make it to the peninsula can continue their rail journey to the nearby port city Najin (there's great cod fishing in Najin Bay, they say) and even farther on to Pyongyang.
Unfortunately, making the reverse trip and getting
out of the DPRK is a much harder task, as Laura
Ling and Euna Lee now understand all too well.