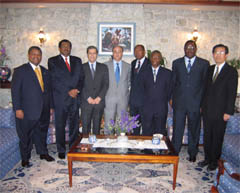 Vacation means "vacancy" for most foreign ambassadors in Seoul, as well. Unusually hot and muggy summer weather drives not only local people but also foreign diplomats, particularly ambassadors out of this gigantic city of Seoul. So, during the summer vacation period top post at foreign embassies is probably vacant, as well.This year during August and September most ambassadors serving in Seoul are spending or will spend their summer vacation with their loved ones and friends back in their own country. The top envoys also use their roughly one- or two-month vacation time as a chance to report their affairs to the government back in their country.When the top foreign envoys are away for vacation communications with these ambassadors can be done through an "emergency" mail box installed at the Ministry of Foreign Affairs and Trade.Amb. Enrique Panes of Spain (54) plans to have his nearly one-month vacation in the middle of August. He will spend his vacation with his mother who is living all by herself when he goes back to Barcelona.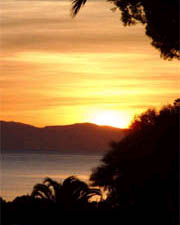 Dawn over the Bay of Tunis
For the 54-year-old top Spanish envoy taking care of his old mother is top priority. Amb. Panes will also spend some time with his old buddies to share long conversations back in his own home. In addition, he will visit Bonn in Germany to meet with daughter working at a UN- affiliated organization. The ambassador also goes to Rome in Italy where he wants to be reunited with his teenage son who is attending an international school.Enjoying time with family and friends is not all for Amb. Panes. He is scheduled to a top envoys' meeting in Spain's Foreign Ministry building in Madrid. Amb. Panes is expected to come back to Seoul by mid-September.EU Amb. Dorian Prince, plans to take his vacation sometime in the middle of August. The 50-year-old ambassador will spend two weeks back in Istanbul in Turkey with his second oldest daughter currently studying a law in London. His oldest daughter is now in Paris where she is majoring in cinema. He is afraid that he may not be able to see his first daughter.The EU's top envoy will stop by the European Union (EU) Headquarters in Belgium's Brussel for a few days before he return to his duty in Seoul.Amb. Othman Jerandi of Tunisia is already in vacation back in his home town of Tunis of which the 53-year-old ambassador is very proud. Amb. Jerandi described Tunis as "a heaven for vacation" which is always crowded with tourists from all over the world for its scenic beauty on the beach.
Amb. Jerandi
Amb. Othman Jerandi (second from left) and Mrs. ambassador pose with Mr. Min Byung-Il, editorial director of The Seoul Times, and President Kah Jae-Mo of Global Korea in a recent gathering.
At the recommendation of Amb. Jerandi, Korea's traditional art troupe "Urisori" is now performing at Tunisia's famous tourist attractions including Hammamet, Sousse, and Sfax.The performance of Korea's traditional song and dances by the Suwon-based "Urisori" runs from August 1 to August 15 in major cities of North African country.Amb. Jerandi, who started his vacation late July, is expected to resume his normal operation in Seoul in early September.Amb. Carlos Frota of Portugal has already left for a vacation back in his own country. He is expected to spend much of his vacation with his large family dispersed in Europe before he comes back to his Seoul office mid-August.
Amb. Frota's interview with ST
Portuguese Amb. Manuel Frota granted a special interview to The Seoul Times on the occasion of Portugal National Day of June 10, 2004. The interview lasted for about 40 minutes on June 1, 2004.
Between his wife the 57-year-old ambassador have four grown-up children and four grand children, who are working or studying in European countries. His wife working as a medical doctor who also has great passion for porcelain painting.His eldest son has a Ph.D. in acoustics and is a research-engineer for AirBus Industries, in Toulouse, France. His second son received a M.A. (master of arts) degree in economics from the London School of Economics. Now he is working in Geneva for the International Labor Organization.The youngest son is a lawyer, training to become a member of the Portuguese Bar Association while his daughter is following in her mother's footstep, working as a medical doctor in Lisbon.Amb. Warwick Morris of Great Britain left for his vacation in England much earlier. He left Korea on June 24, and scheduled to be back in his Seoul embassy around August 10. He started his new post in Seoul only seven months ago.French Amb. Francois Descoueyte is away from his Seoul office for the month of August back in his own country. He said he wants to spend some time with his old friends back home. Amb. Descoueyte will attend a diplomatic gathering for French ambassadors abroad in Paris.
St. Sophia Cathedral
(Haghia Sophia) in Istanbul
The Haghia Sophia (Divine Wisdom) or St. Sophia Cathedral, built in 537 AD, kept the title of "The World's Largest Church" for 1089 consecutive years until St. Peter's Church in Rome replaced it as "The World's Largest" in 1626. Constantinople (Istanbul) was the world's biggest city.
Amb. Alfredo Francisco Ungo of El Salvador is already back in his Seoul embassy. He finished his summer vacation last week. The 63-year-old El Salvadorian ambassador also serves as dean of diplomatic corps in Seoul. He has been serving in Seoul since 1995.Unlike most ambassadors from Western countries, top envoys from Asian countries particularly two giant neighbors of China and Japan, do not appear to be in a position to enjoy long and leisurely summer vacation.Amb. Toshiyuki Takano of Japan is spending relatively short vacation while Amb. Li Bin of China is most likely to have "summer" vacation in autumn or no vacation at all. Japanese Embassy refused to reveal vacation schedule for the 60-year-old ambassador.In case a high-profile Chinese official visits Seoul in late August Amb. Li Bin's summer vacation will be put on hold or cancelled. Otherwise, the top Chinese envoy will travel regional areas of China during his vacation.