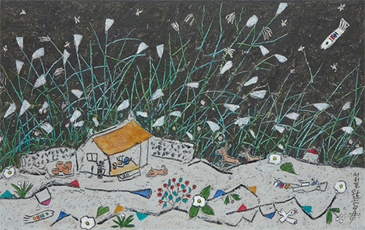 Lee Wal-Jong's "Live a Middle Path"
Gangnam City, run by Mayor Maeng Jung-Ju, inaugurated an exhibition entitled "Beyond Horizon" at "Gallery in a Hallway" located in Gangnam City Office. The display began on June 12, 2009 and will remain open to the public for duration of three months.
Visitors to the showcase will get to view popular works from world renowned Korean artists. The most well-known pieces are "Aggregation" from Korean-born Chun Kwang-Young, who enjoys success both locally and internationally for his artwork and "Live a Middle Path" from Lee Wal-Jong, who has been purposefully living on Jeju Island for around 15 years to isolate himself and be inspired by natures ambiance.
In addition there are a total of 51 works from the 24 painters to admire and appreciate, including pieces from the great master Paik Nam-June and works from mid-career artists such as Kim Jong-Hak, Bae Jun-Sung, and Han Ki-Chang.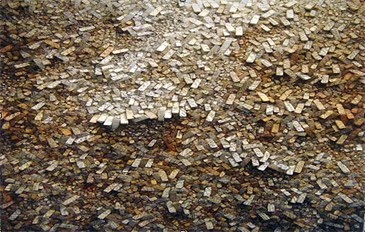 Chun Kwang-Young's "Aggregation"
Exhibition hours are from 9 a.m. to 6 p.m. and tour guides are offered through docents if attendees reserve beforehand with a group of 30 or more visitors.
The event is set to be more than just a chance to view paintings. "It is expected to offer the visitors visual entertainment and deep impression of mind through exhibits from famous Korean painters' work," says the director of Gallery Eugene, Jung Eugene.
Some reviews of prominent art work on display go as follows:
Chun Kwang-Young's "Aggregation"
His work which wrapped up thousands of old books with Korean paper seems both of a painting and relief. It depicts the graceful and classic beauty emitted from Korean paper in a simple and abstract way.
Lee Wal-Jong's "Live a Middle Path"
He said, "Live in Jeju Island and do paint. Don't be a grasping and cling to something. Free from the Good and evil, pleasure and pain, deep attachment and indifference. The good works come into the world in the ordinary way. The place where body and mind be the one, and nature and I be the one. It is the world of no sticking, absence of the worldly desires, that is, the middle path."
For details or inquiries contact the general officer of Gangnam City, Lee Eun-Hee at 2104-1209.