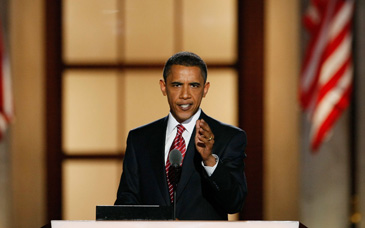 US President Barack Obama
In the same week that PLN director of planning Bambang Praptomo announced no commitment to start nuclear energy procurement plans before 2018 (Jakarta Post 15.06.09), the one-day World Renewable Energy Regional Congress in Jakarta on June 17th concluded with some optimism from Hilmi Panigoro, Chairman of the Indonesian Renewable Energy Society, with an improving political climate for renewable energy led by President Obama, who has brought the US back into the climate change and green energy game.
This change in global leadership, comes alongside stronger Indonesian government backing for renewable energy and new attitudes in PLN, the state-backed electricity utility.
The first 10,000 Mw crash power program in Indonesia to respond to its energy crisis was dependent on coal driven plants, but the second 10,000 Mw program stresses renewable energy especially geothermal, and private participation.
But the nuclear program is still on the horizon.
Indonesia does not plan to go nuclear until at least 2025 when state power plans say that 4 percent of national power capacity should be from nuclear energy.
It would take at least 15 years to build the first nuclear power plant in Indonesia. The next government, taking power in October 2009, has to decide about this.
But it might be easier for Indonesia to build one nuclear power plant to get 4000 Mwe than to get the same capacity from about 600 small and medium sized renewable energy power plants.
If Indonesia cannot go high volume on renewable energy, and the government and private sector are not presently geared to this, then the country may still be forced to go nuclear.
It's not only the Indonesian government that was previously pulling its punches on renewable energy development, subsidizing fossil fuels without enough incentives for green energy.
Both the US and the EU have been in political limbo on support for energy programs in ASEAN and Indonesia.
US President George W Bush was skeptical about the Kyoto Treaty and climate change, which held back US support for climate change projects.
The EU backed three generations of EU-ASEAN Energy cooperation programs, with the major 25 million euro budget EU-ASEAN Energy Facility previously based in Jakarta. But these programs ended by 2007, with no effective replacement.
There is a global trend away from grant support for renewable energy projects and towards private sector development and public-private partnerships.
So congress participants warmly welcomed that US Charge d'Affaires Walter North announced " We are back in the game" on climate change for a planet in peril.
North conveyed the people-friendly style of the Obama administration. He said "Our government is somewhat complicated and not always easy to work with." He said these were early days for the new administration with no time to yet match policy intentions with budgets.
Potentially useful instruments for Indonesia were not yet topped up with resources. It would take time to integrate the US Department of Energy, the US Import Export Bank and other government stakeholders into a new approach.
For example, the Overseas Private Investment Corporation (OPIC) which worked well in India, could be adapted to work better in Indonesia.
It was left to the Ambassador of Finland, Antti Koistinen to wave the flag for the EU. He announced a Finnish proposal to help adapt to Indonesian conditions an environmental energy program which had backed 180 mini-hydro, solar, wind, biomass, biofuel and biogas projects in Central America. This would help fill the gap from project preparation to project development for renewables in the Indonesian provinces.
Finland seems to pack a bigger punch on support for renewable energy than the European Commission. Perhaps the EU might support this Finnish initiative in Indonesia later through its new Delegated Cooperation concept.
With President Obama bringing the US back into the climate change and green energy game in ASEAN and Indonesia, the Indonesian government, the EU and others might also do more. But renewable energy in Indonesia cannot take off without more political and financial support.