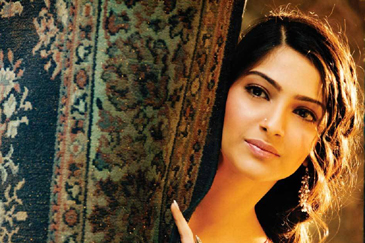 Directed by Sanjay Leela Bhansali, 2007 Sony Pictures' "Saawariya(Beloved)" is based on Dostoyevsky's short story "White Nights." Sonam Kapoor & Ranbir Kapoor starred in the film. Two souls arrive in a small town, one on vacation, the other to meet a lover. They spend the most magical dream-like days of their lives in that town ... with each other.
Hollywood's march has been relentless. Much like the Coke and the Mac, the American movie industry has captured just about every bit of the world with its neat scripts, amazing production values and often wonderful direction and performances. One of the greatest masters of cinema, Satyajit Ray, was never ashamed of admitting that he learnt the technique from Hollywood. But, of course, he used it to tell Indian stories and in his own distinct way. The Ray touch was unmistakable in his films.
The importance of local flavour cannot be ignored. The Germans would like to make their cinema with the German stamp. The Italians would, the French as well and for that matter anybody else. Therein lies the clash between Hollywood — with its big bucks, catchy publicity stunts and, well, sometimes muscle power – and other movie industries.
In the early 2000s when I was in Japan researching into its cinema, I found to my utter horror that Japanese motion pictures were poorly patronised. There were times when cinemas screened brand new films for just me! I was all alone in the hall. But when I walked a few blocks away to another theatre showing an American work, the queue of people armed with bags of popcorn and cans of Pepsi seemed endless.
In fact, the Hollywood invasion of Europe began to threaten the European movie industry to such an extent at one point of time, that France, Italy and Spain among others sought their respective governments' intervention to save their own cinema. Such a protectionist policy worked to an extent.
However, in India, the story was entirely different. Hollywood found an invincible force in India with its massive cinema industry. About 1,300 films were made here in 2008 alone. The big American studios have been trying hard to take over the enormously lucrative Indian market for many years. India is a movie-mad country, where more than three billion tickets are sold every year. In 2008, the country's film industry registered a 13.4 percent increase over 2007.
But unlike most international markets, foreign movies are an afterthought in India, accounting for a meagre five percent (35 percent in France, 33 percent in Japan and 12 percent in the U.K.) of the total market share. India's 1.3 billion people find cinema to be the cheapest form of entertainment that helps them escape the dreariness of their own lives.
However, when Tom Cruise or Nicole Kidman or Brad Pitt or Scarlett Johansson came on the screen, sometimes even talking in one of the innumerable Indian languages that were dubbed on their own English voices, the average Indian was not quite happy. He wanted his own desi heroes and heroines to play out titillating songs and dances or engage in unbelievable fight sequences and illogical arguments.
Dubbing cannot woo a billion Indians, Sony realised after Hollywood went on that spree. A film in English can attract five million viewers. Dubbing pushes it to 30 million, but that is still a mere fraction of India's cinema-obsessed populace.Further, subtitling an English movie was impractical given the innumerable number of Indian languages and the abysmally low literacy. Like Napoleon Bonaparte's Army that was defeated by the Russian winter, India's lingo froze Hollywood heat.
Still big American studios could not stop salivating over the luscious Indian market. The Indian cinema industry is projected by PricewaterhouseCoopers to expand to $4.4 billion a year in 2011 from $2.1 billion in 2006. So some American studios decided they would invest the money in wholly Indian productions. The first, the 2007 Sony Pictures' "Saawariya" (Beloved, based on Dostoyevsky's short story "White Nights") with Sonam Kapoor and Ranbir Kapoor, did not jingle up the box-office. This year, Warner Brothers' "Chandni Chowk to China" with action hero Akshay Kumar and sexy Deepika Padukone crashed on the Great Wall!
Let us face it, American executives have no clue about Indian audience taste. They find it hard to grasp the nuances that entice Indian viewers. Tyler Cowen, the author of "Creative Destruction: How Globalization Is Changing the World's Cultures," said it was unusual for Hollywood "to try to copy the native style so exactly…That is unusual for a reason," he added. "It usually doesn't work."
Also, there is a strong Indian resistance to Hollywood's attempt to grab a piece of the local cake. "Saawariya" and Shahrukh Khan's "Om Shanti Om" opened the same day. Khan described the fight as one between the Indian David and the foreign Goliath, and vowed to finish competition. He did. "Om Shanti Om" took in more than $27 million, demolishing "Saawariya," which made $9 million, losing $ 2 million over its cost.
Disney went in for a safer strategy. Or, what it presumed to be so. The studio co-produced an animated picture with one of Bollywood's most enduring production houses, Yash Raj Films, whose feel-good family entertainment has been a hit in India. But that movie, "Roadside Romeo," made at an estimated $3.5 million, sold only about $3.5 million worth of tickets. Warner Brothers fared even worse. Its "Saas Bahu aur Sensex" (Mother-in-Law, Daughter-in-Law and Sensex) flopped royally. Warner's "Chandni Chowk to China," was ripped apart by critics and largely ignored by movie-goers. It could recover barely half its cost of $11.5 million.
But American studies are still not saying die in India. Warner Brothers has a dozen projects in the pipeline, including two more with Nikhil Advani, the director of "Chandni Chowk to China." Disney is planning four live-action movies and a second animated film with Yash Raj. Sony wants to do six movies a year. Fox has signed a two-picture deal with helmer Vipul Shah, and has four other movies under production.
That is a mighty will. But men like Khan have theirs as well, and Hollywood might find that unlike the rest of the world, India could be terribly tough to take over.