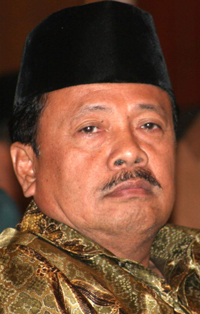 Indonesian Labor Minister
Erman Suparno
American optimism is a brand unto itself. A lyric line from the song "Me and Bobby McGee" might sum it up best as seen from even the gutter: "Freedom's just another word for nothin' left to lose."
The lurking shadow behind that terse one liner is the fabled rock of American freedom that guarantees each and every citizen some inalienable rights; that precipice of human dignity that one can fall back on from the starry skies of aspiration in the worst of circumstances. One saving grace offered by that rock of Providence- however stony cold and bare knuckled- has to do with being able to speak one's mind, so it's not surprising that many truly outspoken people in America are one in the same with those who have lost it all. In losing rather than winning there is refuge in at least that one narrow avenue remaining- that of self-expression- even if it means only to be able to bay at the moon. Consolation prizes have their place in the American psyche, but truth be told, having money is freedom's surest insurance policy.
But ironically in the American system wealth and power can serve as a shackle on free speech. Freedom of speech is usually exercised by only those who feel free to speak. But let us not confuse freedom of speech with feeling the freedom to speak. Feeling free to speak truly usually means there is nothing to lose by doing so. Freedom always demands qualification in order to be understood for what is really at stake by its exercise.
Speaking of freedom, July 4th independence weekend in America is just ending, and the nation's newspapers for the past week have featured the usual fanfare of yearly tributes to the nation's independence declared two hundred and thirty-three years ago. In addition are cautionary tales exhorting Americans to vigilantly safeguard their freedoms, and even a few historical lessons. As for historical perspectives, I was struck by one contributing editorialist to the New York Times who concluded their didactic piece on the various types of governance revolutionary America had to choose from in 1776 by stating," ..North American history makes clear that the details of a political system often make more difference in people's lives than the form does."
The statement struck the side of my skull with the force equivalent to the clapper that cracked the newly minted Liberty Bell. If one believes in angels and devils, they both are to be found in the details. So it is with the so-called "democratic" system of government.
Here are some details to consider:
America characteristically foments with the roiling boil of colorful verbiage- much of it generated in households and on the streets, and rarely printable in the country's newspapers. It's one of the country's many built-in safety valves. When the needle on the boiler's pressure gauge crosses into the red zone, the escape valve hopefully triggers open and a noisy stream of steam vents to stabilize the system.
Not surprisingly, the verbal life and the uses of public speech as practiced in Asia are in important ways diametrically opposed. Certainly that is true of Indonesia.
One irony of Indonesia's decade old democracy is that the details concerning how free its people feel to speak out are found just as well outside of the country as within.
As Indonesia's July 8th presidential elections rapidly approach, some of the nation's newspapers are trying their best to raise voice concerning vital issues the candidates should be addressing in their campaigns. Should is the operative word here. As is too often the case in any electoral democracy, issues in this campaign are being given too short a shrift as personalities and the horse race tend to dominate.
As tangential to the issue of freedom of speech, a fast growing issue of public concern in the world's greatest archipelago has to do with the abhorrent treatment many Indonesian migrant workers are experiencing overseas. The problem has hit critical mass as it was announced on July 2nd by the Indonesian government that due to widespread abuses the Ministry of Labor was flying home all Indonesian living and working in Jordan.
In a rare moment of admission for a high government official, Indonesian Labor Minister Erman Suparno publically stated in March that the rampant labor abuse of Indonesian migrant workers is initially set into motion by many domestic problems, including poor recruitment process, lack of training and corruption at home inside of Indonesia. He confessed that Indonesia itself was complicit in the system of human rights abuse suffered by Indonesian nationals abroad.
However primed for victimization by conditions at home, the fact remains that the maltreatment Indonesians suffer while working in countries such as Jordan, Saudi Arabia, Malaysia, Singapore, Hong Kong, and the United Arab Emirates is being inflicted by employers and being ignored by the governments in those countries. In 2008, of the nearly five million Indonesians working abroad, forty-five thousand cases of abuse- including rape and fatalities- were reported to the Indonesian government. It is anyone's guess how many cases routinely go unreported.
Saudi Arabia, Malaysia, and Hong Kong have been cited as the greatest alleged offenders. Abuses in Malaysia have been publicized in Indonesia more widely than occurrences in other countries, in part due to the ongoing rivalry between the two almost sibling neighbors. This has enraged the Indonesian public, and the Indonesian government has for the time being suspended supplying workers to its more affluent neighbor.
What cuts like a knife, though, is that Indonesian workers seem to be singled out for the greatest frequency of harsh treatment and intimidation. What is it about being Indonesian that invites human rights violations abroad?
In September of 2006, writer Dewi Anggraeni wrote in an opinion piece in the Jakarta Post, "Let me relate a conversation I had with Meera Samanther, president of the Women's Aid Organization in Malaysia, during my research for the book Dreamseekers: Indonesian Women as Domestic Workers in Asia, where Samanther remarked that Indonesian women were very easy to bully. ""I don't know why that is. When they're yelled at, they tend to cower instead of standing up for themselves, which Filipino women tend to do.""
In terms of compensation, migrant workers I have interviewed said that many countries determine salaries for their guest workers according to nationality, and that Indonesians were amongst the lowest paid. The rationale for that is based to some degree upon entrenched practices of discrimination as well as perception of worker qualifications. For example, given two fast food workers performing the same job working in the United Arab Emirates- one Filipino and the other Indonesian- the Filipino will be paid a higher wage.
Workers particularly at risk are women employed as domestic help and men engaged in physical labor in the agricultural and construction sectors. These two labor pools make up a great percentage of the migrant jobs available as host countries find their own people shunning more menial forms of labor. As such, migrant workers occupying these unfavored positions stand out all the more vulnerable, becoming higher profile targets of abuse.
Female domestic workers are especially susceptible to maltreatment. Many are forced to work seven days a week, and threatened with physical punishment if they ever leave the work premise. For the duration of their employment they are often held captive within their employer's own home. Many are forced into sexual relations with their employers and beaten and otherwise tortured. In Singapore where one in six households employ migrant workers, labor advocates attempted to pass a bill a couple of years ago granting foreign domestic help the right to one day off a week, but the legislation failed to pass. Foreign workers in Singapore as well as most of the cited countries enjoy no human right protections and are at best treated as less than second class citizens.
In essence, many migrant workers from Indonesia and other developing countries in South East Asia suffer from what amounts to a modern form of slavery. It is not uncommon for Indonesian television to broadcast graphic video of horrific bodily disfigurement resulting from the torture suffered by young Indonesian women having returned home from working in Malaysia and Singapore.
To give some historical perspective, the records quote Dutch colonial administrators as citing the Indonesians to be the easiest to control and most subservient of any of their colonial subjects. Unfortunately, as documented today in the ongoing tragedies experienced by thousands of Indonesian migrant workers, that same tar is brushed across the face of 21st century Indonesia.
So why is it Indonesians don't speak out and more vigorously defend themselves in the face of terrible abuse?
In short, Indonesian migrant workers keep their mouths shut out of fear. The complete answer is multifold, but coming full circle, leads back to life conditions in Indonesia itself. Two factors handily conspire: low job skills and corruption. Many migrant workers from Indonesia are underskilled and in order to obtain travel documents pay off corrupt government officials and recruiters. With illegal job placement comes the ongoing fear of being reported, detained, and extorted by lower level officials in the host country and deportation with associated confiscation of wages.
There appears to be some consensus concerning potential solutions to the problem. Indonesian NGO's such as Migrant Care who advocate for migrant workers agree with the Indonesian Labor Ministry that simplifying the entire procedure of work recruitment, training and certification of well-trained workers must take place at home in Indonesia if the problem is to improve.
As part of a greater mosaic, the fear of exercising free speech in or outside Indonesia is firmly rooted in the lack of rule of law that drags on Indonesia's progress as not only a democracy, but as a system of government that has properly secured basic human rights for all its people. Labor abuses are found at home as well as abroad, and fear of speaking up amounts to the same.
Call it growing pains if you will, but the rule of law has yet to be firmly established in Indonesia, and the republic's byzantine judicial system is persuaded as much by corruptive influences as by adherence to principles of fair jurisprudence. The recent arrest and jailing of a Sumatran woman who complained by email to several people about the inadequate medical care she had received in hospital is ample evidence concerning the susceptible state of the everyday citizen's right to freedom of speech. The young mother was sued by the hospital in question for spreading damaging libel, and local authorities found it proper to jail the woman immediately and prior to trial. Local authorities and especially the police have been documented to show wanton disregard for the letter of the law, but to be fair, there are often many overlapping and conflicting local and central government laws on the books. Indonesia's constitution is neither rigorously adhered to nor consistently interpreted. The country's legal system, in short, is a tangled web of inconsistencies and conflicting interests all too prone to corruptive influence by special interests. Since the fall of Suharto's New Order, the establishment press has enjoyed a freedom of speech almost without peer amongst the eleven ASEAN countries, but that freedom is not necessarily shared by the great masses of Indonesians.
The slim handful of issues that are actually being addressed in the current presidential campaign do include that of anti-graft and corruption, of course, as President SBY has put a lot of political capital into fighting them. This is much to his administration's credit, and the president has drawn much domestic and international praise for his landmark fight to improve upon a state of corruption that ranks Indonesia in the lower third of the world's corruption index. The ramifications are huge, not only as per issues of civil rights but also as pertains to promoting foreign investment to help insure Indonesia's well-touted economic progress. Few are inspired to invest money in a country whose legal system is arbitrary.
Human and civil rights have not taken center stage in this election per se, but many top level politicians are well aware that fighting corruption will better secure wider human rights, including freedom of speech, for the Indonesian people. If only it were enumerated that forthrightly by all political parties involved.
Corruption, poverty, lack of education, inadequate health care, and unsecured human and civil rights are all inextricably linked. As Indonesia's fledgling democracy embarks upon its second general presidential election on July 8th, its gravest task is to make right the details of it democratic form of government that aim to better secure the fruits of freedom that democracy portends to proffer by taking on these negative factors as an integrated whole.
Campaigning against two rivals, President SBY is considered a heavy favorite to win the election outright. (If no single candidate garners a majority in the first round, a runoff between the top two candidates will ensue in September) Given the rapid ascendency of SBY's Democrat party, his reelection will give him a freer hand to govern without having to cow tow so much to coalition interests. Let's hope that a new and final five year term will give him the confidence and ability to better implement the details of a democratic system that Indonesians have so earnestly embraced. The president has not had a free hand in his first five years, and has had to move cautiously. But a resounding victory will give him a mandate, and he may well have the rare opportunity to achieve an historic greatness in the name of Indonesia's development as a true democratic republic.