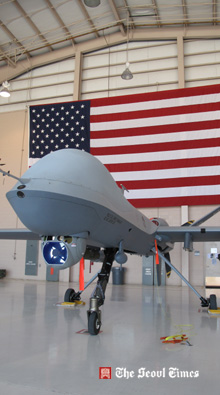 US military's Reaper
This month's 'World's Untold Stories' takes viewers inside the secretive world of Drones or Unmanned Aerial Vehicles (UAVs) and shows how a group of skilled 'pilots' are fighting the Taliban - without leaving the Nevada desert. CNN's Senior International Correspondent Nic Robertson gains rare access to a U.S. Air Force control centre and remarkable insight into the life of a Drone pilot, Major Morgan Andrews. He also examines the future and the significance of this technology in today's battlefield.Every day Major Andrews leaves his suburban Las Vegas home and half an hour later finds himself deep in battle, killing insurgents on the other side of the world.Andrews controls the flying assassins through little more than a zoom lens and a joystick. The unsuspecting targets are not aware that they are being locked on by the aircraft, nor that their final moments depend on the click of a button thousands of miles away. Nic Robertson investigates the comparisons between flying the unmanned aircraft and playing a video game, asking whether the system makes it too easy to go to war and digging deep into the psychological ramifications of the pilot's experiences. In this eye-opening documentary - 'World's Untold Stories: Warfare by Remote', witness first hand the impact and power of drones and how they are revolutionizing the warfront in a way no one could ever have imagined. For more information, please visit www.cnn.com/wus.
WHAT ARE DRONES AND WHAT DO THEY DO?
There are 7,000 UAVs currently in use by the armed forces, including the Raven, Global Hawk, Shadow, Predator and Reaper. The U.S. Air Force's fleet has grown quickly in recent years, from zero in 2000 to 195 Predators and 28 Reapers in 2009.
Predator UAVs have been operational in Bosnia since 1995 in support of Nato, U.N. and U.S. operations and as part of Operation Enduring Freedom in Afghanistan and Operation Iraqi Freedom, flying over 500,000 flight hours on over 50,000 flights. The ground-based crew of a single Predator UAV consists of one pilot and two sensor operators. Remote Predator pilots have to rely on onboard cameras to see what's going on around the plane. The U.S. is the only country operating in Pakistan known to have the ability to launch missiles from drones, carrying out airstrikes on suspected militant targets. The U.S. military also fly drones over Pakistan's tribal regions to help provide critical intelligence to Pakistan's security forces. Cameras, sensors and other intelligence equipment on the drones are used to collect intelligence and data on potential insurgent targets.