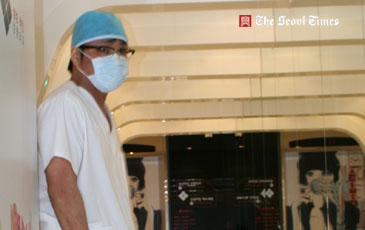 Doctor Huh Chul or "Samsung Line Plastic Surgery"
These days a flood of foreigners are visiting South Korea for the purpose of getting medical treatment. The so-called "medical tourists" come from all over the world, but mainly from Japan, China, and Southeast Asian nations. Many of nation's medical institutions are gearing up for receiving the precious tourists from overseas. Among them is "Samsung Line Plastic Surgery."Well-equipped with state-of-the-art facilities and highly-trained staff, Samsung Line is one of the "advanced guard" clinics for those who want to change their looks for the better. Samsung Line has been putting lots of efforts for the foreign customers. The Seoul Times has recently met with one of its doctors to listen to their preparations and to hear about how they deal with foreign patients. Here is the full text of the interview with Dr. Huh Chul.
Q1. Why did you name your clinic Samsung Line? Are there any relations to the big business group Samsung? What are the benefits of using name "Samsung Line?"
A1:
Two of our four doctors working here are from the Samsung Medical Center. Dr. Shin Hyun-Duk, who is the president of our clinic, is serving currently as adjunct professor of the Samsung Medical Center. I guess that these are some of the reasons we adopted the name Samsung. As for Line, the role of plastic surgery clinics and the job of plastic surgeons are to make "Lines" of the face and body more beautiful. So, we put Samsung and Line together. In actuality, we are a cooperative clinic with Samsung Medical Center.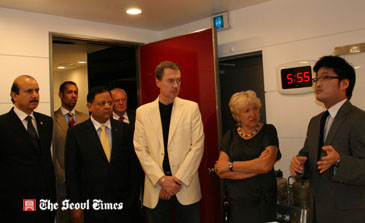 Dr. Huh Chul explaining to a group of foreign envoys
Q2: Nowadays, foreign tourists pour into Seoul to gain access to South Korea's advanced medical treats and we call them "medical tourists." What are your preparations for them? Compared with other plastic surgery clinics, what, do you think, are your advantages over other clinics?
A2:
We are quite carefully and well prepared for meeting the needs of foreign customers. First, our admin staff, receptionists, and doctors, are highly capable of communicating with foreigners in English. Our interior design was done to give enough privacy to the foreign patients. We have even two elevators, one for our staff and the other exclusively for the customers.
Q3: Do you have many foreign customers? What is the ratio between Korean and foreign patients?
A3:
Roughly 10 percent of our patients are foreigners as of now. We expect to have a lot more foreigners because we recently started serving foreign patients. It's been only a little over two months now. We are working on increasing the number of foreigners.
Q:4 In case of foreign residents here in Korea after-care seems to be no problem since they live here in Korea. But how do you care about foreign tourists after the operations or treatments?
A:4
About half of the foreign patients in our clinic are tourists from overseas. For those who visit our clinic from foreign countries we offer thorough counseling via e-mails and or by using photos (pictures) prior to the operations. After the operations they can be hospitalized in six rooms on the third floor for one or two weeks. So, there is no problem about our treatments for those inpatients after the operations.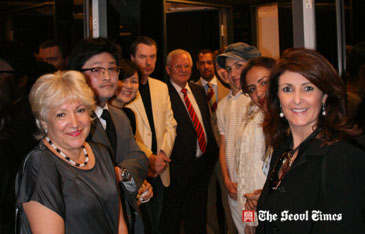 Dr. Huh Chul (2nd from left) poses with foreign envoys.
Q5: What are the rates for foreign patients? Do you charge them the same rates as you do to domestic patients?
A5:
Basically cosmetic surgery is not covered by medical insurance. We apply the same rates to the foreign customers based on the international medical charge like the United Sates or other Western nations. Therefore the charges are more or less the same for Korean or foreign patients.
Q6: When it comes to the concept of ideal beauty are there any big difference between Korean and foreign patients? What is your notion about ideal beauty?
A6:
That is a very interesting question. Standards of beauty differ depending upon the culture of the country and social atmosphere. For a good example, protruded lips (bimaxillary) are perceived as a problem to be corrected. But in case of Southeast Asians that does not matter. They do not think about having operations on them. I listen to the needs of the patients and I try to find the beauty in them that is harmonious with them. They all have different characteristics and features and I do my best to try to find beauty of their own in them.