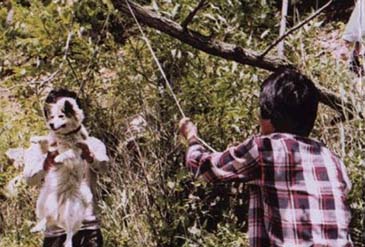 A dog is being hanged by Korean men. They beat the dog into releasing droppings in order to tenderize the dog meat.
An international online petition campaign at www.uniteddogs.com/stopkillingdogs has been launched in 10 languages world wide to stop dog torture and dog meat consumption in South Korea.Over 2,000,000 dogs are raised and killed for food in dog farms in South Korea every year. They are subjected to suffering and deprivation, they are electrocuted, hanged, burned or beaten to death.By the time you reach the end of this press release, 5 dogs have been killed for their meat."This is probably the cruelest thing that could happen to companion animals - many are tortured and end up on dinner tables. And the strangest thing is that it is happening right under our noses in one of the most rapidly developing countries in the 21st century," said United Dogs and Cats head Ragnar Sass.United Dogs and Cats is hosting an online petition campaign to draw the world's attention to the cruel treatment of many dogs in South Korea despite Animal Protection Laws that have been in place since early 1990s.Over 100,000 signatures have been gathered in three weeks for stopping the dog meat industry in South Korea and the petition will be handed over to Korean officials when at least 1 million or more people have signed.South Korea has the world's 15th largest economy and all the appearances of a modern developed country. Korean success stories and accomplishments in all fields of life are admirable. It is therefore strange that the government is unwilling to put an end to the brutal and disturbing dog meat industry. With international protests and petitions the world can pressure South Korea into fully recognizing
and respecting the special status of dogs as companions, family members, and helpers.Watch the eye-opening video "A Dog's Life" and learn more about the issue at www.uniteddogs.com/stopkillingdogs . Keep up to date with the campaign and find more ways to support this cause in Summer 2009 on the petition page .Follow the freshest news and signature count on Twitter (@uniteddogs,
#stopkillingdogs) and on the Facebook page ("Stop Killing Dogs").The online petition will stay open throughout the summer and signatures will be presented to South Korean officials in Seoul by Korea Animal Rights Advocates (KARA).Editor's Note
The dog meat issue in South Korea is complex and always fuels an array of emotions. For a concise overview of the situation, we suggest consulting Korea Animal Rights Advocates (KARA) English page at
http://animalrightskorea.org/dog-meat-issue/current-situation-of-koreas-dog-meat-industry.html.You may also want to see the latest (2008) Animal Protection Law in an unofficial English translation at
http://animalrightskorea.org/animal-welfare/korean-animal-protection-law-2008-version.html
.
About United Dogs and Cats Ltd
Founded in 2007, United Dogs and Cats Ltd is the maker of Europe's leading social networking sites for pet-owners, Uniteddogs.com and Unitedcats.comContact Ellen Murula ellen.murula@uniteddogs.com
www.uniteddogs.com / www.unitedcats.com
Skype: ellenmurula