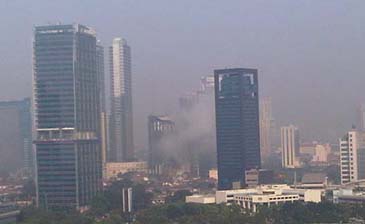 Two luxury hotels in downtown Jakarta, Indonesia were bombed Friday (July 17, 2009) afternoon, killing at least nine people.
I now read, speak, and understand Bahasa Indonesia too well to be able to blissfully ignore anything I see and hear when traveling and living in Indonesia. Reality now hits home much harder as compared to any previous romantic notions I may have once harbored as an expatriot living in the balmy tropic isles of the world's greatest archipelago.
This last trip to Java from my home in North Sulawesi was sadly timed to perfection for a would-be citizen journalist. On my birthday, July 17th- so-called Black Friday- the latest terrorist bombing occurred on Indonesian soil. I had slipped out of Jakarta a few days previous, and wasn't in the city when all hell broke loose at the Marriott and Ritzy hotels in Southern Jakarta. In fact, my day was rather spent climbing the Southern Hemisphere's largest temple, the great Buddhist mandala of Borobodur which lies outside of Yogyakarta in Central Java.
As one circumscribes the spectacular temple's stone carved galleries lined with thousands of bas reliefs and paces level by level up through one stage of enlightenment to the next, the ultimate ground of non-being is reached at the temple's pyramidal apex. The hundreds of stone carved Buddhas which on the lower levels populate the temple's gallery wall tops are gradually subsumed by Stupas and ultimately dissolve formless into the grand Stupa that sits atop the temple. The Stupa is a bell-shaped structure and is the architectural embodiment of both the Nirvanic state and the reality of having stepped off the Wheel of Samsara.
Neither I nor the world-at-large are even close to such a realization. Transcendence remains the province of a few, and the dream of many.Having said that, an ascent through the stages of awakening and ultimate dissolve into formlessness and Nirvana- however relegated to the purely ritualistic- are much preferable to be blown to bits in the lobby of an international, five-star hotel (not that I have the money or inclination to stay in such a place).
So as with most foreign travelers, the bombing didn't scathe my person. The odds are always against such a thing happening. In fact, the bombing at the Marriott- which was the more damaging of the two detonations- targeted the international business elite that so often meet for conferences there. Few qualify as such a target.
It is not yet determined conclusively just who is ultimately responsible for this latest bombing, but it had all the trademarks of an attack staged by Indonesia's well-known homegrown Jemaah Islamiyah (JI) and one of its former leaders, Noordin Mohammed Top. Top is now considered to be leading a JI splinter group, so it may well be that JI was not involved directly. Either way, both JI and their splinter groups profess the Al Qaeda philosophy of terror. A master terrorist and bomb maker, Top's precise whereabouts is unknown, though Indonesian authorities consistently maintain he is holding up somewhere in his native Malaysia. (Malaysia doesn't subscribe to this assessment. In fact lately, there isn't much the two sibling neighbors find in agreement)
Top is thought to be the mastermind of the most devastating terrorist attack on Indonesia, the grisly bombing of a Kuta Beach nightclub in October 2002, better known in Indonesia as "Bali Bom I." Though three of his alleged lieutenants were convicted and executed for that particular crime, Top has remained elusive. The Indonesian and world press have settled on Top as being Indonesia's public enemy number one and most wanted man.
It is reported that Top has a fixation on bombing Indonesian five star hotels, as he is particularly riled by their symbolic meaning. The logic goes that as the World Trade Center Twin Towers in New York City best symbolized the hegemony of Western capitalism for Bin Laden and Al Qaeda, the Marriott in Jakarta provides the same for Top and the JI as per Western influence in Indonesia. The analogy is clear cut: What the Twin Towers was to Al Qaeda, the Marriott is to JI and its brethren. The WTC and the Marriott both represent Western cultural and economic hegemony as perpetrated against Muslim-populated countries.
The Marriott Hotel in particular hosts so many meetings where top executives of foreign business interests cut deals with their Indonesian counterparts that Noordin Top considered it worthy of bombing twice. (The first bombing occurred on August 5th, 2003 outside of the Marriott. Twelve were killed and one hundred fifty injured)
If Top was responsible for the Black Friday tragedy, he is probably not all that satisfied with the carnage that resulted. For one, a reported third bomb failed to detonate. As for the Marriott bomb that did successfully discharge, a suicide bomber appeared to have made a bee-line with a wheeled bag stuffed with explosives and nuts and bolts for a Marriott lounge off the main lobby where nineteen senior businessmen were breakfasting. As reported by stuff.co.nz, "In the room were American, Australian, New Zealand, Italian, Dutch and Indonesian energy, mining, recruitment and telecommunications chiefs, along with consultants and government mission representatives."
Four of the nineteen were killed.
New Zealander Timothy Mackay, the 62-year-old president director of the Swiss-owned Holcim Indonesia cement company, was one of the four. Sitting close to him and in proximity to the bomb were three other businessmen who perished, all of whom were Australian. One of the three, Garth McEvoy, was a mining executive.
Men like Mackay and McEvoy were elite executives of foreign owned business interests that according to critics suck Indonesia dry of its rich natural resources while diverting most of the profits offshore into pockets abroad, or into the central treasuries of the Indonesian government with no benefit given directly to the Indonesian people, especially the poor.
Indonesia was riding a wave of international adulation when the bomb struck. Just nine days previous the country had successfully conducted its second free, country wide presidential election, and the praises from government and multi-national business all around the world were pouring into Jakarta. President Susilo Bambang Yudhoyono's landslide reelection was considered both a victory for Indonesian's nascent democratic institutions as well as a domestic endorsement of President SBY's reform programs in terms of the macro-economy and anti-corruption.
SBY's administration's success in fighting terrorism had also been well-touted, but the Black Friday bombing put a quash on that claim- at least temporarily. Some even say that Indonesia's struggle against terror is now back to square one.
In part, SBY's reaction to the bombing was initially taken as a personal affront. In a rather stunning press conference in which his first verbal response was made public, his words focused as much on the bombings as constituting a personal threat as much as being an attack on Indonesia's national well being. SBY flatly stated , "I am a terrorist target." He denounced the attackers as draculas and held up a photograph of himself with a bullet hole perforating his face which he claimed had been used as target practice. More controversial was his suggestion that the bombings could possibly be linked to alleged plots by political rivals to overturn his reelection. Some in the Indonesian press as well as his defeated presidential challengers charged him with both outright paranoia and having had politicized the bombings at the expense of his detractors. These counter-charges by SBY's opposition were especially grave given Indonesia's election commission was soon scheduled to officially verify July 8th's election results. Just a few days subsequent to the press conference, SBY's victory was indeed made official by the commission.
An unconventional kind of post-mortem analysis taken nearly two weeks after the bombing reveals a bifurcated reality in South East Asia's most rapidly changing, democratic country. Domestic and international government and business concerns as well as the local and foreign press have one set of reactions- however mixed- but the everyday people one meets in Indonesia- both foreign and domestic- have another one altogether. These two groups constitute two very stratified groups of Indonesian stakeholders.
That first, elite group of stakeholders most often point to abstract indicators as per marking Indonesia's political and economic progress. Macro-economic conditions (especially as concerns incentive for foreign investment), monitored growth of democratic institutions, and the relative success of SBY's anti-corruption campaign seem to be their core concerns.
It is true that measurable gains in both the war waged against corruption and the growth of democracy bode well for an emerging Indonesia. It is no longer considered "the sick man of South East Asia." The country is now a member of the G-20 and is even being considered an economic up-and-comer in league with the world's most notable developing countries India, China, Brazil, and Russia. That the Indonesian economy continues to grow despite the worldwide economic crisis has drawn accolades and recognition from the world's biggest economic powers and the international banking and investment communities.
Though macro-economics as measured by per capita growth of GNP has registered real, positive growth during SBY's first five year term in office, poverty is still rampant in Indonesia. Wealth, as in most developing countries, is not finding itself distributed fairly or equitably here. For all the talk of democracy's spectacular progress in Indonesia, its ultimate success in the long run remains in doubt if the gnawing poverty one sees all over the archipelago is not somehow abated. Indonesia's increasingly important and influential group of economic technocrats is hoping trickle down economics will provide ballast upon which the fortunes of all boats will rise.
But the cure for Indonesia's greatest plague, poverty, is a long ways off. And high rates of poverty remain part of the terrorist's rationale for perpetrating violence in Indonesia. As with some other less-violent critics already mentioned, JI and terrorist such as Noordin Top believe the wealth is being stolen and otherwise siphoned out of the country, and that an Islamic Theocracy would not allow such an economic model to prevail.
As I took the train out of Jakarta's Gambir Station and rolled on to Yogyakarta just four days before the bombing, the garbage-strewn, ramshackle shanty towns stretch interminably on either side of the tracks until one is well out into the West Javan countryside. The urban blight suddenly gives way to huge expanses of rice paddies taking hold along the corridor until entering the greater Yogyakarta urban area in Central Java.
One is suddenly jerked out of urban poverty and pulled into a green dream. It is Indonesia's great agricultural infrastructure as planted on some of the world's most fertile lands by some of the earth's best farmers that in truth keeps the nation from going hungry. Yet persistent hunger exists in far flung parts of the archipelago where the land is not so blessed by volcanic soil and generous tropical rains. Nearly half of Nusa Tenggara's children under five years of age suffer the effects of some form of malnutrition. (Nusa Tenggara consist of those Lesser Sunda Islands that stretch to the east of Bali all the way to East Timor)
What percentage of Indonesia's population live in such degraded urban conditions or isolated rural villages who lack in proper nutrition can only be estimated. Official government statistics cite those below the poverty line as a proportion less than a fifth of the population. Other reports vary wildly- some claiming the poor to be as high as 70%. As with almost any country, measuring poverty in Indonesia is the most politicized thing imaginable. Is poverty relative or absolute? Definitions as per culture will vary in proportion to the relative wealth of each culture considered. It's not much help, but I imagine Indonesia's relative poverty lies on some broad quartile located somewhere between that of a country like Switzerland and the Sudan. I don't think anyone knows for sure.
As someone on the ground and in touch with everyday Indonesians, I had many casual conversations just after the bombing with Indonesian people I had just met as well as others I had known for a long time as well. These included taxi cab drivers, bus drivers, hotel employees, merchants running small shops and stalls, street musicians, and farmers in the Kampung.
It is no scientific survey I conducted, admittedly, but the overwhelming response to the bombing amongst the poor Indonesians I spoke with (that second group of stakeholders) was one of almost unanimous boredom and unconcern. Shrugging it off as an afterthought, many simply didn't seem to care. It came down to an event that was out of sight and hence out of mind. But that could better be interpreted to be just how little effect an otherwise internationally recognized and politicized event of terror, death, and destruction has on their lives. Short of a military coup, famine, or Indonesia going to war, nothing much going on either home or abroad holds much sway in their lives, for better or for worse.
Thousands of refugees from floods and mudflows, for example, barely hang on to their substandard existences across Java, and a hotel bombing in Jakarta wasn't going to either improve or make their lot any for the worse. Government promises to help these people rarely materialize, even in this election year.
But then there are those who would never consider stopping to answer my questions out of fear and anger. Measuring fear and anger amongst the poor in Indonesia would be a perilous job. It's apparent it exists. That terrorists still find the cooperation and recruits necessary to pull-off the bombing of a five star hotel in Jakarta is proof enough. That Imam Abu Bakar Bashir- the spiritual mentor and recruiter of the Bali bombers who admitted complicity in the 2002 bombing- continues to preach hate in his madrasah in Central Java with impunity is a clear sign that the violent fringe of fanatic Islam still holds political currency in Indonesia.
The reams of news headlines and analysis spinning across the internet and news wires express the concerns of the haves in vast disproportion to the have-nots. The have-nots are simply pressing on day-to-day, eking out a substandard living. It makes no difference if it's the poverty-stricken in East L.A. or the shanty towns lining either side of the railway tracks heading out of Jakarta.
As for most of those who live in World's Greatest Archipelago, the repercussion of Black Friday's bombing wasn't much felt outside of Jakarta's inner circles and tourist enclaves in anomalous places like Bali. The real news here is that for the have-nots of Indonesia, nothing much has changed.