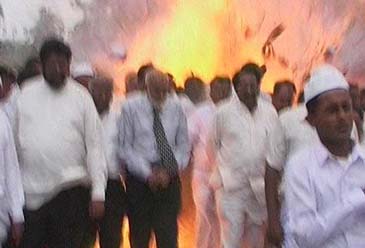 Suicide bomber attack in Jakarta, Indonesia
The Jakarta bombers had a temporary negative impact, hitting tourism more than investment or the economy. Before the glass was cleared up from the two hotels, the crowds were back in the Jakarta shopping malls. M.S. Hidayat, Chairman of the Indonesian Chamber of Commerce said the bombings would not impact heavily on Indonesian business but that "A quick solution to the case (would be) key to ensuring long-term stability in the business climate," (Jakarta Post 24.07.09).
Indonesia shows that once economic and social development combined with political reform gain sufficient momentum, then hard-line Islamist militants have much less to work with.
In Indonesia political Islam has allied itself with a reforming government and can fight corruption and for economic social and bureaucratic reform from within the political system, as part of the new ruling coalition to take power in October this year.
Hard-line Islamist militants in Indonesia are increasingly isolated by rapid economic growth.
However, the low performance of many new local government units, including about 200 new regencies, is of some concern, weakening local administration outreach and undermining the capacity for non military defense upon which sound anti-terrorist strategies depend.
Although the problems with the autonomous Muslim regions in the southern Philippines are not strictly the same, it is noteworthy that when Manila had to act to replace incompetent local leaderships simply extracting state resources, this did lead to some conflicts.
Public administration reform and strengthening of local government therefore become essential in rural areas for security reasons as well as to ensure economic development, two sides of the same coin.
The main enemy is under-development, poor education, rural backwardness and the vulnerability of village-based parochial loyalties and kinship links, when local traditional or religious leaderships are weak.
The growth of Islamic-derived deviant cults, including organized criminal "pyramid" money-collecting schemes, reflect some exploitation of over-simplistic loyalties to Islam and Muslim culture, in the absence of stronger leaderships, undermining legitimate religious fund-raising.
These trends reflect some loss of authority and outreach by the two main Muslim mass organizations, the Nahdlatul Ulama and the Muhammadiyah, both of which claim unrealistically large memberships.
Local state-backed community-based regeneration, perhaps backed by an expansion of shariah banking and local shariah lending groups in support of small enterprises and social infrastructure, would have a stabilizing effect.
An increasingly fractured disaggregated society is undergoing rapid economic and social change, with many competing social trends and interests, alongside the wearing down of the extended family and the undermining of traditional middle-aged leadership structures.
A predominantly young population seeks new social and cultural outlets prompted by the increasingly pervasive influence of television, pop music and pop culture and electronic networking, increasingly propelled by mobile phones and hand-held devices which the poor can now afford, as well as village internet centers.
The economic model built by President Susilo Bambang Yudhoyono is achieving small-scale redistribution effects, but on a massive scale, backed by a huge state budget, state-backed projects and state-owned enterprises, countering the negative impacts of the global downturn.
This has been enough to keep the economy growing at about 4.5 percent this year, and the number of people in poverty or unemployment falling, but the country needs a growth rate of at least 6.5 percent to make serious inroads into both problems.
Economic success helps, but the way has to be open to political change and bureaucratic reforms, so that marginalized local groups can become included rather than remaining excluded, avoiding local power vacuums or discontent.
The targets of the bombers and their backers are likely to be increasingly economic since economic success provides the main parameters for their defeat.
A combination of broad economic and social strategies, but with attention to local detail, alongside the sensible security policies already developed should work, whilst building and maintaining strong public support via democratic mechanisms.
Other countries should look at this Indonesian model which has tackled local conflicts successfully and might be helpful elsewhere.