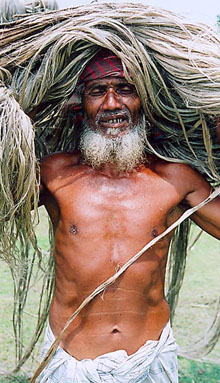 A farmer in Bangladesh
Dhaka, Bangladesh July 29, 2009 — An international climate change action group has called for at least $150 billion a year to be made available to developing countries to help protect against environmental disasters in the most vulnerable nations of the world. A three-day International Civil Society Conference, on the rights of the most vulnerable countries in climate negotiations, issued a 'Dhaka Declaration' at the close of the meet at the Dhaka (Bangladesh) on Wednesday (July 29, 2009).
"We call on all parties of the UN Framework Convention on Climate Change (UNFCCC) to recognise the most vulnerable countries as a collective voice in climate negotiations," said the declaration. "Adapting to climate change is not a choice, it is a necessity," it said.
The conference said rich countries had to reduce global greenhouse gas emissions "to at least 95 percent below 1990 levels by 2050." Ziaul Hoque Mukta of the Campaign for Sustainable Development in Bangladesh said that the short term goal for developed nations should be to reduce their emissions by at least 45 percent in aggregate against 1990 levels by 2020. He said of the $150 billion a year requested for developing countries, $50 billion a year should be targeted for adaptation projects in the most vulnerable countries and should not take the form of loans. Dr. Saleemul Huq, senior fellow of UK based Institute for Environment and Development, said civil society in vulnerable countries had to ensure their own governments struck the best deal in the upcoming climate meet in Copenhagen. "We need to provide assistance. What is not yet agreed is how much money is involved, figures range from $50 billion to $100 billion," said Huq. The conference was jointly organised by the Campaign for Sustainable Rural Livelihoods and Oxfam. It was attended by representative from the Maldives, Nepal, Bhutan, Vietnam, Cambodia, Ethiopia, Uganda, Lesotho, Swaziland, Zambia, Niger, Tanzania, Samoa, Thailand, Sri Lanka, and the Philippines.