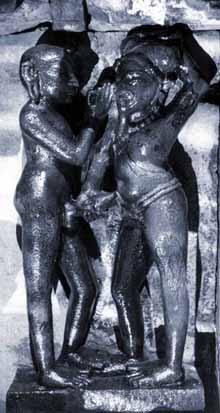 A monk caresses a layman, from the Temple of Visvanatha, Khajuraho, Central India, 10th century CE.
The Delhi High Court's recent ruling to decriminalize sex between two consenting men or women is widely seen in India as a move towards a healthier sexual climate. Though confined to Delhi now, the law could eventually be adopted by the country's other regions.
The Delhi ruling quashed a terribly archaic law, inherited from the British Raj, which termed gay sex "unnatural." The section of the law in question, 377, was culture specific that originated in Victorian England and was transported to its colonies. British rulers felt that Indians and, of course, others colonial subjects were not civilized enough – even too sexually perverse – to enjoy freedom. This line of thought stigmatized sex, most certainly homosexuality, and sadly the legacy persists even today.
In fact, India's religious institutions still aver that gay men and lesbian women are perverted, and that there is something wrong in their heads. Often, homosexuality has been looked upon and treated as a form of mental illness or a rare case of lunacy by the society at large, and the legal system merely reinforced this through Section 377. An offense under it was punishable by a 10-year prison term. Although there really have been no convictions in recent years, the law provided a handle for brutish policemen to humiliate, harass and torture gays and lesbians. They were subject to bias and bigotry at workplace and other social arenas.
The Delhi verdict came at the end of a long nine-year battle by activists who argued that the ban on gay sex violated the fundamental right under the Indian Constitution. They also said that the legislation made it more difficult to check the spread of sexual infection, particularly HIV and AIDS.
However, the new law should be seen as a step beyond merely to prevent diseases among homosexuals. It will open the door for sexual freedom among this section of the people, ridding them of fear, and ultimately pave the way for greater social acceptance and lesser stigma.
In a nation like India where even sex between a consenting adult man and a woman is viewed as the right and responsibility of the society, the court order would help place the gay issue in its correct perspective. The right to privacy would now be as integral as the right to life. For a long time, homosexuals have been contending that their sexual preference is their own business, and the community should have no say in this, provided it is consensual. They must be left alone to pursue their choice of partners. But their voice remained a whisper, finding an outlet in poorly circulated magazines and patronized films. It was unfortunate that the prejudices of some were allowed to interfere and override the privacy and liberty of others, and the new law seeks to set this right. More importantly, it underlines that homosexual preference is not about morality, but equality. For the first time in nearly 150 years, India's homosexuals would have rights that equal those of heterosexuals.
The Delhi court's remarks on equality will lead to homosexuals being given the right to marry, nominate and inherit. It will also help distinguish between non-consensual and consensual sodomy. paedophilia, which was listed under Section 377, would now probably be transferred to statutes dealing with rape.
In the final analysis, the legal step has taken India back to where it was in ancient times: sexual liberty and tolerance for sexual minorities. Gayness was not a matter of guilt then. It was out in the open. Indian epics and mythology have innumerable references to sex between people of the same gender. In one version of the Indian epic, "Ramayana," there are descriptions of two women making love in the absence of their husbands. Incidents of sexual ambiguity can be found in the nation's literature, and they are invariably narrated with empathy. The human mind does have the power to include those with a different sexual orientation in their society. There is enough compassion to let homosexuals live, and it may not be a bad idea to complement the new law with the right kind of education that may well begin in high school. Undoubtedly, the media's role here is significant. It did play up the Delhi court decision, but this should not be the end of the effort.