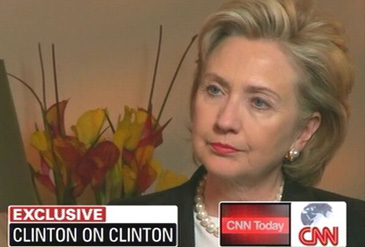 US State Secretary Hillary Clinton
This Sunday on CNN's Fareed Zakaria GPS, Zakaria travels to Nairobi, Kenya for an extensive interview with U.S. Secretary of State Hillary Clinton. They will discuss former President Clinton's role in the release of journalists Laura Ling and Euna Lee from North Korea among other topics. An excerpt of that interview is included below. The full transcript will be available Sunday afternoon. Any usage of the following material must be credited to CNN's Fareed Zakaria GPS. The complete interview airs this Sunday (Aug 9th) at 8 p.m. and next Monday (Aug 10th) 3 a.m. on CNNI.
Selected Excerpt:
On the unorthodox mission to free journalists Euna Lee and Laura Ling:FAREED ZAKARIA, HOST, FAREED ZAKARIA GPS: So President Clinton comes back, he spends three hours talking to the leader of North Korea, Kim Jong Ill, what was his impression of him?
HILLARY CLINTON, US SECRETARY OF STATE: We're going to get a full debriefing which we haven't had a chance to get–
ZAKARIA: But you must have spoken to him on the phone –
CLINTON: Well I do, I have spoken to him on the phone but I have this policy, I never talk about what I talk to my husband about, Fareed — but we're hoping is that maybe without it being part of the mission in any way the fact that this was done will perhaps lead the north Koreans to realize they can have a positive relationship with us.
ZAKARIA: But the Bill Clinton mission was unorthodox…here you have a former president going on what appeared to be a state visit from the way in which he was greeted being received by North Korea's top nuclear negotiator
CLINTON: This as you know came from the families this was a message that Laura and Euna were given by the North Koreans which they passed on to their families and former Vice President Gore —
ZAKARIA: Naming him specifically?
CLINTON: Naming him specifically, then they passed it on obviously as they should to the rest of us, and it was not something Bill was even interested in or seeking or contemplating, but of course when Vice President Gore called and when our Administration evaluated it and began to brief him he said, look, if you think it's the right thing to do and you think I should do it, of course I will do it. But it is a private humanitarian mission it was not in any way an official government mission.
ZAKARIA: But John Bolton, the former UN ambassador —
ZAKARIA: Should I even go on?
CLINTON: No, you really shouldn't —
ZAKARIA: But he says this is rewarding hostage taking. Why is he wrong? They effectively took hostages.
CLINTON: We've done this many times before. I mean we've had former presidents do it, we've had sitting members of congress do it, it is absolutely not rewarding them. It is not in any way responding to specific demands, it is a recognition that certain countries that I think are kind of beyond the pale of the rule of law hold people and subject them to long prison terms that are absolutely unfair and unwarranted and maybe it's the fact that I have a daughter but I believed that if we could bring these young women home we should bring them home.
The story is provided from CNN's Fareed Zakaria GPS.