PARTY ON The Koreatown section of Los Angeles includes popular diversions such as private rooms in karaoke "studios."
Monica Almeida/
The New York Times
LOS ANGELES — At Le Privé, a dance palace in the heart of Koreatown, Chris Son guarded the door with the zeal of a World Cup goalkeeper. "Who's your waiter?" was his greeting to all, including a young Asian woman who showed up alone in tight jeans, high heels and a headband as big as her attitude."Jay," she replied, looking straight ahead.Mr. Son, the manager, let her in after barking some words in Korean into his headset and confirming she was no impostor. He then explained Le Privé's admission protocol to others trying to get in: reservations must be made through one of the club's waiters. The waiters' names and cellphones are available only by word of mouth."We're pretty selective," he said, which came out sounding like "tough luck," and turned his attention back to his clipboard. It was 1:05 a.m. on a Saturday, a young night in Koreatown if you know a waiter.Few areas in Los Angeles, if any, have as lively a night life, as many after-hours spots or as much energy in the wee hours as this ethnic enclave between Hancock Park and Echo Park, not far from Hollywood and downtown Los Angeles. Police officials estimate there are more than 500 night-life establishments within the loosely defined boundaries of Koreatown, the highest such concentration in the city.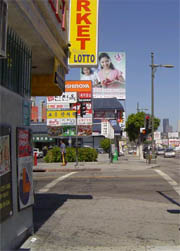 The district, which encompasses roughly a 20-by-20-block area, has the feel of a mini-Seoul: it is dotted with all-Korean signs and menus with no translations; smoking is tolerated everywhere — outdoors, indoors, sometimes right under the "No Smoking" sign. Though it is against the law, a sizable number of businesses serve liquor after 2 a.m. A visitor gets the impression that in Koreatown, after dark, different rules apply. Although it is dominated by Korean-Americans, the night life is increasingly attracting non-Asians, who seek fun and socializing after much of Los Angeles has grown quiet. Ed Lucas, who is African-American and lives in Hollywood, said he liked the variety of entertainment in Koreatown, especially the restaurants, even when he found that "you almost have to be Korean to get in some places." On some evenings, Mr. Lucas, 38, can be found belting out Led Zeppelin's "Rock 'n' Roll" at the Brass Monkey, a karaoke tavern with low ceilings and neon beer signs that attracts a racially mixed clientele. A longtime fixture, it has pictures of celebrity customers like Ben Stiller and Courteney Cox on its walls.A night out in what insiders call K-Town might begin with dinner or warm-up drinks and nibbling at a stylish cafe with giant video screens, then proceed to dancing at an exclusive nightclub or singing at a karaoke "music studio" until dawn. Everywhere, groups of young, casually but stylishly dressed men and women — jeans and sexy tops for her, jeans or cargo shorts and cotton shirts for him — fill tables at cafes and stream out into the parking lots of strip malls waiting for valets to drop off their cars for the next stop."Just tell your readers to bring a lot of dough," said a 32-year-old night crawler who identified himself only as Steve and noted that tips of at least 25 percent were expected at some places.
WEST OF SEOUL In Los Angeles, club-studded streets open way past bedtime.
Monica Almeida/The New York Times
Steve and a friend were nursing beers on a recent Saturday night at Bliss, a bar, restaurant and music studio among the storefronts of Chapman Market, one of the many strip malls where Koreatown's night-life flourishes.At another strip mall the previous evening, a bar-hopper had ended his night crawling shortly before 4 a.m. at Mr. Coffee, a restaurant of comfy chairs and mellow music with an eclectic menu — it serves cake, corn dogs and ramen."We just wanted to come to a place where we can talk a little more and sober up a little before we go home," said Steve Kim, a 25-year-old law school graduate who was heading back to Torrance, a half-hour drive away, with five friends. But the night life, he said, is worth the trip."That's why Koreans come to Koreatown even if it's an hour away," Mr. Kim explained. "Everywhere else is dead."Indeed, the commercial district has become a magnet for the Korean-American population of Los Angeles County, which has grown to nearly 200,000, the largest concentration outside South Korea.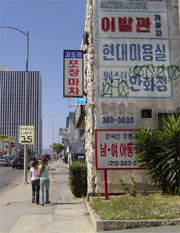 The night life in K-Town includes what KX-Gen.com, a Korean-American online magazine, calls "the sit-down-mandatory-anju-crown-hite-bookin-know-your-waiter-by-his-stagename" club standards. Translation: you must pay hundreds of dollars for bottle service at a table, even if all it buys you is Crown Royal whiskey and Hite, a Korean beer, and a plate of finger food (anju) like nuts, dried squid or fruit. You may then tip your waiter so he will prod someone who has caught your eye out of her seat and bring her to your table for an introduction and a drink, a practice known as booking.None of this is possible, of course, unless you know how to get in touch with an all-powerful waiter. "It's a network," said Michael Lee, 21, a clubgoer who said he had used a waiter at Le Privé known as 007. "Most times you can't do anything unless you network with somebody else."Koreatown has plenty of other, more welcoming, options for the rejected, including the ubiquitous karaoke "studios" where the singing takes place in private sound rooms where customers can whoop it up with food, drink and tambourines.A peek from the hallways into some of the rooms explained their popularity — in one room at Bliss, five women celebrated a birthday by prancing and dancing with microphones like pop stars. Rooms rent by the hour, starting at $20, and in some places can accommodate groups of up to 40. At 2:30 a.m. on a recent Saturday, Chorus Music Studio on Western Avenue had an hour-and-a-half wait for a private room.When hot spots in West Hollywood and elsewhere in Los Angeles are shutting down at 2 a.m., and liquor must be put away by law, the hard core in Koreatown may go on to play pool, bowl or kill some terrorists in a game of Counter-Strike at an after-hours Internet parlor. Or they could end up at 5 a.m. eating a bowl of oxtail soup at a diner, or sipping cappuccino at a coffeehouse.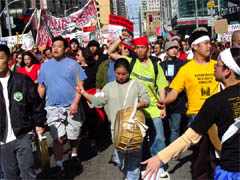 Robert Luna, the new executive chef at Rosen Brewery Restaurant in Koreatown, and formerly of Hillmont on the eastern end of Hollywood Boulevard, said the scene is unlike any other he has seen in Los Angeles. "On the west side," he said, "last call is at 1:30 and it's a big pickup scene. Here, it's more cliquish, big groups. You can have a big group of guys come out and they just drink."And, he added, "I've seen more people smoke indoors than I've seen in Vegas." Smoking indoors is illegal in California, but a sizable minority of Koreatown businesses flout the law either because "they don't care" or do not know what the law is because of a language barrier, said Officer Jason Lee, a spokesman for the Los Angeles Police Department. The district is not a high-crime area, he said, but alcohol violations are a big problem, particularly sales after hours, to minors or in clubs where hostesses ask patrons to buy them drinks."That's a style of drinking that may be legal in Korea but here it's illegal," said Officer Lee, a Korean-American who has held educational sessions for Korean-speaking business owners.On a late Friday night recently at the Cindy Club, a small hostess club, none of those illegal practices appeared to be taking place. Young Thai women sat on one side of the bar talking to a couple of men across from them. Male customers usually come to such clubs to dine, drink, sing and talk business, often in groups of four or more.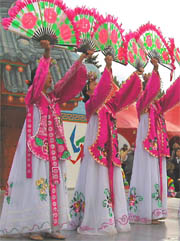 A sign in the women's bathroom read: "Do not talk to any customer about anyone's privacy who works at Cindy Club." Behind the booths in an adjacent area, groups of men and some of the hostesses sat together and their boisterous conversation and singing carried throughout the room. An upbeat male voice sang along to Madonna, tweaking the lyrics: ". . . and I am a material boy." K-Town keeps pushing boundaries, and not just with its partying. After suffering heavy losses in the 1992 rioting that broke out after the acquittal of police officers in the Rodney King beating, the area now thrives with thousands of Korean-owned businesses, said Ki Jun Kwon, business editor of The Korea Times, which publishes a two-inch-thick business directory that lists everything from hostess clubs to multilevel shopping malls and corporate and financial offices, mostly in Koreatown.Young families and others looking for affordable housing and cultural diversity have also moved in. Jennifer Morey Cunningham, a watercolor painter, and her husband, Dave Cunningham, a sound recordist with Sony Pictures, moved with their two young daughters to the northern fringes of Koreatown a year ago, among the few Anglo families in a neighborhood of Koreans and Latinos. She said they were drawn by the flavor of the neighborhood and "the convenience to everything" by car and on foot. Since they bought their 1913 four-bedroom Craftsman home, five more Anglo families have moved into their block."People are getting sick of driving from Palmdale, and they're not escaping the urban problems anymore," Mr. Cunningham said of suburbs that lie hours of gridlock away. Mr. Cunningham can walk from his home to the Wiltern, a premier small music venue where he recently caught the jam band String Cheese Incident. Just as the residential areas of K-Town are attracting non-Asians, some Korean-American business owners are also trying to draw a wider clientele. Mike Rim, 36, owns Rosen Brewery Restaurant, a multilevel establishment that brews its own ales and displays its fermenter and huge serving tanks behind glass, and Rosen Music Studio, a karaoke place with more than 30 rooms. He is adding bungalows and a wine cellar to his restaurant and hired Mr. Luna to design a Pacific Rim fusion menu and put together a wine list of mostly California and Spanish wines.Mr. Rim, who is changing his restaurant's name to Spice, said many of his Korean customers would rather chase whiskey with milk than sip a glass of chardonnay, but, "you don't want to keep your gates closed.""My goal is to bring Sunset and Hollywood here," he said. "That way we'll have everything here."
The above article is from The New York Times.