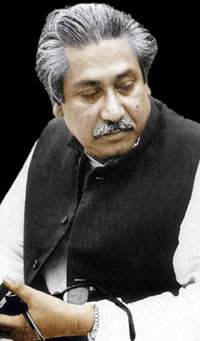 Bangabandhu Sheikh Mujibur Rahman, Bangladesh's father of the nation
Dhaka, Bangladesh — The nation of Bangladesh will pay deep homage to the father of the nation Bangabandhu Sheikh Mujibur Rahman in observance of the National Mourning Day commemorating his 34th death anniversary on August 15, 2009 with a renewed call to complete the trail process in Bangabandhu Murder Case immediately.
On the fateful night of August 15 in 1975, some disgruntled and over ambitious army officers assassinated the chief architect of independence, Bangabandhu, and most of his family members in a military putsch after three and half years in power when his post-independence government was rebuilding the war-ravaged country with economic emancipation for his people.However, Bangabandhu's two daughters, incumbent prime minister and Awami League president Sheikh Hasina and Sheikh Rehana, could survive the massacre as they were abroad (Germany) then.
The world press saw Bangabandhu as a charismatic leader, dubbing him with different adjectives like "Symbol of Freedom" or "Poet of Politics" while his foreign admirers, critics or even foes found their own different words to eulogize him.
One of the last living revolutionary leaders of the past 20th century Cuban leader Fidel Castro had found the Himalayas to be the appropriate standard to gauge the height of persona of Bangladesh's Father of the Nation Banabandhu Sheikh Mujibur Rahman.
"I have not seen the Himalayas. But I have seen Sheikh Mujib. In personality and in courage, this man is the Himalayas. I have thus had the experience of witnessing the Himalayas," Castro said as he met him in 1973 at the 1973-Non-Alignment Summit in Algiers. The then West Pakistani military leadership branded
Bangabandhu as a "traitor" but the history affirms his real position when the once earnest enemies call him a "great patriot"."Mujib, in fact, was not a traitor (as he was widely branded in Pakistan). He was a great patriot for his own people," Major General Tajammal Hussain Malik, a former Pakistani military officer from Beluchistan, who fought against freedom fighters in 1971 later wrote in his reminiscence.Another officer who worked as the spokesman of the then Pakistani junta, Major Siddiq Salik recalled with astonishment his memories of the Bangabandhu's famous and epoch-making March 7, 1971 speech."The crowds that had surged to Race Course dispersed like a receding tide. They looked like a religious congregation returning from mosque or church after listening to a satisfying sermon," Salik wrote in his book 'Witness to Surrender.'His stake in the international arena was understood when the entire world joined a protest campaign after the Pakistani military junta had announced Shiekh Mujib would be tried by a military court on the so-called treason charges. On assumption of office 21 years after assassination of Bangabandhu, the Awami League government led by Sheikh Hasina on August 8 in 1996 announced August 15 as the National Mourning Day and also a public holiday.
The programmes include hoisting of national and party flags at half mast in party offices and in all government, semi-government, autonomous and private buildings, hoisting of black flags and wearing of black badges as a mark of respect to the martyrs.
Besides, the day will also be observed with placing of wreaths at the portrait of Bangabandhu at Bangabandhu Memorial Museum at Dhanmondi, at his mazar in Tungipara in Gopalganj district and at the graves of the martyrs of August 15 at Banani graveyard in the Capital, holding of blood donation camps, photographic exhibition, child-juvenile painting competition, discussion meetings, doa and milad mahfils, feeding the destitute, Quran khwani and others programmes.
Special prayers will also be offered at all places of worships seeking divine blessings for eternal peace of the souls of the August 15 martyrs. The day will also be observed at foreign missions of Bangladesh abroad. The national dailies will publish special supplements while Bangladesh Betar and Bangladesh Television and other private radio stations and satellite televisions will air special programmes highlighting the significance of the day in national life.
As part of state-level programmes, President Md Zillur Rahman and Prime Minister Sheikh Hasina will lead the nation in placing wreaths at the portrait of Bangabandhu on the premises of Bangabandhu Memorial Museum in the city in the morning. Later, wreaths will also be laid at the graves of those slain members of Bangabandhu's family at Banani graveyard.
After laying wreaths at Bangabandhu's portrait, Prime Minister Sheikh Hasina will leave for Tungipara in Gopalganj district to take part in the day's programmes at Bangabandhu Mazar Complex there.