The Kerrys and Edwards stand with Florida supporters.
Courtesy Sharon Farmer
Although Latinos traditionally vote Democratic by significant margins, Cuban-Americans usually go the other way and vote overwhelmingly for the GOP. Since George W. Bush became president by carrying Florida with little more than 500 votes in 2000, the increasing non-Cuban Latino population of the state is being carefully watched by both major parties. The demographic changes are likely to have a serious impact on this year's presidential election.Cubans used to be the largest ethnic group among Florida's Latinos, but now are only one third of the 2.6 mil. Hispanics in the Sunshine State. They have historically voted Republican because of the GOP policy of taking a strong stand against the much-hated Castro.Latinos, in general, on the other hand, favor the Democratic Party by two to one margins. According to the National Association of Latino Appointed and Elected Officials (NALEO), 160,000 new Latinos in Florida will cast ballots in 2004. That is good news for John Kerry.To be sure, Bush has a number of assets in Florida which will give his Democratic opponent a run for his money.To begin with, Jeb Bush, the President's brother, is the governor of Florida. He speaks Spanish very well and is married to Columba Garnica Gallo, a native of Mexico. Thus, Bush can boast a "family" connection with Latinos.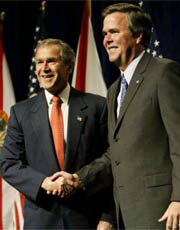 Jeb Bush (right) with his older brother President George W. Bush
In addition, although the decreasing numbers of Cuban-American voters in Florida is certainly a minus for Bush, other Latinos are not nearly as well organized politically. Not all these new arrivals become citizens and those who do may not necessarily be registered to vote. Cuban-Americans, in fact, represent half of the Latino registered voters in Florida.The ethnicity of Latino elected officials in Florida also points to a well-organized Cuban-American political group. The three Latinos in the Florida State Senate are Cuban-Americans. The Florida House of Representatives includes 11 Cuban-Americans, one Puerto Rican, one Mexican-American, and one Colombian-American. In the US House of Representatives, the three Latinos from Florida are also Cuban Americans.Yet, although Cuban-Americans have historically voted for the GOP by 80 percent or better, there is no guarantee that those numbers will repeat themselves. The strong anti-Castro feelings are fraying with Cuban-Americans who were born in Florida and who see themselves much more as Americans of Cuban descent rather than exiles whose ultimate goal is to return to Cuba.As these Cuban Americans become more and more integrated, they focus on jobs, healthcare, education, and Iraq, which are the issues affecting the average American. Castro increasingly becomes a faint memory.The concerns of non-Cuban Latinos are similar although immigration looms large with them. And on this score Bush has accomplished virtually nothing in his more than three years as president. His immigration proposal made in January of this year has not gone anywhere and it's unlikely to do so in light of the continuing attention required by the quagmire in Iraq.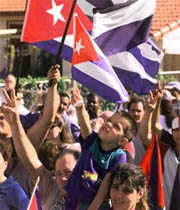 Cuban-Americans in US
Bush's problems and the changing Latino demographics in Florida would suggest an opportunity for Kerry. Like Bush, Kerry has a multilingual surrogate who could play a significant role. His wife, Teresa, speaks several languages including Spanish, and could provide an entree into Latinos' hearts.For the most part, Kerry's advantage with Latinos in general centers on their minds. A survey conducted by the Pew Hispanic Center and the Kaiser Family on issues dear to Latinos suggests areas which could labeled "Democratic turf." The top three concerns for Latinos are education, economy, and Social Security. Which party can better deal with the economy? The survey found Latinos favor Democrats (53 percent) over Republicans (27 percent).Yet, Kerry does not have a lock on the Latino vote. In a recent Miami Herald poll, Kerry would get 58 percent of the Latino vote, while Bush would get 33 percent. Those numbers are good but some strategists feel that Kerry needs to get 70 percent or better.The challenge for Kerry will be to make sure Latinos vote for him not because he is a Democrat but because he is Kerry and would do for Latinos what Bush has not done in his three-and-a-half years in office. If he doesn't convey that message, many Latinos will stay home and the very active Cuban-Americans could tilt the election to Bush.