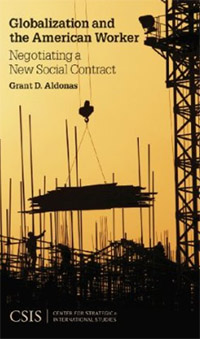 "Globalization and the American Worker: Negotiating a New Social Contract"
The Center for Strategic & International Studies (CSIS) Senior Advisor Grant Aldonas has written a new book, "Globalization and the American Worker: Negotiating a New Social Contract."
Better than any technical explanation of comparative advantage or the gains from trade, President John F. Kennedy's observation that a "rising tide lifts all boats" offers the single best explanation of how to benefit from our openness to the global economy. The best estimates suggest that our economic engagement in the world around us accounts for roughly 10 percent of our annual gross domestic product (GDP). That translates into an added $1.4 trillion in national income each year or $10,000 a year for the average family of four at a median income.In recent years, however, as the growth in real wages abated and the distribution of national income became increasingly skewed, many have called the logic of Kennedy's simple truth into question. Critics opted for a different metaphor—a "stacked deck" in a global game of poker in which the American worker held a losing hand due to competition from low-wage workers in foreign lands. Fairly or not, they argue that government policymakers do not understand the forces at work in the global economy or appreciate the impact of those forces on individual workers and their communities.Such arguments have eroded public support for engagement in the global economy in recent years, despite the manifest benefits of our openness to the world around us. Those sentiments have already shaped our politics in significant ways.The critics' arguments are, however, also misleading. The current political debate over globalization too often conflates the discussion to the merits or demerits of a particular trade agreement or the perceived benefits of building a wall along our southern border. Those arguments completely miss the forces that are actually shaping the experience of American workers today.The reality is both more complex and more daunting. We confront an age in which economic change is accelerating. The revolution in computing, communications, and transportation has knit the world together and made more trade possible even in the face of trade barriers. The success of the General Agreement on Tariffs and Trade (GATT) and its successor, the World Trade Organization (WTO), in reducing such barriers has encouraged trade, investment, and the consequent diffusion of new technology.At the same time, the Cold War's end erased political barriers that had divided the world economy for the better part of the twentieth century, offering a wider geographic expanse over which the forces of technological change and trade liberalization have played out. The choice by developing countries like China, India, and others to open their own markets and join the world economy has made the idea of a truly global economy a reality.All sides of the current trade debate in Washington devote enormous energy to arguing over which of these trends accounts for stagnating wages and declining job security among U.S. workers. Economists tend to point toward technological change. Firms tend to point toward an "unlevel" playing field that fails to ensure reciprocal market access. Union leaders tend to point to lower trade barriers and the addition of large pools of unskilled labor in markets without effective labor rights.While each of those arguments may grasp a portion of the unfolding global dynamic, the debate is, ultimately, futile. The forces driving globalization are not segregable in any meaningful sense. The narrow confines of the current trade debate simply do not capture the complex interaction among these forces. In the process, the current debate inhibits a serious discussion of the far more important trends that are shaping the future of American workers.The forces driving the integration of global markets have fundamentally altered the basis of commercial competition. Organizing production on a globally efficient basis has become a competitive necessity. Trade, once characterized by arm's-length transactions between independent buyers and sellers in different countries, now largely takes place within the global companies or the broader reach of their supply chains.[1] What was once a mercantilist competition for markets has increasingly become a global competition for capital, talent, and ideas.This unfolding global dynamic has deep implications for the economic policy choices we make. We do not have the luxury of debating whether we want to be a part of the global economy. The only question is an intensely practical one: what can we do to succeed in the face of the challenges this new economy presents?As tempting as it is to answer that question by casting blame on competition with low-wage workers, "unfair trade," lower environmental standards, or foreign subsidies, they are not the source of our problem. American workers now confront a world in which their principal competition is productivity-enhancing technology, rather than low-wage workers in developing countries.What that means for America's workers is a compelling need to acquire those skills that will offer them a chance to succeed in a knowledge-driven, globalized world economy. The challenge, from a public policy perspective, lies in ensuring that our workforce has the education and skills not just to adapt to a rapidly changing economy, but also to contribute to innovation from the shop floor to the executive suite.[2] Indeed, our ability to keep pace as a nation in the global economy depends entirely on a well-educated workforce capable not only of learning new skills and applying new technologies, but of contributing to the process of innovation from the laboratory to the shop floor. Unfortunately, as Claudia Goldin and Lawrence Katz have so cogently demonstrated in their recent book The Race between Education and Technology, we are not equipping our workforce with the skills that will allow them to succeed in the global marketplace.[3] We clearly are falling behind in the race between education and technology.Our educational system continues to equip students with the skills that were relevant to mass production in an earlier industrial age. While the accelerating pace of change and increasing investments in skill-biased technology all favor education and skills acquisition, fewer Americans finish either high school or college.Just as important, we do little to facilitate the process that has become a fact of economic life for most workers—changes in jobs, employers, and increasingly, careers due to the accelerating changes in the economy. What we have in the way of an "adjustment" policy is limited to a small program available solely to workers who can prove that they lost their jobs due to trade or a shift in production to another country. Worse still, in a variety of instances, our current policies interpose barriers that prevent working Americans from investing in their own future and do little to help them when they are forced to change jobs or careers.There is really only one answer: we need to make a worker's education, training, and ability to adjust along with the economy a much higher national priority. We need to enrich the educational environment with the technologies that are reshaping economic competition in the global economy today. We need to adopt economic policies that are designed to facilitate, rather than frustrate, workers' abilities to adapt throughout their careers, whether that involves a transition from one employer to another or, as will increasingly be the case, from one career to another.The core of our response to globalization and the basic focus of our economic policy should be designed to promote the steady accumulation of human capital that workers need to compete and succeed in the global economy. American economic policy, even in the midst of the current economic downturn, should be directed toward that goal.What we, in fact, need is a new social contract—one that recognizes that our openness to the world economy is essential to our economic future, but also acknowledges the need for a significantly greater investment in our workforce in order to ensure that our prosperity is broadly shared.
Investing in America's WorkersHuman capital is built over an individual's lifetime by family, schools, public and private training programs, employers and coworkers and, most important, through an individual's own efforts. The process of human capital formation is best understood as a dynamic one that involves the steady accumulation of skills. Thinking in terms of this life cycle of learning helps identify where U.S. investments in public programs would make the most difference in equipping American workers with the skills they need in the marketplace of today and the ability to acquire the skills that will be needed tomorrow.The discussion below focuses on the ways that public policy can support and sustain this dynamic process, from early learning programs, to funding high school and postsecondary education, to on-the-job training, and adjustment policies that help workers shift from one employer and one field to the next once on the job.Preparing for a Lifetime of LearningIt is time to rethink the structure of public education. Given our nation's commitment to equality of opportunity and a more broadly shared prosperity, we need to address the inequalities that begin in early life and perpetuate themselves at each succeeding level of education and in the workplace.
It is time to consider extending public education to the earliest age possible through a significantly expanded Head Start program. That investment should be coupled with enactment of a Family Educational Leave Act that allows parents a limited time off from their jobs each week to participate in their child's early education as a part of the expanded Head Start program, as well as overcome gaps in their own education, as the current Head Start program already encourages.Improving Elementary and Secondary EducationA strong public educational system is essential to attracting investment by globally engaged firms, which create new employment opportunities for American workers that are linked into the global economy. While much of the debate over education policy focuses on school choice and testing, the more serious problem lies in the curriculum our public schools teach.No one understands this better than teachers and principals themselves, and many schools have already begun taking steps to adapt.[4] The process of rethinking the educational curriculum should start with a discussion between educators and American employers to determine the skills they need from their workers.From that starting point, educators need to reinforce the current trend toward teaching conceptual thinking, problem solving, and communications skills. The reason is that those skills will help workers succeed in an economic environment in which any task that can be reduced to an algorithm will be performed by a computer or a numerically controlled machine tool.Our schools need a significant investment in infrastructure that would allow them to teach students how to use the technologies relevant to the world in which they will eventually work. What makes sense in this context is to redirect much of the U.S. spending on public construction projects toward a 10-year plan designed to build out a network of public schools capable of fulfilling the demands of educating America's workers for the twenty-first century.These new schools will require a different sort of teacher as well—teachers steeped in the fundamentals, capable of thinking conceptually, and sufficiently comfortable with technology that they can teach children how to use it to expand their own intellectual horizons. This will require individuals with two very separate skill sets: a deep understanding of their subject matter and the ability to engage children in learning in ways that spark their own intellectual curiosity.This combination of skills is not commonplace and will have to be bid away from other competitors for the same talent in the marketplace. There is no way to avoid the obvious conclusion—this will require a significant increase in teachers' salaries.[5]Expanding Access to Higher Education and Postsecondary TrainingThe primary problem facing American workers and their families in acquiring a higher education is the liquidity constraints they face in paying for postsecondary schooling. While you would not know it from the current debate over health care, educational costs have risen far faster than those for health care over the past decade.There are three ways that public policy can help. The first involves a significant expansion of the educational savings account (ESA) permitted under the Internal Revenue Code. A second step would involve a significant expansion in the current Pell Grant program to help middle-class families pay for college or other postsecondary education. The third step would renationalize Sallie Mae and simplify the process of financing the loans through the sale of government-backed securities in order to lower the cost of capital and allow the government to pass these savings on to prospective students in the form of lower-cost loans or expanded lending.Encouraging Lifetime LearningGiven the nature of changes under way in the global economy and the increasing likelihood that any career will involve multiple job and career changes over time, our economic policies should encourage all American workers to invest in their own futures by acquiring new skills throughout their working lives. The first absolutely essential step in this process involves eliminating the current bias against preparing oneself for a new career or job change by expanding the deductibility of education and training expenses beyond those relevant to one's current job, as current law requires.Another option would involve expanding the range of purposes for which dollars invested in ESAs could be used to retrain or acquire new skills in preparation for job transitions. Expanding the ability to save encourages individual workers to continue to invest in themselves and upgrade their skills throughout their lifetimes.A third option would build on new innovations in financing education and training with which firms are experimenting today in the marketplace as a means of attracting and retaining talent. That would include, for example, expanding the deductibility of amounts that American firms set aside for use by their employees for education and training, such as IBM's Matching Accounts for Learning, in which IBM matches a percentage of the funds its employees save for their own education.Assisting Workers in TransitionThe most comprehensive reform of U.S. worker adjustment assistance policies proposed to date were put forward by Grant Aldonas, Robert Lawrence, and Matthew Slaughter in Succeeding in the Global Economy: An Adjustment Assistance Program for American Workers. It remains the most forward-leaning proposal yet.There, the authors recommended that a reformed adjustment assistance program be de-linked from any nexus to trade in recognition of the pervasive changes in the U.S. economy that flow from numerous sources other than trade. The reformed program would include:
a wage-loss insurance program for workers 45 years of age and above, to supplement their income when they take employment at a lower-paying job;
continued health insurance coverage while workers remain eligible for unemployment insurance;
allowing workers in transition to supplement their unemployment benefits by withdrawing, without penalty, savings they have previously accumulated in tax-advantaged vehicles such as individual retirement accounts;
expanded eligibility for current federal training programs, combined with the expansion of tax preferences designed to encourage ongoing skills acquisition and lifelong learning;
elimination of current tax rules making unemployment insurance and these expanded benefits taxable to the recipient;[7]
expanded deductibility of health insurance acquired under the Consolidated Omnibus Budget Reconciliation Act when laid off and the expansion of that deduction to workers who currently receive no health benefits from their employers;[8]
inclusion of relocation expenses as part of benefits available under a reformed adjustment assistance program, including increases in commuting expenses that result from a job change to help reduce the costs associated with the transition from one job to the next; and
expanded assistance from the Small Business Administration to individuals who choose to start their own business as an alternative to seeking employment elsewhere.Reforming Job TrainingThe primary goal of future job-training programs should, like a reformed adjustment assistance program, be to facilitate workers' reentry into the workforce as quickly and as easily as possible. The major reason for adopting this approach is because most of the training and skills acquisition activities that significantly affect earnings and help workers remain competitive in a global labor market take place on the job.Eligibility for training should be broadened to extend help to all U.S. workers facing a transition from one job to the next or the need to retool for a new career, rather than the existing programs that focus on certain targeted populations. Eligibility for training should be open to any individual eligible for unemployment insurance generally. Ideally, the eligibility criteria would be shaped in a way that allows a worker to apply for training benefits even before he or she is actually separated from their current job.Just as was the case with basic education, federally sponsored training programs should be geared toward market-relevant skills offering the best prospect for facilitating the individual worker's transition from one job to another and from one career to another. This augurs in favor of an increasing emphasis on incentives to employers offering apprenticeships or "career ladders" (i.e., programs that offer both training and work experience), as opposed to requiring retraining in programs that remove the worker from the workforce for an extended period of time, as is the case with the current Trade Adjustment Assistance program.Creating an Enabling Economic EnvironmentWholly apart from the need for greater investment in human capital, for American workers to succeed in a knowledge-driven, global economy, they also need an economic environment that fosters growth, rewards initiative, incentivizes productivity gains, and encourages a broadly shared prosperity. Two facets of creating such an economic environment deserve serious attention, particularly in light of the current economic downturn. One involves the domestic economic policy choices America makes. The other involves the rules governing the global economy.
Building a Growing Domestic EconomyAs the current political debate reflects, there are a number of critical issues that shape economic outcomes. Without contesting the importance of any one of those initiatives individually, they do not add up to an economic policy that comes to grips with the reality American firms and American workers confront in their efforts to succeed in today's global economic competition.The following summary outlines three areas that would benefit from reform in light of the factors driving global competition as a way of illustrating the economic policies that would contribute to American competitiveness in a global age.
Replacing the income tax with a border-adjustable value-added tax. Given that America's goal is to maximize the attractiveness of its economy to potential investors, while at the same time fostering investment in human capital, it is time to revisit the idea of shifting from an income tax to a border-adjustable value-added tax (VAT).[9] For a variety of reasons, shifting to a VAT would make the United States a considerably more attractive place to invest than the current muddle of the existing tax code. Moving to a VAT would also eliminate the absurd distinctions the current U.S. system of taxation attempts to draw between domestically earned income and foreign-source income, which is driving investment offshore, particularly since U.S. corporate income tax ranks as the second-most confiscatory among industrial countries.
A border-adjustable VAT would, furthermore, eliminate the drag the current U.S. system of taxation imposes on the nation's export competitiveness. Under the WTO's current subsidy rules, U.S. exporters face an implicit penalty because the rules permit the rebate of indirect taxes on income, like a VAT, but not direct taxes on income, such as those imposed under the Internal Revenue Code.Far more importantly, however, from a worker's perspective, shifting toward a border-adjustable VAT would eliminate the disincentive to human capital formation that the current highly progressive income tax represents. Despite its obvious emotional appeal, a progressive income tax geared toward income redistribution works against the investment in human capital that America most wants to foster.If America's goal is to improve its workers' chances of success in the global economy, we simply cannot afford to continue penalizing their investments in their own future. Shifting to a border-adjustable VAT would end that penalty, as well as help reduce the liquidity constraints that workers face in acquiring the skills they need.
Reforming the immigration laws with the goal of attracting talent. Recalling that one of the primary differentiating factors in today's global economy is talent, it is worth considering what our existing immigration laws do to create an enabling economic environment of the sort that would make America more competitive and improve the employment opportunities for American workers. Perversely, the focus of current U.S. immigration law on family relationships creates a rank order of preference that serves both as a deterrent to investing in the United States and as an incentive for illegal immigration.
The most important changes we can make to current immigration law would ensure that they diminish this disincentive to invest. That would mean, in the first instance, offering firms that invest in the United States (whether U.S. based or foreign) maximum flexibility to manage their human resources in a way that is consistent with their need to compete in a global economy.In practice, current law imposes serious limitations on the ability of U.S. firms to attract the talent they need—both by the quantitative limits put on H-1B visas for highly qualified technical personnel and by the limits put on L-1 visas for intracompany transfers. America should entirely eliminate the cap on H-1B visas. The individuals who qualify for these visas are precisely those the country needs to contribute their skills. America should also eliminate the requirement that an "intracompany transfer" must be eligible to be hired by a company with operations in the United States in favor of a rule based on the nature of the position to be filled (essentially a parallel to the H-1B rule) and look to the employer to ensure that the individual's visa status is maintained.Both changes would allow companies interested in investing in the United States to ensure that they could attract the talent needed to run their operations here without fear that U.S. immigration laws would penalize them for their investment.
Reinforcing the protection of intellectual property. There is little doubt that, in a global economy, U.S. intellectual property laws are one of the main incentives America offers investors and inventors to set up shop. They pay untold dividends, both in the nature of the businesses they foster (most of which occupy a position at the apex of the global economy) and in the talent they attract, because of the incentives they offer to turn ideas into business opportunities, which in turn create high-quality jobs.That said, there is also little doubt that the patent laws, in particular, are badly in need of reform. Here, the answer is relatively simple. It is past time to enact the comprehensive patent reform bill that was reported out of committee by the Senate Judiciary Committee in 2007. It represents as sound a balance of the varying interests at issue in any reform of the patent laws as Congress is capable of achieving.Shaping the Global RulesThere are two basic reasons for President Obama to take his seat at the negotiating table despite the opposition in his own party to further trade liberalization. The first is that further liberalization would add roughly $500 million to the $1.4 trillion in extra gross domestic product we enjoy by virtue of our openness to the global economy. The second reason is that America should not be content with the global trading system as it stands.President Obama cannot open new markets for American goods and services by adopting a defensive crouch on trade, as was advocated by the Democratic presidential candidates in their primaries in Ohio and Pennsylvania during the 2008 campaign. Achieving that goal will require a far more aggressive stance toward liberalizing both trade and investment globally.That does not mean that President Obama must sacrifice the interests of American workers in the process. Quite the contrary, a more aggressive approach on trade should take the interests of American workers as a starting point.Opening new markets for U.S. exports is, in the first instance, essential to ensuring the success of American exporters that create jobs and offer higher-than-average wages. After all, no American worker can succeed if his or her enterprise fails; consequently, a trade policy that aggressively opens new markets for American goods, services, and ideas is required.Beyond that, a trade policy that starts from the American worker's perspective should increasingly look beyond the border measures (e.g., tariffs, quotas, etc.) that have been the traditional focus of global trade negotiations. Our approach should, increasingly, focus on those foreign government practices (e.g., subsidies, buy national programs, product standards designed to favor local producers) that distort markets in ways that alter the cost competitiveness of American goods and services in global trade.Distortions created by these sorts of policies have the effect of shifting investment and the job opportunities it creates away from the U.S. market. That necessarily affects the broader viability of investments made by firms in the United States, their U.S. production, and ultimately, the American worker.
Finally, and perhaps most importantly, rather than the current debate over whether to include labor provisions in our bilateral trade agreements, our goal should be to ensure that the world trading system rewards working men and women for their contributions to the success of the firms that employ them, regardless of where these firms are located. The reason that this should be an important goal for both American firms and American labor is that a world trading system that ensures that every individual can freely bargain for the full value of his or her labor is one that will yield rising incomes. It is that increase in incomes that ultimately creates export markets and job opportunities for Americans and workers elsewhere as well.[10]What would the pursuit of these goals mean in practical terms? In practice, a trade policy that started from an American worker's perspective would focus on completing the work of the WTO; opening markets that hold real commercial potential for the export of U.S. goods, services, and technology; and, increasingly, bargain for development, as opposed to bargaining solely for "market access" as conventionally defined.
Completing the WTO's work. While the globalization of world markets demands that U.S. trade policy increasingly look beyond the border in terms of the market-distorting practices it addresses, it is worth underscoring that there remains much to be done to complete the WTO's main work: the elimination of border measures that protect foreign markets. The average trade-weighted U.S. tariff is less than 2 percent ad valorem. In many markets, such as India, the average tariff is many multiples of the tax we impose on imports. That imbalance not only has real consequences for American exports, it is the most easily demonstrated reason for American workers' perceptions that the global trading system is rigged against them.This is not to say that the United States has kept its side of the street clean. Our tariff peaks (i.e., the highest tariffs we impose) fall on consumer goods that do the most harm to American workers, while also imposing insuperable barriers on exports from the poorest countries in the world trading system.But, what both ends of that equation demonstrate is that there is still much to be done to eliminate the types of border measures that President Franklin Roosevelt first sought to address through his support for the original "fast-track" legislation—the Reciprocal Trade Agreements Act of 1934—and the trade agreements program that has been the core of the American approach to trade since Roosevelt implemented it as a means of rolling back the worldwide shift toward protectionism that followed Congress' passage of the Smoot-Hawley Tariff Act of 1930.Focusing on markets that matter. One thing that has been lost in the effort to conclude trade agreements with a number of trading partners in the developing world is that the trade agreements program Franklin Roosevelt launched was designed to solve a problem of what economists refer to as "political economy." That inelegant phrase is one that signals that the optimal choice from the perspective of economic efficiency has been undermined by the political reality and tradeoffs that confront the economic policy choices we make in the real world.The political economy problem Roosevelt's trade agreements program was designed to address is the logic of collective action, which explains why a small group of politically well-organized special interests often prevail over the broader interests of American consumers as a whole. Understanding that logic, Roosevelt designed the trade agreements program to create new export markets for U.S. goods so that the American firms and workers that would benefit from opening those markets would offset the potential economic adjustments that would confront firms and workers that had previously benefitted from the protection that harmed U.S. consumers.The key, of course, was to focus on those markets that offered the broadest potential in terms of new market access in order to ensure that any deal we entered helped American firms and workers, as a whole, more than it hurt them in terms of economic dislocation. While there are always important foreign policy objectives that can be cited for particular negotiations and while those objectives are entirely legitimate in terms of America's broader interests in the world, the core of the agreement still has to make sense in raw commercial terms in order to build support in Congress and ensure that American workers feel that they are getting a fair shake.Bargaining for development. As reflected in the discussion above, the changes that globalization has wrought require us to look beyond the conventional approach to our trade policy. Nowhere is that more important than in our approach to bargaining with our trading partners in the developing world.There are two reasons. The first is that, commercially, the developing world is where the strongest economic growth and expansion of export markets will take place for the foreseeable future. The second reason is that trade can contribute more directly to reducing poverty, as well as creating new export markets, when it focuses on the institutional arrangements (whether at the border or internally) that most hamper development.Seen in that light, U.S. commercial interests and America's commitment to reducing poverty and political instability in the developing world would be well-served by bargaining more directly for development. That implies a focus beyond the border measures—one that requires bargaining directly for changes in the economic incentives that limit growth in incomes in the developing world.Adopting the approach of bargaining for development also offers a different way of engaging our trading partners in the developing world—one that reaches past the current stalemate over including labor rights in conventional trade agreements. Negotiating "development agreements" that offer both market access and development assistance in return for resetting institutional incentives that hamper development offers a better approach to improving labor standards than the current approach, which thwarts progress on both trade and labor rules.
Making a National CommitmentNegotiating a new social contract will require a process of building broad public support for the significant change in direction it implies. This will take political leadership that can only be provided by one person within the United States' political system: the president.Ideally, President Obama would signal that equipping American workers to succeed in the global economy will be the central focus of his administration, highlight the need to make use of the current economic crisis as a means of realigning the incentives in the economy in order to rebuild on a stronger foundation, and launch a process capable of achieving the goals he outlines. While the president has, of necessity, had to focus on kick-starting the domestic economy at the outset of his administration, he will increasingly find that retooling the American economy to compete in a more knowledge-driven, globalized world cannot wait.Indeed, resetting the underlying incentives in the economy is the only way to kick-start the economy and build a stronger foundation for American workers. The fiscal stimulus the administration has favored to date is simply trying to reflate the bubble economy that burst, without altering the perverse incentives that our tax policy and financial regulatory systems created.To build political support for the change in direction the economy needs, President Obama should organize a national summit on the terms of America's engagement with the global economy. This summit should bring together leaders from all levels of government, the business community, workers, and educators. Its purpose should be to develop a common understanding of the challenges and the means by which Americans can meet those challenges. The discussion should be aired publicly so that all Americans can be a part of the process.The summit should have four goals:
launching the process whereby all involved can identify the skills the U.S. workforce needs to compete and succeed in the global economy;
identifying public policies that would reinforce the ability of all American workers to acquire the skills they need;
reaching agreement on the need to fund these programs on an urgent basis and a willingness among the summit's participants to support Congress' adoption of its recommendations; and, most importantly,
building a sense of common purpose and the public support needed to make the changes America needs to ensure a brighter future for all its working men and women.
Achieving this last goal alone would make the summit a success. It is the single irreducible element of an economic policy that would achieve the goal President Kennedy pointed to over 50 years ago—ensuring that a rising tide truly does lift all boats.
The Center for Strategic and International Studies (CSIS) is a private, tax-exempt institution focusing on international public policy issues. Its research is nonpartisan and nonproprietary. CSIS does not take specific policy positions; accordingly, all views, positions, and conclusions expressed in these publications should be understood to be solely those of the authors.[1] Bill Dymond and Michael Hart, "Navigating New Trade Routes: The Rise of Value Chains, and the Challenges for Canadian Trade Policy," C.D. Howe Institute Commentary, no. 259 (March 2008), 13.
[2] The trends highlighted above also explain why the traditional tools of trade policy—whether tariffs, quotas, or antidumping duties—are inapposite to the real economic challenge we face. Such measures will do nothing to retard the process of technological change or reduce the impact of broader geopolitical changes that are driving the global economy. They do not, as a consequence, offer a safe harbor from globalization. Nor can they improve the potential of American workers to succeed in the global economy.
[3] Claudia Goldin and Lawrence F. Katz, The Race between Education and Technology (Cambridge, Mass.: Belknap Press, 2008).
[4] Dennis Van Roekel, president of the National Education Association, one of the nation's two leading teachers' unions, put it this way: "The digital age has dawned, but too many of our schools still rely on models from 1908 to meet the growing and changing needs of the 21st century. Simply put, many of our approaches are outmoded and out of touch, which makes it harder for educators to challenge students and hold their interest. Dennis Van Roekel, "President's Viewpoint: Time for America's Education System to Wake Up," NEAToday (November/December 2008).
[5] In its report, Tough Choices or Tough Times, the New Commission on the Skills of the American Workforce estimated that public schools would need to pay teachers about $100,000 annually to attract the sort of talent needed. National Center on Education and the Economy, Tough Choices or Tough Times: The Report of the New Commission on the Skills of the American Workforce (San Francisco: Jossey-Bass, 2006), 4, 32.
[6] See Grant D. Aldonas, Robert Z. Lawrence, and Matthew J. Slaughter, Succeeding in the Global Economy: An Adjustment Assistance Program for American Workers (Washington, D.C.: Financial Services Forum, July 2008), 7. The authors included a proposal for funding the expanded programs through a flat tax of 1.32 percent levied on all wages, much like the tax under the Federal Unemployment Tax Act that funds unemployment insurance today.
[7] The taxation of unemployment insurance benefits substantially reduces weekly benefit amounts. The government's take of these benefits can exceed 18 percent of the recipient's share. This effect is compounded by state income taxes, which are generally based on the amount a taxpayer must declare as gross income on his or her federal income tax return. It makes little financial sense, either from the beneficiary's or the government's perspective, to cut a check and then tax the benefits. The savings on administrative costs alone could prove substantial.
[8] The recently passed stimulus bill takes a step in that direction by providing a subsidy of 65 percent of an employee's payment under COBRA for up to nine months. Extending full deductibility to workers who currently receive no health benefits from their employers would represent a significant step toward some of the broader reforms needed in the health care system generally.
[9] A reasonable alternative that could be used to create the same effect would be a flat income tax calculated on a consumption basis.
[10] The rationale for this approach is simply an extension of the basic principles that undergird trade theory. To increase their income, individuals must raise their productivity. That requires specialization. When employment opportunities are foreclosed for reasons unrelated to skills or when individuals are denied the full value of their time and services, there is, in economic terms, considerably less incentive to acquire the skills that can command a wage premium. The net effect is to diminish the income labor earns and limit the demand for U.S. goods and services that a rising income would represent.
Neal Urwitz
CSIS
www.csis.org