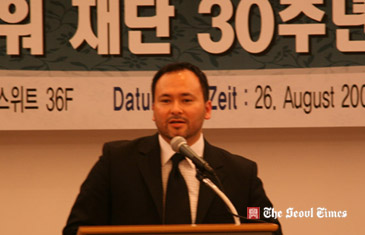 KAS Korea's outgoing Resident Representative Marc Ziemek
Konrad Adenauer Foundation (Konrad-Adenauer-Stiftung in German: KAS) Korea celebrated 30 years of its activities in South Korea at a hotel in downtown Seoul on August 26, 2009.Scores of opinion leaders from the nation's political, academic, media, and other sectors took part in the dinner event of the German research foundation affiliated with the Christian Democratic Union of Germany.The event was officially dubbed "30 Years of KAS Korea: Past & Prospect."Opening speech was made by KAS Korea's outgoing Resident Representative Marc Ziemek who served here in Seoul for the last three years.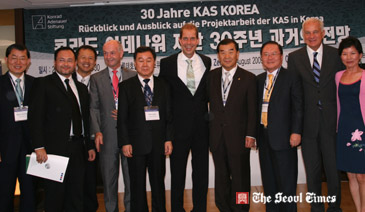 German envoy , Dr. Norbert Baas (second from right) poses with other VIP participants. Fourth from right is Korea University President Lee Ki-Su.
Mr. Ziemek has been an active chief of KAS Korea. Under his leadership KAS Korea supported or hosted over 150 seminars and symposia in the nation. Also 25 books were published with the support of KAS Korea during his reign.As recently as April 30, 2009 the German foundation hosted a reception to celebrate the publication of "North Korean Refugee Report."During the event Mr. Ziemek was praised with a special plaque of appreciation for his meritorious performance here in Korea.German ambassador to Seoul, Dr. Norbert Baas made the congratulatory speech. In the speech Dr. Baas thanked Mr. Ziemek for his works.The German envoy said that KAS Korea contributed a lot for the development of South Korea by helping build network of local experts including professors, journalists, and politicians.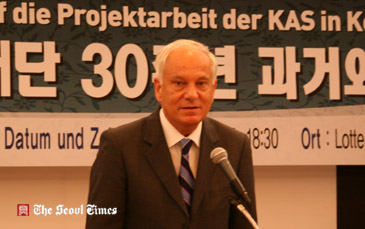 German ambassador to Seoul, Dr. Norbert Baas
He said that KAS Korea has been instrumental in introducing the values of Europe and Germany to the local Korean people. KAS Korea's new resident representative, Dr. Colin Durkop also made a speech. He impressed the audience with his Korean language greetings in his speech.
From The Konrad Adenauer Foundation (Konrad-Adenauer-Stiftung) (KAS) headquarters in Germany its deputy secretary general, Dr. Gerhard Wahlers visited South Korea to congratulate the 30 years of its presence in South Korea.Other high-profile participants included Mr. Jurgen Wohler, secretary general & executive director of Korean-German Chamber of Commerce and Industry, and Korea University President Lee Ki-Su. President Lee was the first recipient of the scholarship from KAS Korea.He studied at University of Tübingen in Germany from 1977 to 1983, receiving his Ph.D degree in law.From the local political circle Mr. Moon Kook-Hyun, a member of the National Assembly was invited to the dinner event. Lawmaker Moon also serves as president of the opposition "the Renewal of Korea Party."Another lawmaker Mr. Kwon Young-Se of the ruling GNP (Grand National Party) was also invited to the event. He made the congratulatory remark. He serves as chairman of the Korean-German Parliamentary Friendship Association.In celebration of the 30 years KAS Korea published a 542-page book "60 Jahre Bundesrepublik Deutschland (60 Years of Federal Republic of Germany). The books were distributed to the participants.
The Konrad Adenauer Foundation
The Konrad Adenauer Foundation (Konrad-Adenauer-Stiftung) (KAS) is a German research foundation associated with that country's Christian Democratic Union. It was founded in 1956 as the "Society for Christian Democratic Education Work" and renamed after the former Chancellor Konrad Adenauer in 1964. The foundation has its seat in Wesseling near Bonn.It is the largest of the politically affiliated research foundations in Germany, with an annual budget of around €100 million, most of which it receives from government. It funds policy research, in the mould of a think tank, but the larger part of its sponsorship is research in the social sciences not directly connected to framing policy.For details or inquiries please call Ms. Lee Ju-Hong, project assistance of the Konrad Adenauer Foundation Korea at 790-4774.