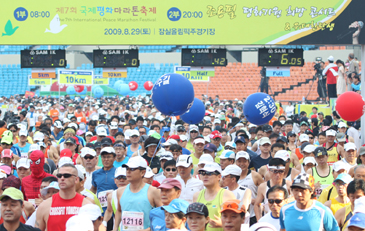 7th Int'l Peace Marathon Festival hosted by Gangnam City
Gangnam City Mayor Maeng Jung-Ju hosted a large-scale marathon festival on August 29, 2009, Ganamg City spokesman announced on the day.A total of 15,000 people took part in the annual "7th International Peace Marathon Festival," according to the spokesman Mr. Lee Ju-An.He said that some 3,000 foreigners from 96 countries were also invited to the marathon event.The marathon kicked off at 8 a.m. on the day from the Main Olympic Stadium in Jamshil area in Seoul.Opening ceremony was held at 7:30 a.m. on the day with the participation of Gangnam Mayor Mang Jung-Ju and other dignitaries.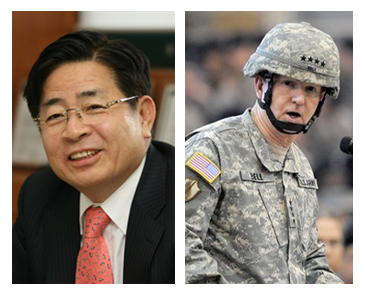 Mayor Maeng Jung-Ju & 8th US Army Cmdr. Joseph F. Fil, Jr.
The marathon event was jointly hosted by Mayor Mang Jung-Ju of Gannam City and Lieut. Gen. Joseph F. Fil, Jr. commanding general of the 8th United States Army stationed in Seoul's Yongsan area.In the evening on the day a grand concert by a star singer Cho Yong-Pil was held as part of the the marathon event.Socially vernable and alienated people — family members of the working poor, phyical laborers, and senior people living alone, and North Korean refugees — were invited to the concert free of charge.
Marathon courses were divided into various courses — half-course, 10 km course, 5 km course, and 3.5 km course.Bike roads on the eambakment of Han River, Yangjae Strean, and Tancheon Stream were used for the runners.Cold drinks including ice water and punch with watermelon were served for the runners.
Mr Lee said that proceeds from the concert woudl be delivered to UNICEF Korea.For details call Mr. Lee Ju-An at 2104-1253 or 010-9045-7267 for inquiries and participation.