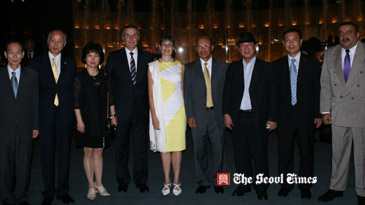 Swedish ambassador to Seoul Dr. Lars Vargo (4th from left) and his wife, Mrs. Eva Vargo (to his right) poses for The Seoul Times with Laos Amb. Soukthavone Keola (4th from right), Sri Lanka Amb. John Asitha Ivon Perera (right), Chairman Eum Sang-Sup (2nd from left) of the World Hapkido Association, Prof. Hwang Moon-Su of Chung Cheong University, a local politican Jang Young-Ho (2nd from right) and a governmental official Han Jin-Guk (3rd from right) at the Swedish National Day reception held at Seoul's Grand Hyatt Hotel on August 31, 2009.
As many as nearly 1,000 guests — local Koreans, top foreign envoys and other high-profile guests — attended the gala "Sweden Day 2009" celebration hosted on August 31, 2009 by Swedish Ambassador to Seoul Lars Vargo and his wife, Mrs. Eva Vargo.The dinner reception began at 6 p.m. on the day at Grand Hyatt Hotel's Grand Ballroom and lasted a couple of hours.They were celebrating the Swedish accession to presidency of the EU and 50 years of diplomatic relations between Sweden and South Korea.In actuality Swedish National Day falls on June 6 every year.The National Day of Sweden (Sveriges Nationaldag) is a national holiday. It was made into a national day by Riksdagen, the Swedish parliament, in 1983.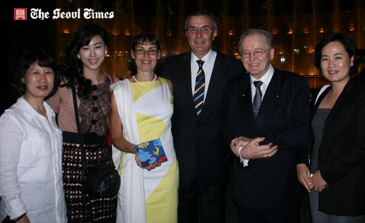 Swedish ambassador to Seoul Dr. Lars Vargo (3rd from right) and his wife, Mrs. Eva Vargo (to his left) poses for The Seoul Times with General Manager Bernhard Brender (2nd from right) of Grand Hilton Seoul Hotel, Ms. Lim Hyun-Bin, Hilton's senior sales executive.
Previously it was commemorated as "Svenska Flaggans dag," or Swedish Flag Day.In a welcoming speech, Amb. Vargo touched upon the development of bilateral relations between Sweden and South Korea."Both Sweden and South Korea are now advanced countries and democracies," he said. "Both are active members of the OECD and the United Nations"In a booklet distributed at the reception the Swedish enovy also revealed the strong bondage between the two nations forged on the occasion of the Korean War (1050-53).According to the Swedish enovy, in 1950 when the Korean War broke out Sweden dispached a field hostpital with Swedish personnel.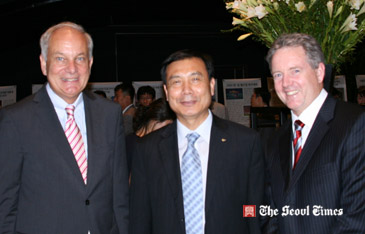 German Ambassador to Seoul Norbert Baas (left) poses with Managing Director Trevor Hill (right) of Audi Korea, and a local politician Jang Young-Ho.

"Over 1,000 Swedish relief members worked at the hospital in Busan during the war," he said. "They took care of more than 2 million patients"
The Swedish medical team continued to stay in South Korea until 1957.Since Sweden opened the official diplomatic ties with South Korea in 1959, the bilateral relations have been on the steady rise.The bilateral ties have developed by leaps and bounds particularly on the economic front."There are more than 70 Swedish subsidiaries in the Republic of Korea," Amb. Vargo said. "Swedes are familiar wtih all the major South Korean brands"South Korea is Sweden's third largest trading partner in Asia only after China and Japan.Korea is also Sweden's fourth export market after japan, China, and Inida.
The overall relations between the two democracies seemed to blossom in 2000 when the late President Kim Dae-Jung was lauded with Nobel Peace Prize for his engagement policy toward North Korea called "Sunshine Policy."Nobel Prize was founded by Sweden's great inventor and industrialist.The Swedish enovoy has been one of the most active foreign enovys involved in promoting bilateral ties between their country and South Korea.
Who Is Amb. Lars Vargo?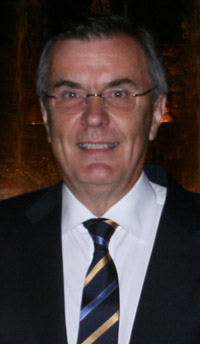 Dr. Lars Vargo, Swedish ambassador to South Korea.
HE Ambassador Lars Vargo was born on Oct. 6, 1947 in Stockholm, Sweden.Amb. Vargo received his M.A. at the University of Uppsala and received his Ph.D. in Japanese studies from the University of Stockholm.Amb. Vargo started his diplomatic career in 1978 and after serving various posts at the Ministry for Foreign Affairs in Stockholm as well as at the Swedish Embassy in Japan, Libya and USA he was Ambassador to Lithuania in 1998.From 2,000, Amb. Vargo was head of the International Department, at the Swedish Parliament until he was appointed as the ambassador to South Korea in February 2006.Amb. Vargo is, by far, the authority of Japanese as well as East Asian Affairs at the Ministry and his command in Japanese language is highly respected and recognized at the Ministry. Amb. Vargo is author of many books on Japan.Amb. Vargo is married to Eva. For further questions or inquiries call the Swedish Embassy in Seoul at 02-3703-3700.