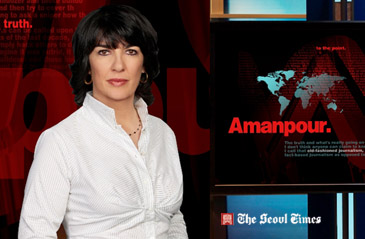 Christiane Amanpour on CNN
CNN's renowned chief international correspondent Christiane Amanpour launches a new global interview program on Tuesday, September 22. 'Amanpour' premieres live from New York at 3 am and replays at 8pm Hong Kong time. On Mondays 'Amanpour' features the best of the previous week and then airs live Tuesday through Friday.
"I want this show to stir the global conscience. I have witnessed so much that it's time to start making real sense of it all," Amanpour said. "I learned to seek facts and to tell the truth no matter how difficult or unpopular, and to not accept a false moral equivalence when none exists. I want to provide a forum for others to do the same."
After spending nearly 26 years reporting around the globe for the CNN, Amanpour will take on a new role as host of this half-hour weekday program. Combining Amanpour's experience, sharp intelligence and extraordinary depth of knowledge, the new program will set the agenda for a new global conversation about the dramatic issues gripping the world. Each show will primarily focus on one topic – newsworthy and often provocative – and will feature guests who challenge and deconstruct conventional wisdom. 'Amanpour' will mobilize conversation, encourage debate and facilitate change through these thought-provoking interviews and analysis.
"Think of great international journalism and you think of Christiane Amanpour," said Tony Maddox, executive vice president and managing director of CNN International. "Now, in this fragmented media world, Christiane's powerful brand will serve as the hub for a global community of inquiring minds – people who are hungry for a more daring perspective and a fresh, thoughtful take on international stories."
Amanpour's body of work has earned nine News and Documentary Emmys, four George Foster Peabody Awards, two George Polk Awards, three duPont-Columbia Awards, the Courage in Journalism Award, an Edward R. Murrow award. an inaugural Television Academy Honor and many other major journalism awards. In 2007, Amanpour was made a Commander of the Most Excellent Order of the British Empire (CBE) by Her Majesty Queen Elizabeth II for her "highly distinguished, innovative contribution" to the field of journalism.
Kathy O'Hearn, who has more than 30 years of experience producing for both broadcast and cable networks, is at the helm as the show's executive producer. The award-winning journalist returns to CNN after working at ABC, where she served as the executive producer for 'This Week With George Stephanopoulos' for three years before moving over to the network's coverage of the 2008 U.S. Presidential election. While at CNN, O'Hearn was central to the network's Emmy Award-winning coverage of 9/11 and coordinated the morning coverage in the ensuing months.
'Amanpour' comes amid major growth at both CNN International and in CNN's international newsgathering resources. The repositioning of CNN International includes an ambitious programming schedule that is being bolstered by the launch of six new prime-time programs in 2009, including the Amanpour launch in September and culminating with the opening of the network's new production centre in Abu Dhabi in November.
CNN Worldwide, a division of Turner Broadcasting System, Inc., a Time Warner Company, is the most trusted source for news and information. Its reach extends to nine cable and satellite television networks; one private place-based network; two radio networks; wireless devices around the world; CNN Digital Network, the No. 1 network of news Web sites in the United States; CNN Newsource, the world's most extensively syndicated news service; and strategic international partnerships within both television and the digital media.For more information, visit www.cnn.com/amanpour or www.CNNPressroomAsia.com