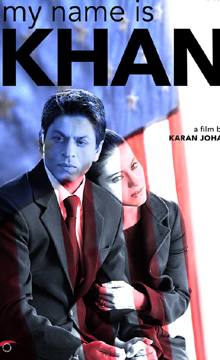 "My Name Is Khan" poster
It did not come as a surprise when well known Indian movie star Shahrukh Khan was recently detained at the Newark Liberty International Airport in New Jersey. Strangely, he had just finished shooting a film in the U.S. on racial profiling. Titled, "My Name Is Khan", it is set in post 9/11 America and has been inspired by a true story. Khan (played by Khan) is arrested because his name is Islamic, his Asperger's syndrome clumsiness further fuelling the suspicion of the Federal authorities. That the reel life played out in real life in a nation that mixes prejudice and rule is only to be expected. For, the U.S. continues to be brutishly paranoid. Nobody questions the rule of law. Not certainly its effective implementation. But America hides a deep rooted prejudice behind this law, whose enforcement often smacks of bias.
Khan was understandably upset at the way he was treated at the airport. Not because he was a star. Not because he had just inked a handsome deal with Fox for the movie's distribution. Not even because he enjoys an iconic status at home and abroad. But essentially because he was a Muslim. Later answering a question, he said though he was happy that his children were not with him during the airport ordeal, he would want them to understand what it means to be treated that way merely because one had a name like his. The point may have been made subtly, but the punch and the enormity of the issue behind it could not be missed. His words conveyed deep anguish, hurt and, above all, a horrifying sense of betrayal that he felt for himself and his community.
It is unfortunate that one of the greatest democratic societies such as the U.S. is also one of the most illiterate. A typical frog in the well, America is blot on the information society that it brags itself to be. An average citizen there knows little beyond Michael Jackson or Angelina Jolie. And any name with Khan or one that remotely sounds Muslim is suspect in his eyes. India's former President Abdul Kalam was frisked by America's Continental Airlines employees before he boarded a flight in New Delhi. Tamil actor Kamal Hassan, a staunch Hindu and globally popular, was questioned in the U.S. only because the authorities thought his name seemed Islamic. In contrast, a largely illiterate society like India is phenomenally literate in the actual sense of the term. The story goes that an ordinary policeman in Kolkata (Calcutta then) recognized French director Louis Malle who was filming a political demonstration that was being dispersed. The cop just stopped short of hitting the helmer with his baton, and cried out, "Oh Louis Malle". This may be a mere story, but it emphasizes the point.
But more than greater awareness, the American, certainly the one in authority, needs to be sensitive. It is time that Muslim bashing ends. And this must include every law abiding Muslim, not just the celebrities among them. For every Shahrukh Khan or Bollywood actor Aamir Khan or Hassan there are hundreds of innocent Muslims who are harassed only because of their faith. If Shahrukh Khan was hurt, hassled and inconvenienced as he has claimed, so must have all others who may have been asked to "step aside" in airports and their dignity ruffled only because they carry an Islamic name. This is probably the key issue that needs to be addressed, for along with warmth any human being expects to be treated with dignity.
In a recently released Bollywood cinematic work, "New York", we see how the main character, a Muslim, is arrested on a vague suspicion, stripped, tortured and humiliated in a way that he is driven to seeking revenge. This is what can happen when a man's or woman's dignity is brushed aside and bruised.
Racial profiling of the kind that America adopts can be extremely demeaning, and it was understandable that thousands of Khan's fans and New Delhi itself were so annoyed at one of the country's best known icons being stopped and questioned – even while his secretary walked through — that India's Information and Broadcasting Minister Ambica Soni hinted at retaliatory treatment for American visitors. Maybe she had the Brazilian model in mind. Angered by the crudity of U.S. officials, Brazil has begun fingerprinting and photographing American visitors.
However, ultimately such tit-for-tat measures can be mere palliatives. It is imperative that prejudices are eliminated, and needless persecution minimized. After all, Mr Kalam or Mr Khan cannot be viewed as potential terrorists, for that would mean pushing the rule to the precipice.