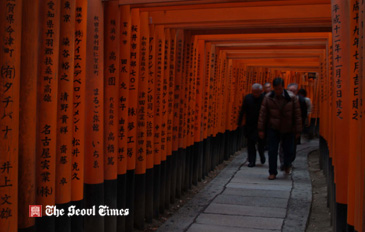 Fushimi Inari Shrine, Kyoto, Japan
My first impression as I cross the canal bridge, joining pedestrians at a rail crossing, is of a Shinto nun. Her white robed stillness is in great contrast to a fast train that suddenly appears. The old meets the new in modern Japan.The main street leading to the temple has an assortment of cafes, restaurants, and tourist shops.I'm not partial to barbecued sparrow on skewers - this comes as a bit of a surprise and shops are selling toys, trinkets and lanterns.There is a common motif in shops– the fox. It is sold in the form of a masks, cakes, biscuits and statues. It gives a clue to where I am walking – to the Fushimi Inari temple - one of Kyoto's, and indeed Japan's more fascinating shrines.This ancient Shinto shrine, stemming back to the 8th century, honors fertility, rice, agriculture, and the spirit of the fox. In modern times an agrarian focus has been replaced by the wish for prosperity in business.My walk to the main shrine is the start of an intriguing journey.Beyond the main entrance, where there is beautiful row of large red torii, is an intriguing mountain walk that will take me to the heart of Japanese Shintoism. It will be like entering another world where the spirit of the religion, and land, come together as one.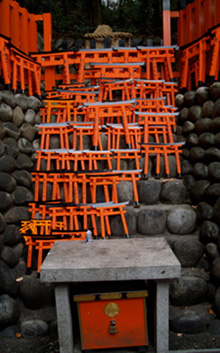 Fushimi Inari Shrine, Kyoto, Japan
Coins can be heard dropping into wooden boxes as I explore the main shrine. This is followed by the ritualistic ringing of bells by devotees. Water is ladled over hands. Wishes are written on plaques in the shape of fox heads. They rattle in the wind. A Shinto monk can be heard chanting to a small congregation. I peek into the darkened shrine: two tourists are sitting amongst a largely Japanese group, taking in the exotic ritual.The first row of torii is mysterious. I slowly enter a red tunneled world — a damp, cool and dark forest. An initial 'theme park feel' is be replaced by a sensual journey. I will follow hundreds, if not thousand of torri, to the top of the 233 metre high Mount Inari.Fushimi Inari is the main temple of the inari cult in Japan. Being the central shrine of over 30,000 inari temples in Japan, it is deeply rooted in an animist tradition.The traditional focus on the fertility of the rice harvest is made even more significant by the fact that Fushimi has been a sake or rice wine growing area for hundreds of years. An image of the fox in rice paddies must have prevailed in those times. This mysterious creature, deeply figured in Japanese culture, has evolved into an icon that is represented by literally thousands of statues in this temple: the fox holding in its mouth a metaphoric key to the rice grainery.I move through countless torii up endless stairs. I follow adjacent paths to small shrines where there are statues of foxes, slow burning incense, and evocative candles. Offerings can be found: one yen coins, sake bottles, and grains of rice.Diverging trails lead to less visited shrines; rocks draped rhythmically in ribbons, dozens of small torii leaning against rocks, quieter spaces broken by the screeching of crows.Passing gentle flowing steams I move through deep shades of green and brown.The experience is mesmerizing, bewitching. One cannot read a review of this place without hearing the word 'eerie'!At given points, continuously climbing, I discover rows of traditional style housing. These are small cafes selling tea and traditional offerings of noodle soup. One can stop, take rest, and reflect.Steps are broken. Other stepping stones catch my eye. Their curious patterns seem Zen-like, as if placed for contemplation.The journey is arduous and the climb is steep. The odd tree is undergoing maintenance, surreally wrapped in plastic with red ribbons. Chainsaws can be heard.This is a dark and consuming forest .Torii have to be replaced every several years. Each tori, sponsored by a business, costs up to 60,000 ($ U.S.) , depending upon its size and position.Thousands of benefactors must be connected to this shrine. Their names are inscribed on the side of each tori.A group of suited businessmen can be seen working their way to the top, led by a purple robed monk. Shops and shrines clash with the ever-present vending machine.Hollow and rotten tree trunks nurture small forests of ferns. Roots emerge from the ground like ancient bones. Water-filled basins reflect the sky.Elderly men and women, with bamboo canes, slowly edge their way forward.It is a quiet time as I make my journey. At times of festivals this place is teeming with devotees. I wonder what this place is like during festivals, such as New Year, when thousands attend hundreds of exotic lit lanterns guiding pilgrims to the top of the mountain. There is dancing and singing throughout the forest.I arrive at a lake, with a shrine and teahouse at its side. Orange and white carp rise to the surface, creating ripples, disturbing the ducks. Cats sleek through the nooks and crannies of shrines. The main shrine is aglow with hundreds of candles. A bell rope sways gently, a reminder of the last devotee.Two teenage girls, holding dolls, are taking photos. They are creating a website story against the picturesque background of the lake. Popular culture meets the ancient. The lake must look beautiful in spring and autumn.I turn corners and climb through even more torii. I am soon close to the summit. I see a small restaurant; visitors are resting and chatting, silhouetted against a blue sky.A short journey to the peak finds me amongst a small city of concrete shrines. There are red banners and dozens of fox statues. Candles fill small grottoes. Banners fly in the wind.A lady is praying. I move away, aware of how my camera is foreign, and intrusive. I wonder what has brought her here.I enjoy noodle soup at a nearby café. I am the only visitor sitting cross-legged in the traditional room. Looking out the window I see a beautiful lantern hanging from a tree. Below, in a subtle haze, I see Kyoto's' white urban sprawl.There are no sounds of traffic here: the odd voice, the occasional crow whose squawk echoes amongst the shrines and treetops.I descend, watched by hundreds of concrete foxes, through hundreds of torii. Crows increasingly fill the cool twilight.Shops are closing for the evening. Dew is starting to fall, sounds are dampened.I will soon enter suburbia. A train will wind me back to Osaka, through tunnels of buildings, across rivers, past industry, into the peak hour of central Osaka station that will extend to 9 p.m.It has been an energetic yet refreshing day - one that has burned itself in my memory.The Fushimi Inari Shrine is three-minutes walk from JR Nara Line Inari Station, 10 minutes from Kyoto Station. It is a five-minute walk from on the Fushimi-Inari station on the Keihan Electric Railway Main Line.Admission is Free.
Open 24 hours