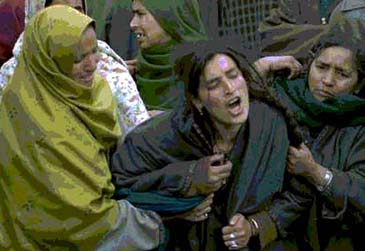 Scene of persecution in Jammu Kashmir
Every sane person is aware about the terrific situation in the nook and corner of Jammu Kashmir due to the unabated persecution of its natives by 7.5 lakh Indian Armed forces of different hues. The persecution includes custodial disappearances, fake encounters, custodial killings, rapes, molestations, frisking, arrests, detentions, intolerable torture and vilification regardless of age and gender.In hundreds of cases disappeared persons were proved killed in custody and buried in and around concentration camps or thrown into river waters. Before some years army vacated a camp in Bandipora. After the evacuation people of the area unearthed human skeletons from that vacated Area. This sensational news was carried by all the local dailies. Same is true about other concentration camps in the nook and corner of Jammu Kashmir. Just last year hundreds of graves were identified in Bigusar forests of Lolab valley in district Kupwara,Chehal Bimyar and Kitchema of Uri area in district Baramullah and district Bandipora .Atta Mohammad Khan of Bimyar aged 65 narrates the story of that area where hundreds were buried by him. As per his revelation he has buried 235 dead bodies. He says that army and police used to bring these dead bodies for burial. Most of dead bodies brought here were maimed, mutilated, amputated and disfigured beyond recognition. Atta Mohammad further says that he had buried many dead in mass graves as per the direction of forces that were bringing them. The uniformed men were identifying them as foreign militants killed on borders or in encounters. He revealed that this graveyard is the extension of kitchama graveyard which is over filled with the dead bodies mostly in mass graves and no body knows who these dead are, where they have been killed, where from they have been brought here. . But 20 exhumed so far were identified as locals by their relatives through other signs like cloths, rings, boats, hair style. They buried them in their ancestral grave yards. Rest hundreds could not be identified due to decomposition. Identification of such mass graves authenticated the belief that the dead ones are those who have disappeared in custody. There are hundreds of evidences which are proving that disappeared in custody have been killed and then consigned to earth, fire or water.One person from Poonch in Jammu Province was picked up by forces personnel from Poonch and after some years, a relative of his incidentally found his name engraved on one of the graves in Soura Srinagar. On Enquiring people of Soura told him that one morning they found dead body of buried person in a lane. His identity card was bearing this name. So his name was engraved on the grave plate.
Many dead bodies so far have been exhumed and identified by their relatives but the situation over here is very grave given the number of disappeared who are in Thousands touching ten thousand.The families of the disappeared persons are desperately knocking every door and wandering like psychiatric patients from pillar to post to know about the fate of their loved ones. They have visited every jail of the state and India but failed to trace them out. With no option left they are protesting every month with the play cards bearing the photos of disappeared, crying weeping and wailing and begging the authorities at the helm to trace them out or make aware about their fate. Instead of healing their bruised sentiments local administration takes them to task ruthlessly. So far they are not getting justice but are cane charged, and beaten by police personnel. State governments at the behest of Indian establishment have always distorted facts in respect of human rights violations by Indian forces. In the first instance Mr. Omer Abdullah claimed the unfortunate incident of Shopian the case of drowning but the public outcry forced him to reveal truth. In the case of disappeared the numbers revealed by two state governments falsify them and expose their sincerity .previous coalition government led by peoples democratic party and congress while replying a query in the state assembly on 21st june2003 briefed the members that 3931 have disappeared from 1990 up to31st may 2003.The present government led national conference president Mr. Omer Abdullah apprised the members of state legislature on the floor of the house after the gap of six and half years on 23rd august2009 that the number of disappeared from 1990 up to July 2009 is 3429. That means the number after the gap of six and half years instead of showing increase has decreased by 502.While as numbers should have increased much given the much increase in custodial disappearances since 2003.
The families of disappeared persons are paying the heavy price of the misfortune which has befallen on them. Mentally disturbed economically dried up, they have spent their every thing including valuables and homes while chasing for the whereabouts of their kiths and kins. Maximum among them are living the life in destitution. They urgently need monitorial relief for sustenance which they don't get as per need. People in Jammu Kashmir suffering economic stress due to the conflict are not in a position to help them because every Kashmiri has got affected by one way or the other. All of them particularly the affected and families of disappeared persons need international relief for survival and help for seeking justice. ICRC and UNDP may have worked well in Latin America and other subjugated territories. But they are of no help to the tormented people of Jammu Kashmir. UNDP is not visible in Jammu Kashmir and ICRC is working on conditional basis in Jammu Kashmir. This august international organization has signed a conditional memorandum of understanding with India and by virtue of that MOU it has a limited role in Jammu Kashmir restricted to visiting jails after permission case wise. It has not and cannot do anything in regard to Jammu Kashmir. World has to rise above considerations to exert pressure on India for an end to the systematic human rights violations in Jammu Kashmir at the hands of Indian Armed Forces. World apex body and human rights protection Organizations has role to play .All including the countries concerned should come forward to prioritize initiating action regarding justice and monitorial relief to the affected families. Only then the struggle for justice will mean something substantial to the tormented people of Jammu Kashmir.Now that we are aware such a huge number has disappeared in custody But till date the information about their physical presence anywhere was neither noticed nor received The concerned authorities have already said rather announced that they are not in jails. The irony of the fate is they don't even declare them dead. The circumstantial evidences including the discovery of hidden graves at three places hint them dead but have to be established. For that purpose tedious work is needed. This will demand search campaign for discovering hidden graves and grave yards in the nook and corner of the territory. One cannot expect any type of help or cooperation in this regard from state. The people, Hurriyat's, N.G.O's, two local factions of A.P.D.P, Afad with the active support, help and monitoring of United Nations Human Rights Council can take up and coordinate the efforts in this regard. The council has the major role in respect of arrangement of proper funding and settlement of matters with the state regarding the invoking of all the provisions of the convention on enforced and involuntary disappearances. State being signatory of the said convention has the obligation to act on the guidelines of the council. compliance of the state is must for achieving desired results It has to authorize courts to order visits to all the concentration camps and those areas where forces are stationed and the questioning of forces officials and personnel .Let the visit and questioning be entrusted to ICRC as state may not allow access to other teams. India being signatory to Geneva Red Cross conventions is bound to comply with ICRC given the international obligation.
Truth and Reconciliation Commission of the present Chief Minister Mr. Omer Abdullah could not materialize given the backtracking of his commitment Mr. Ali Mohammad one of his Senior Cabinet ministers categorically denied any such plan of the government. The system of justice has not cannot do the needful, seems handicapped in this regard, as judiciary in Jammu Kashmir don't command influence on the establishment designed by Delhi. Its orders are fragrantly violated and disrespected by the so called democratic set up. If it any how orders probe and through investigations the matters relating to the human rights violations by the men in uniform or action against erring one's, the orders are consigned to dustbin. That is why thousand of cases of HUMAN Rights violations at the handing of men in uniforms are pending before judiciary for want of justice which neither comes nor there seems any hope in future. State Human Rights Commission created by an act of State Legislature is worth everything but on papers. Actually this Commission was created for face saving otherwise it lacks credibility and jurisdiction. Its decisions if any are dishonored by the bureaucrats not the talk of political elite One of its Chairman resigned blaming non-cooperation of the establishment. This paper tiger cries for help from the establishment and criticize the policy of disrespecting its orders in toto. Still then we have a name plate state human rights commission, a show piece for international community. The actual role of the said commission is that of a recommendatory agency and has no powers to get its decisions implemented.
Mohammad Yousuf Naqash
CHAIRMAN
ISLAMIC POLITICAL PARTY (JK)
Email: ippjk2007@gmail.com