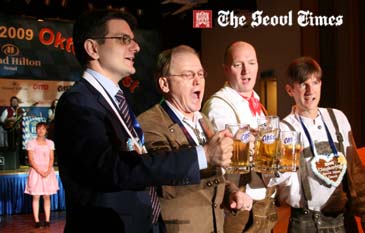 General Manager Bernhard Brender (center) of Grand Hilton Seoul with his colleague at 2009 Oktoberfest event
A classic East-meets-West spectacle was made on the third Oktoberfest held at Grand Hilton Hotel in Seoul on Sept. 5, 2009. The event drew over a thousand guests from all walks of life."This is what we do here. We make friends," remarked Mr. Bernhard Brender, Grand Hilton general manager, as he walked around, pausing occasionally to greet friends and welcome guests.Tracing its roots from Munich, Germany, the Oktoberfest is now widely celebrated across the globe from early September to October.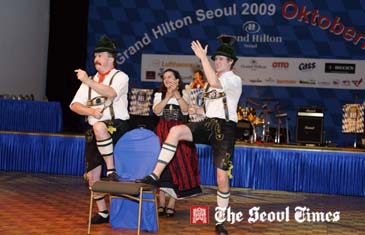 Grand Hilton Seoul 2009 Oktoberfest
Photo by Mr. Francois Le Goaziou, free-lance photo journalist
Since its introduction to South Korea in 2007, the famed beerfest has been warmly accepted by international and local guests who are treated to an authentic feel of the festival.Officially starting the Bavarian-themed event with a parade and a beer barrel opening, Mr. Brender offered a toast to the participants, encouraging them just to enjoy the night.There were unlimited beer and a buffet of German dishes prepared by German chefs and Executive Chef Mr. Erwin Graf himself. Oktoberfest classics were also performed throughout the evening by the German band Erdinger who came all the way from Munich.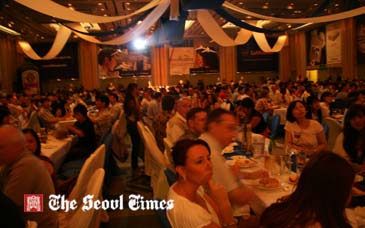 Grand Hilton Seoul 2009 Oktoberfest
Mr. Ashley Cheeseman, assistant director of the hotel's Food and Beverage section, emceed the event, speaking both English and an impressive Korean.Other entertainment included arm wrestling, hammering, and speed beer drinking.This year's sponsors, made up largely of Geman companies, included Lufthansa German Airlines, Porsche, OTTO, Cass, Beck's, Cafissimo, Pieroth, and Jagermeifter.Raffle draws also gave out hefty prizes. Airline tickets, hotel accommodations, and a "Porsche" test driving, among them.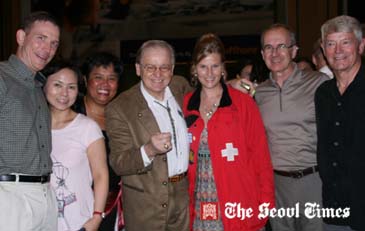 General Manager Bernhard Brender (center) of Grand Hilton Seoul poses with his friends at Oktoberfest event.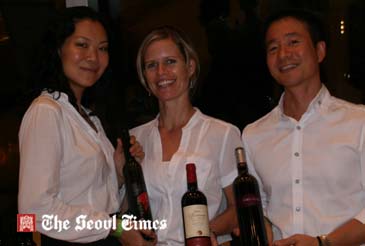 Ms. Lori Warriner (center), wine consultant of Pieroth Korea, poses with her colleagues at 2008 Oktoberfest event.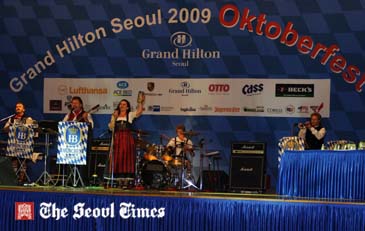 Grand Hilton Seoul 2009 Oktoberfest
Photo by Mr. Francois Le Goaziou, free-lance photo journalist