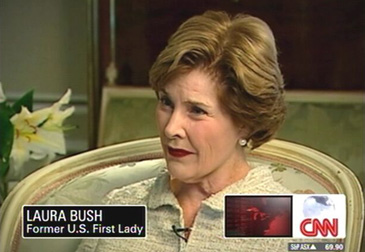 Former U.S First Lady Laura Bush on CNN
Former U.S. First Lady Laura Bush sits down with CNN during the U.N. meeting in Paris, France. Below is the full transcript of the interview with CNN's Zain Verjee. Image of the interview is also attached to this email for your editorial use.The follwing is the full transcript.
ZAIN VERJEE, CNN ANCHOR (voice-over): Still on the world stage, Laura Bush in Paris says she is worried about Afghanistan.
LAURA BUSH, FORMER U.S. FIRST LADY: I think it's worrisome and I want people
— I hope that people will redouble their efforts both within Afghanistan and all of the people that helped from outside of the country.
VERJEE: The former first lady is promoting world literacy, telling me more than 700 million adults can't read. She is a former teacher and now weighing in on the flap over whether President Obama should give speech to students.
(on camera): Do you think it's a good idea?
BUSH: I think that there is a place for the President of the United States to talk to schoolchildren and encourage schoolchildren. And I think there are a lot of people that should do the same. And that is, encourage their own children to stay in school and to study hard, and to try to achieve the dreams that they have.
VERJEE: Do you think that it's fair that Obama is criticized as a socialist?
BUSH: I had had no idea whether it's fair. Do you think I thought it was fair when President Bush was criticized? Not really. (laughter) So I guess not.
VERJEE: Well, President Bush was criticized — he was called by many on the left a fascist. What kind of advice would you give President…
BUSH: Well, I think…
VERJEE: … Obama in how to handle a situation…
BUSH: Well, I wouldn't give him…
VERJEE: … like that?
BUSH: … you know, any advice. I don't think I need to give him any advice. I think it's just what happens, and people know it.
VERJEE: Do you think he is doing a good job, President Obama?
BUSH: I think he is. I think he has got — you know, he has got a lot on his plate. And he has tackled a lot to start with. And that has probably made it more difficult.
VERJEE (voice-over): Laura Bush says the current first lady is doing a good job.
BUSH: I think she is doing great. And I know what she is doing. And you know, it's what every woman who moves there does, and that's try to make it a home, both for her husband, who is the president, and for her children.
VERJEE: She is enjoying life out of the White House.
BUSH: Well, it's great, really. It really is nice. We're enjoying our home in Texas a lot. We have a new house. And…
VERJEE (on camera): Furniture yet?
BUSH: Getting some furniture. We had a lot of fun working on that. We're both working on our memoirs, writing our memoirs. And then we're also building the presidential library.
VERJEE (voice-over): And what is President Bush up to?
BUSH: He is riding his mountain bike a lot, he likes that. And he is very disciplined about writing his memoirs. In fact, I'm shamed…
VERJEE (on camera): Better than you?
BUSH: … every — yes, a lot better than me. He has always…
(LAUGHTER)
BUSH: … been a lot more disciplined than I am.
VERJEE: How do you think the world will remember him?
BUSH: Well, I think the world will remember him for really what he is, and that is what I think people will get to see, both from his memoirs and from mine. And that is somebody who stood for freedom, and who stood for the security of our country.
And I think people know that. I think the people that really know him know what he is like and they see what he stood for. And that's the freedom of 50 million people in Afghanistan and Iraq.
VERJEE: Many around the world would say that he stood for divisiveness and destructiveness…
BUSH: Well, I would say that that is absolutely not right. And I don't think they have the — either the right view of him or what his responsibilities are and were as president of the United States.
VERJEE (voice-over): Zain Verjee, CNN, Paris.More of the interview can be viewed online at http://edition.cnn.com/video/#/video/politics/2009/09/07/
laura.bush.obama.speech.cnn
You can also read Zain Verjee's copy written off the back of the interview at http://edition.cnn.com/2009/POLITICS/09/07/
laura.bush/index.html