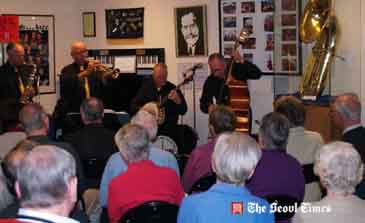 The Jazz Rescuers: The Victorian Jazz Archive

The green shed is like the Tardis from Doctor Who. There is more happening here than I can imagine. I thought I had entered the modest grounds of a nursery.A jazz band is playing as I peek into the first room, the audience being thirty senior citizens.
In a small room, to my side, full of CDs, a group is in animated discussion.There is a buzz in this place - a buzz that makes me curious."Welcome to the Victorian Jazz Archive," says Margaret. "Do you want to have a tour?" Margaret Cleaver is a firm woman, in her seventies, neatly dressed and amicable.
I am a bit taken aback. I introduce myself; explain how I would like to write a story on the place."Come this way says Margaret." I have done one tour already today. I'm all warmed up."I am ushered into a side room and perch myself on a table. Press clippings of jazz articles lie neatly to my side.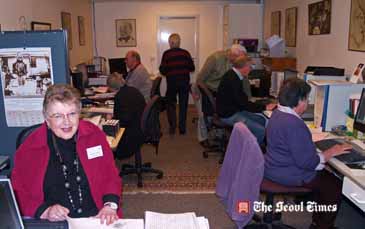 The Jazz Rescuers: The Victorian Jazz Archive

Book cases of jazz books and videos surround me. A storage cabinet, called the 'Bill Miller collection,' lies to one side of the room.Sounds of a jazz band – the New Melbourne Jazz Band - filter from the next room. A few people type away on computer keyboards to my side.Three shipping containers, or 'vaults' as they are called, signal a strong presence within the building. There is an atmosphere of conviviality – warmth. I am a guest and there is a sense of pride within the establishment.I ask Margaret about her connection to the archive. "I am not a jazz musician," she says. "My deceased husband, Peter, was a banjo player in the Len Barnard Jazz band." Margaret diverts into the origins of the banjo. It becomes clear that the archive is as much about stories as it is about
collecting material.A man walks into the room and puts a box on the table. He pulls out a wad of magazines. They are 'Downbeat' magazines, dating back to 1937. They have just been left to the archive.In a long room, to the side of one of the vaults, two men work away on computers. Mel Forbes is entering details of recently acquired jazz journals."These will be registered with Libraries Australia," he says," so that people know what we've got."Margaret takes me to the end of this room. She opens a drawer. "These are our posters," she says. I see the words "Camberwell Town Hall." It is an advert for the Max Collie band – a gig from the 1950s.We move back to the main computer room where Gretel James, VJA Secretary, is diligently typing away. Ralph Powell is cataloguing books, entering the details into an online accessible database. "I have only a passing interest in jazz," he says. "I have a library background. This keeps me off the street."I converse with Gretel, a friendly lady in her seventies. She has worked here for eight years and writes the newsletter. "They picked me up after I finished working on the newsletter for the Victorian Jazz Club," she says.I am joined by Barrie Boyes, a retired office manager with a computing background who has been with the archive for two years. We discuss the value that volunteers get out of the archive. "There's lots of widows and widowers here," says Barrie.
Many wouldn't have a life if not for this place," jokes Mel, "I'd probably be dead if I wasn't here."
What becomes apparent is the hold of this place. It not only concerns itself with the archiving of jazz memorabilia but also provides a meaningful workspace."You bring your experience to this place," says Sharon Bartley. She has a background in finance and has answered a job volunteer advert in a newspaper."It also brings back memories," juts in Margaret. "I was looking through some old photos the other day. They included my first husband."I ask what the most prized possession in the archive is. Barrie brings an image up on a computer.It is a handkerchief signed by Louis Armstrong, and his band, dating back to a tour of Sydney in the 1960s. The group immediately enters into an animated discussion about the date of the tour, discussing the
band members and the clues that they give.The sounds of the jazz band filter into the room. Clapping can be heard intermittently.The Victorian Jazz Archive is a most intriguing archive. Situated in Koomba Park, Wantirna an outer suburb of Melbourne, Australia, it was first established in 1996, when a need was identified to collect and archive Australian jazz material, specifically in Victoria.The not-for-profit incorporated association preserves Australian jazz music and memorabilia. It holds over 15,000 items in the Australian Jazz Collection — the Eastern Regional libraries providing a website link to the collection.Access is provided to students, researchers and members of the general public.The VJA is recognized, by the National Film and Sound Archive, as a national distributor of audio visual material.With over 550 members the VJA's main role is to 'identify, collect, document, and exhibit all types of Australian jazz recordings, musical instruments, videos, photographs, publications and historical memorabilia.'I visit the exhibition space, the Ray Marginson Library, named after Dr. Ray Marginson AM, the founding president. It doubles as a library and display space - exhibitions rotating every six months. Instruments, recordings and the history of the New Melbourne Jazz Band are currently featured. Ironically this band has just finished playing. Sandwiches, cakes and tea and coffee are being served to the visiting Dingley Central Probus Club, each member having paid $10 for a tour, performance and refreshments.Pat Pocknee, a Probus member, and member of the archive, informs me of how she loves these visits, how something interesting happens each time. She remembers one performance in which a man, one side paralyzed by a stroke, played a piano duet. "It was very moving," she says.A few days later I meet Mel Blachford, the Collections Manager. He is an eager man, in his late sixties, keen to inform me of the complex role played by the archive.
Another social group is visiting the archive, and the sound of a jazz band filters throughout the rooms. It is a Friday; the archive is open to the public on Tuesdays and Fridays.Mel shows me through the vaults. The first contains DVDs, LPs, acetates, 78 rpm records, reel to reel tapes, CDs, VHS recordings and photographs. He pulls large acetates out of cardboard folders. These are one off recordings of live
events, made onto aluminum discs, for broadcast by radio stations.
The vault contains a compactus with neatly stacked materials. There are audio tapes of interviews with jazz celebrities – including over 200 recordings with
Australian jazz musicians. Most have been transferred from audio tape onto carefully stored and expensive archival CDs.
"Being a Museum Australia accredited organization we store everything according to the principles of archival preservation," says Mel. "We are digitizing as much as we can. We have probably done about 60-70% already. It's
been a lot of work. We use acid free paper. We are putting in for grants so that we can put more items into special archive folders."The second vault, specializing in printed materials, contains rare books, jazz magazines and sheet music. There are over 1000 jazz books and periodicals held at the archive.
"These are Roger Bell's compositions and notations," says Mel, opening a cabinet. I look at a handwritten composition. It is called The Devil bends his elbow. "Great title," says Mel. Roger Bell, a famous Australian jazz musician, and brother of Graeme Bell, died in 2008, part of his jazz estate coming to the archive.The third vault contains material related to the Australian Jazz Convention, an annual event, dating back to 1947, and the longest running jazz festival in the world."Have a look at this," Mel whispers, taking me into the back of another room.
It is a beautiful and rare white bakelite saxophone, once owned and bequeathed to the archive by the musician Ade Monsbourgh, who died in 2006. Touring Europe with Roger and Graeme Bell, in 1950-52, Ade was presented with this
unusual alto sax by the Grafton Saxophone Company. He was in esteemed company, similar saxes were presented to Johnny Dankworth and Charlie Parker.Mel jokes about the items coming into the archive, "I've said to people don't die when I'm around. We don't have time to do it all." He confesses that coming years are going to be boom times. A lot of jazz enthusiasts, including players, are in their twilight years.We finish by looking through items in the Bill Miller collection. Bill Miller was a Melbourne lawyer, and jazz enthusiast, who lives in Melbourne and studied for a law degree at Cambridge in the early 1930s. He collected many jazz recordings on his travels. He produced a label called Ampersand, which
started in 1943, and features some of the first Australian Jazz recordings of the legendary Graeme Bell, the brother of Roger. (Graeme, by the way, is now in his mid nineties and leading patron of the Victorian Jazz Archive. His name
is regularly mentioned .)"Bill Miller was a bower bird says Mel, he collected all manner of records, photos, etc. There are 2500 old 78 recordings here - all donated by him." We open a scrapbook. It contains old newspaper articles, all relating to jazz. I
am intrigued by photos of the Palais Theatre, in St Kilda - days when it was a dancehall in the 1930s. "They probably don't even have these photos," says Mel.He pulls out a collection of records. "These are bootlegs made by Bill Miller," he says. "He made up names so you didn't know the artist, but could guess." I see pirated copies of American recordings. "Great titles," says Mel.One is called 'Countin' the Blues', by 'Mama Can Can and Orphan Will'. It is a bootleg of Louis Armstrong and Ma Rainey. "All sorts of people get in contact with us." He mentions a writer - Kay Dreyfus. She has written a book 'Sweethearts of Rhythm: the Story of Australia's all-girl bands and orchestras to the end of the Second World War'.The research notes and interview tapes for this book have been left to the archive.
"Sometimes people get in contact with us as they may have had a grandparent who was a jazz musician," continues Mel. "We even supplied some music for the recent art deco exhibition at the National Gallery of Victoria."The VJA is run entirely by voluntary labour and has received small grants over the years: seeding funding from Dame Elisabeth Murdoch, as well as the Pratt, Potter and Myer Foundations. David Ward, a volunteer at the VJA, who died of
cancer in 2008, would donate, without question, each year's company director's fee.What becomes apparent, as I move through the building, is the extraordinary dedication of the volunteers. The website states that 54 volunteers, during 2008, dedicated over 13,000 hours of time to the archive. This is an archive of memorabilia as well as human effort!Eric Brown, the registrar - 'he's an encyclopedia' - is neatly writing new donor details into a ledger. He is a man in his late seventies. "It's hard as you get old', he says, struggling to recall a bit of information. Eric quietly tells me of his five trips to New Orleans, his connections with jazz musicians, and several visits to Japan to meet jazz bands. " I have a
Japanese musician visiting here shortly," he says.In the corner of the room Gretel James is continuing to type away. "This has recently come in," she says. It is the diary of Roger Bell's 1947 trip to Czechoslovakia. It will be an interesting read. Roger and Graeme Bell - the Bell Band- sponsored through connections made by the Eureka Youth League, previously the Young Communist League, made a four month celebrated tour of the young jazz starved Communist country in 1947.There are all manner of resources in other rooms. A small shop contains a wide range of Australian jazz CDs for sale. One series, called 'Rare collectible jazz from the Archive' is collated by members of the archive. Recordings include luminaries of Australian jazz scene such as Graeme Bell, Len Barnard, Tom Pickering and Ian Pierce.These recordings come from sustained efforts in the Sound Room. It looks like a small recording studio. Computers, record players, cassette players, and reel to reel recorders, allow materials to be
digitally recorded and mixed. Old recordings are carefully brought back to life.My visit concludes in a small canteen- the Waterfront Cafe. People are helping themselves to tea and coffee, plates are being brought in from the gallery where a tour group is being hosted.
I meet with Jeff Blades, a committee member, and a man in his seventies. He has a walking cane, and can only speak to me briefly as he has a medical appointment. He is keen that I represent the huge voluntary effort put in by individuals.
We sit at a table under a large 1964 photo of the band called 'Frank Traynor and the Jazz Preachers'. It includes a young Smacka Fitzgibbon, a legendary Australian jazz entertainer.We discuss those days- how American bands were all the favor and how Australian bands would imitate their style and dress. "It was almost a subculture being into jazz in those days," says Jeff. "You were outside the mainstream."
He alludes to the friendship amongst peers, how this is echoed by friends meeting up again at this archive - this time being in their sixties, seventies, or eighties.One story relates to an old record store in Melbourne – 'Bob Clemens Records'.When it closed a lot of the material from the store ended up in a skip in a Melbourne lane. It was rescued by a fellow across the road.
These stories go to the heart of what this archive does- keeping a tradition alive by the very rescue and preservation of old material.As I reflect on the role of the Victorian Jazz Archive, I think about Frank Webster- the Posters Manager -a vibrant man in his seventies, who I met on my first visit."I'm handling stuff sixty years later," he said. "It brings back memories. I suddenly realize - I went to that battle of the bands in the 1940s!"It is clear that the journey is as much an inner one - reflecting and honoring shared interests and experience - as it is an opportunity for a large group of retired men and women, to build and continue friendship in a stimulating and
challenging setting.
Frank had been sorting through small posters. A number, were politically incorrect - stylized images of American Negroes from the 1940s. "Its called work," says Frank, "it's good for the community. You feel that you have done something good, built a sense of camaraderie. And you can't get the sack," he jokes. "You can get away with murder."I reflect on comments that I heard in a small group discussion in the Posters Room: 'A lot of people aren't interested in this stuff. They don't think it's interesting and worth preserving. Yet, if you don't preserve it, there'll be nothing to be interested in!'The idea is powerful. It goes very much to the heart of archiving and what is being done in this modest suburban shed. What we deem as important is often made important by the efforts of volunteers- people who spend countless hours collecting and cataloguing.On my next short visit I discuss, with Peter Edwards, the Print Manager, how reel to reel tapes can be brought back to life- of all things- by baking them slowly in an oven!
I leaf through a scrapbook. It details a friendship, in the 1960s, between Louis Armstrong and his wife, and a couple, who lived - of all places- in Moorabbin.I wonder what other gems are being contributed, preserved and catalogued in this surprising building. I never cease to be amazed.The Victorian Jazz Archive:
www.vicjazzarchive.org.au
is just around the corner from Burwood Highway in Wantirna, an outer eastern suburb 25 kilometres from Melbourne's CBD. It is situated in Koomba Park -Melway
reference 63C8. Telephone (03) 9800 5535
email info@vicjazzarchive.org.au
It is open Tuesdays and Fridays from 10- 4 or by appointment.
It welcomes tour groups, new members and volunteers. It also welcomes the donation of jazz collections.The 64th Australian Jazz Convention:
www.64thajc.com.au/Koomba Park: http://www.visitvictoria.com/displayobject.cfm/
objectid.00094C9E-D157-1A4B-
BE0480C476A90000/Smacka Fitzgibbon: http://en.wikipedia.org/wiki/Smacka_FitzgibbonGraeme Bell:
http://en.wikipedia.org/wiki/Graeme_Bell