| | |
| --- | --- |
| | Daw Aung San Suu Kyi(born on June 19, 1945) is an opposition politician and general secretary of the National League for Democracy in Burma (Myanmar). Suu Kyi has won many awards including Nobel Peace Prize. She has been under detention in Myanmar for some 14 years. In the 1990 general election, she was elected premier but her detention by the military junta prevented her from assuming office. Daw in her name is honorific similar to madam for older, revered women, literally meaning "aunt." |
Several pro-democracy Indian and exile Burmese organizations have commented that the proposed 2010 election (by the military junta of Burma) has no meaning, if Daw Aung San Suu Kyi and other political prisoners are not released to take part in it. Rather they said election will pave way for the permanent dictatorship of the present group of generals in Burma.Burma Centre Delhi on behalf of Non-Governmental Organizations from India and EU submitted a memorandum to Sonia Gandhi, the president of All India Congress Committee in New Delhi today (Oct 2), where it was clearly declared that, "There will be no inclusive political process or free and fair election in 2010 if Daw Aung San Suu Kyi and more than 2100 political prisoners are not released, and violations of civil and political rights are continued."It also added, "The elections in 2010 will make the Burmese military regime into permanent dictatorship unless provisions of (2008) Constitution are reviewed and amended in accord with the democratic principles and monitoring and intervention by UN and international community are allowed."The groups endorsed and supported for the restoration of human rights and democracy in Burma and immediate release of the Nobel laureate Suu Kyi, a living symbol of Mahatma Gandhi's Satyagraha and recipient of Jawaharlal Nehru's Award for International Understanding with other political prisoners.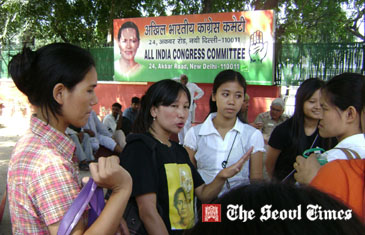 The exile Burmese have gahthered in front of AICC office to hand over a appeal letter to Somia Gandhi on Oct. 2, 2009
"Today, the 2 October 2009, on the auspicious day of 140 birthday of Mahatma Gandhi, also recognized as international non violence day, we take this opportunity to seek your kind attention to remember Daw Aung San Suu Kyi, a living symbol of Mahatma Gandhi's Satyagraha and a Nobel peace laureate and recipient of Jawaharlal Nehru's Award for International Understanding," said in the memorandum.Mentionable that since the election in 1990, Burmese democracy activists have been imprisoned, intimidated, tortured and put to death when they peacefully demanded justice, peace, human rights and a democratic government. At present, there are more than 2100 Political prisoners, many of them have been given jail terms for several years and some even up to 106 years without trial. "We recognize Daw Aung San Suu Kyi as a true democratic leader of Burma. She and her party NLD won landslide victory in 1990 general elections but were never allowed to rule the country. The military junta crushed the people's mandate and put her under house arrest for 14 of the past 19 years," added in the memorandum.Speaking to this writer from New Delhi, Dr. Alana Golmei, the coordinator of Burma Centre Delhi said, "The recent verdict on Aung San Suu Kyi has not only exposed the death of Justice in Burma but also shown Burma junta's determination to stop her participation in the elections to be held in 2010. It has made an obstruction to the process of national reconciliation in Burma. It is a complete negligence on international opinion and showing their will of undetermined to Democracy. We strongly recommend Government of India not to endorse Burma's military regime's sham constitution and election, as it will only lead to military entrenchment in the country."The memorandum, signed by a number of organizations like Burma Centre Delhi, All Burma Students Democratic Front, Arakan League for Democracy, All Burma Federation of Student Unions, All Kachin Students & Youth (AKSYU), Arakan Liberation Party, Burmese Women Union, Chin Students and Youth Federation, Burma Campaign UK, Chin Youth Conference, Chin Women Organization, Chin Human Rights Organization, Federation of Trade Union of Burma, Forum for Democracy in Burma, Human Rights Education Institute of Burma, Kuki Students Democratic Force, Kuki Women Human Rights Organization, Naga National League for Democracy, Naga Youth Organization, National Alliance of People's Movements, Women Rights and Welfare Association of Burma, Women League of Burma, South Asia Forum for Human Rights etc, also urged New Delhi to join with UN and international community in taking actions for the release of Suu Kyi and to ensure reasonable democratic change in Burma.