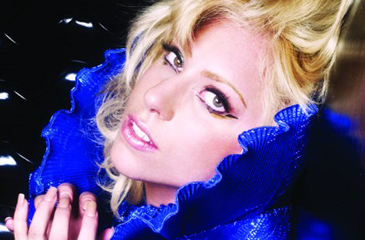 Lady Gaga
The 'Paparazzi' singer is about to embark on her 'Monster Ball' tour next month and the flamboyant pop star – famed for her outrageous outfits – is going to take her fashion inspiration from the title.She told Rolling Stone magazine: "The fashion is going to be another exploration and another level from where we were with the previous tour, the 'Fame Ball'. The theme of monsters is certainly going to be an influence, as well as the theme of evolution and change. It's going to be a truly artistic experience that is going to take the form of the greatest post-apocalyptic house party that you've ever been to." Lady Gaga – real name Stefani Germanotta – was due to hit the road with Kanye West.However, the tour - entitled 'Fame Kills', and which had been planned for months – was cancelled earlier this month, just weeks after Kanye was heavily criticised for invading the stage during Taylor Swift's acceptance speech at the MTV Video Music Awards.But the 23-year-old singer hasn't ruled out the possibility of touring with him in the future.She said: "It just wasn't the right timing. I don't want to embellish on it too much, because I want to respect Kanye's privacy. But we just had our own reasons. We're real friends, real friends can make decisions like that, and we wanted to keep the momentum going in terms of pop music staying innovative with hip-hop and R'n'B. But who's to say what will happen in the future?"
Pink has been having nightmares about kangaroos
The 'So What' singer dreamt a pair of the hopping Australian animals destroyed the home she shares with her motocross racer husband Carey Hart.She said: "I dreamt the other night that I smuggled two kangaroos home from Australia and they trashed my house and my dog Bailey was terrified. Bad idea!"Home-wrecking kangaroos aren't the only things troubling Pink at present.The 30-year-old pop star has also been dealing with over-zealous fans asking her for autographs while she is naked.She wrote on her Twitter webpage: "So awkward, standing naked in a women's dressing room while the staff ask for autographs."Although kangaroos are tormenting Pink in her dreams, another hopping animal attacked her in real life.The singer – who is a strict vegetarian and staunch supporter of PETA (People for the Ethical Treatment of Animals) - wasn't happy when a frog jumped into her face while she was on a recent bike trip with Carey in Australia.The pair had stopped on the side of the road for a toilet break when the excited amphibian leapt at Pink - real name Alecia Moore.
A source said: "They were relieving themselves by the road when a frog jumped up and hit Pink bang in the eyes. She freaked."
Kevin Costner is terrified his children will catch swine flu.
The 54-year-old actor – who is currently touring Germany with his country band Kevin Costner and Modern West – has banned his family from travelling with him to keep them safe from the potentially fatal virus.Kevin – who has six children, Annie, 25, Lily, 23, Joe, 21, Liam, 13, Cayden, two, eight-month-old Hayes, with three different women - said: "It is unusual that my family is not there, because they usually are always there."But I have been worried about swine flu, and didn't want my small children with me this time on this trip."The 'Dances with Wolves' star also revealed how his wife, German model Christine Baumgartner, encouraged him to fulfill his dream of playing his music in Germany.He is quoted by website tz-online.de as saying: "I wanted to bring my music to the people. And since my ancestors emigrated to America in the 17th century, I wanted to close the circle and return to Germany.
"Christine has given me confidence."
Britney Spears feels "completely out of it" because her father is so controlling, it has been claimed.
Friends say the '3' singer is so strictly guarded by dad Jamie Spears she has lost track of the time and days of the week.A source told FoxNews: "She is so out of it she just doesn't care anymore. She just does what she's told and is totally in her world."She'll even call people at all hours of night for a general conversation and acts like it's the middle of the day or something."Jamie – who took charge of Britney's personal and financial affairs after her emotional breakdown in January 2008 – is so determined to keep his daughter under control he is reportedly systematically firing her staff so she doesn't have the chance to get close to anyone.The source revealed: "He's really trying to clean up her image. He's making a lot of changes to the people around her. Everyone is a bit on edge they could be the next one to be replaced."Britney's family has seen what happens when she gets too close to outsiders and they lose control, they don't want it happening again."
Jamie blames Britney's relationship with former manager Sam Lutfi and paparazzo Adnan Ghalib for his daughter's breakdown.He has taken out restraining orders against both men.