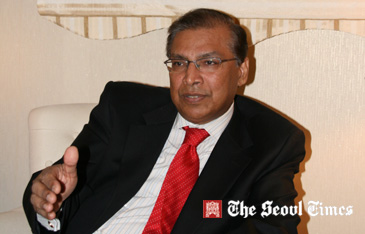 Mr. Murad Ali, the Pakistani ambassador to Republic of Korea, talks with local journalists at his residence at Seoul's Itaewon on Oct. 23, 2009 prior to the Pakistani dinner.
Mr. Murad Ali, the Pakistani ambassador to Republic of Korea, and his wife Mrs. Nighat Muard Ali hosted a friendly dinner for a select few at their residence on Oct. 23, 2009. The staff made sure that the genial ambience dwindle any tiredness or fatigue after the day's work. Though a friendly dinner, the Ambassador talked on a number of topics showing his philosophical bent of mind and the knowledge acquired through years of experience and age. An aged person can still be young at heart. When asked about his observations on cultures of different countries where he has served as a representative of Pakistan, the Ambassador said "Asia especially the South Asia and East Asia have stronger family values, moral values and community-centric values, which is not seen in other parts of the world". Mr. Murad Ali is not new to Republic of Korea. He served here during the late 80's and early 90's and is rightly an authority to make an observation or two about the cultural similarities between Korea and Pakistan. "Only sensationalism sells" said the Ambassador expressing his displeasure over the state of today's journalism. For many in Korea, Pakistan is synonymous with Taliban and he opined "There is [a] misconception and many don't get the true picture."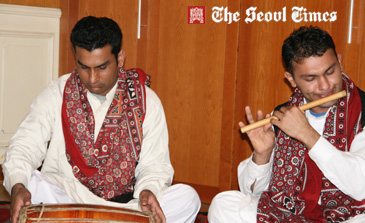 Pakistani Amb. Murad Ali invites local journalists to his residence in Seoul's Itaewon for music and cuisine on Oct. 23, 2009.
Thereafter the discussion moved to the dinning table and the guests were treated to sumptuous Paksitani meal. The meal began with Naan, an oven baked flatbread, and two curries: Channa Masala, a vegetarian dish made of chickpeas, and Chicken curry, a curry made of chicken and gravy. Though a friendly dinner, the Ambassador was open to answer certain uncomfortable questions. When asked about the presence of any Pakistani nuclear expert on North Korean soil, he said "No". "Pakistan is a responsible nuclear state. Its nuclear weapon falling into the hands of terrorists is an exaggeration." The Ambassador also said "Pakistan does not have many nuclear weapons; it has only that much which can prevent it from threats of external aggression." The Beef kebabs, Tandori Chicken, a famed chicken dish, and the Pulav made of Basmati Rice, delicate, long grained and non sticky rice, were next in the offerings. A guest, who had never tasted the Pakistani food before, was all for praises of the food. The dessert was Ras Malai, sweet, oval shaped paneer soaked into a cream made of milk. For a few people eating Basmati Rice and Ras Malai after a very long time can bring an overwhelming joy. After the dinner, the guests were treated by soothing music of traditional Pakistani folklore. The two artists: Mr. Shehzade, on the left with Dholki, and Mr. Amjad, on the right with Bansuri, were so adept in playing the instruments that everyone expressed surprise when the Ambassador told they were not professionals but amateurs. Dholki is a cylindrical drum with a barrel shaped shell used predominantly in India and Pakistan. Bansuri, etymologically is a melodious sound from the bamboo, is a musical instrument made of bamboo with a certain number of open holes. The Ambassador envisaged more cultural exchange between the Korea and Pakistan, especially from the field of music. Mr. Shehzade and Mr. Amjad introduced the guests to numerous Pakistani folksongs, notably from 'Heer Ranjha', a supposedly true tragic romance story from Punjab. Mr. Fuad Hashim Rabbani, commercial counselor, enthusiastically explained the story and the meaning behind each of the songs. The guests enjoyed the music with a nice sip of hot tea.