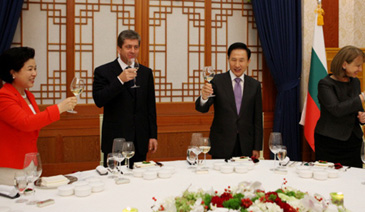 Bulgarian President Georgi Parvanov (2nd from left) makes a toast with S. Korean President Lee Myung-Bak (2nd from right), S. Korean First Lady Kim Yun-Ok, and Bulgarian First Lady Zorka Parvanova (right) at Cheongwadae or presidential Blue House in Seoul on Oct. 26, 2009.
Bulgarian President Parvanov Visits S. Korea
At the invitation of the South Korean President Lee Myung-Bak, Bulgarian head of state Georgi Parvanov came to the three day visit to the Republic of Korea. The visit by President Parvanov was first time announced by the Bulgarian Envoy to Serbia Mr. Georgi Dimitrov Dimitrov in February 2009, in an interview with the Seoul Times EU Director Mr. Ivan Simic. This was the second visit of Bulgarian President to South Korea after President Zhelyu Zhelev visited Korea in 1995. The two countries established diplomatic relations in 1990.
During this visit, President Georgi Parvanov was accompanied by a delegation which included representatives of legislative, executive and local governments and businesses. Bulgaria and South Korea met to discuss economic exchanges and to strengthen bilateral relationships in trade, culture and diplomacy.At a ceremony at the presidential Blue House on 26 October 2009, President of the Republic of Korea Lee Myung-Bak and his wife, Mrs. Kim Yoon-Ok welcomed the Bulgarian head of state, and Zorka Parvanova.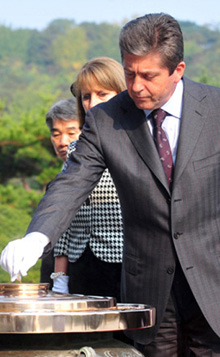 Bulgarian President Georgi Parvanov visits the Seoul National Cemetery in Dongjak-dong, Seoul on Oct. 27, 2009.
During the meeting the two presidents stressed the excellent relations between Bulgaria and Korea. They specifically noted that this visit and the forthcoming next year 20th anniversary of establishment of diplomatic relations between the two countries have serious reason to drawn guidelines for the development of cooperation in the next two decades. Especially in trade-economic relations, culture, education, and common understandings between people of both countries. In addition, special attention was given on economic cooperation between two states, particularly in promising areas like designated energy, infrastructure, tourism, direct airline between Sofia and Seoul and establishment of joint economic commission. Bulgarian President presented specific ideas for mutual cooperation - developing a joint project to build ships for the transport of compressed natural gas in the Black Sea, Bulgarian participation in the production of next generation electric that Korea is currently developing, creating forms of interaction between Korean and Bulgarian shipyard and others. In connection with the idea of transmission of compressed gas by ships, President Georgi Parvanov told journalists that this is an idea that could create an alternative to natural gas supply, not only for Bulgaria but for the whole region, which would give more security to the EU in demand for such solutions. He expressed his satisfaction that the proposal has been supported by the president Lee Myung-Bak at the official talks, and management of Hyundai Heavy Industries, which met the President at the beginning of his visit.In the presence of both presidents, Bulgarian Minister of Labor and Social Policy Totyu Mladenov and Korean Minister of Health, Social Affairs and Family Affairs Ms Jong-Hee Jai signed the Protocol for the implementation of the Convention on Social Security. The agreement, signed by Ministers of Culture Eyebrows Rashidov and Yu-Yin Chong, make available for both sides to provide annual scholarships up to five full years for students in bachelors and masters degree, Doctor degree and 12 months of specialization. During his visit, President Parvanov met with Chairman of the National Assembly of the Republic of Korea, Kim Hyong-o. Mr. Parvanov also participate in a working lunch organized by the four major Korean business associations - the Korea Federation of Small Businesses, Federation of Korean Industry, the Korea International Trade Association and the Korea Chamber of Commerce and Industry. Earlier the Bulgarian head of state visited the factory yard and car "Hyundai" in the city of Ulsan, where he also discussed the idea of cooperation in shipbuilding and manufacture of electric.
On the sidelines, the two governments also signed pacts to push for stronger ties in the military and security sectors and sharing information on geopolitical issues of mutual concern.