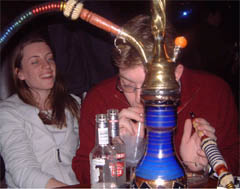 Young people smoke shisha
MANAMA, Bahrain — An Arab man leans back in his chair as he blows smoke rings in the air. The smell of apple is much like the scent of baking an apple over a wood fire. So thick is the smell of apple tobacco inside the coffee shop you can almost taste it as it escapes from the tall water pipes on top of nearly every table. Even the most ardent non-smoker will probably enjoy this. It really smells good. For hundreds of years, Middle Eastern people have flocked to this exotic water pipe — more popularly known as shisha or hookah — to smoke fruit-flavored tobacco, talk and watch the world pass by. This deep-rooted cultural practice of smoking shisha has now become an almost integral part of the Arabs — social life and their culture and is rapidly growing in popularity all over the world.It began hundreds of years before the invasion of the big American cigarette companies and is one of the most common and interesting lifestyles of the Arab world. Some say it originated in Turkey over 500 years ago, some say it originated in Syria, others claim it originated in India.Undoubtedly, shisha is among the most instantly recognizable symbols of popular Arab culture and the ever-growing demand from locals, residents and tourists bears ample testimony to the modern-day appeal of the ancient water pipe.It is now a thriving — and, apparently, extremely lucrative — shisha culture. The number of shisha outlets mushrooming in the Arab world is, indeed, remarkable and, is a clear indication of the profitability of such outlets.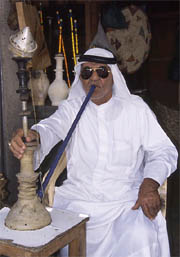 A man smokes a shisha pipe
Shisha is tobacco mixed with molasses and fruit flavors and is smoked in a hookah. It is very light and flavorful with a wonderful fruity aroma. Interestingly, it is smoked for the flavor and not for any kind of effect. Though the most popular flavor is apple, others include strawberry, pineapple, apricot, grape, rose, mint, and even cappuccino! A hookah consists of a hollow glass (sometimes clay or brass) base which is filled with water, a vertical pipe topped with a clay bowl for shisha and coals, and a usually colorful hose.When one sucks on the hose, the smoke is drawn down the pipe and through the water, which cools and filters it. This also produces a peaceful bubbling sound. This sound is as delightful now as the prospect of blowing bubbles in a glass of milk was to most of us when we were young.Many people prefer shisha smoking to cigarettes and cigars because of the smooth, flavorful and cool taste of the smoke. The cooled smoke is pleasant because it doesn't tickle the throat at all.Actually, there are so many different names for this unique smoking device, which is essentially a tall, ornately-decorated and carefully-prepared water pipe. Egyptians call it shisha; Lebanese refer to it as nargila; and in English, it is hookah. Tourists sometimes refer to it as "hubbly bubbly." Generally, they consider it as relaxation in an Oriental ambience.Indeed, smoking shisha is a highly convivial pastime. It is simply very pleasant to relax over a pipe after dinner or after work. Smoking shisha can last two hours or more and is a very peaceful, social occasion generally filled with good conversation with friends.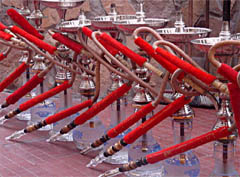 Shisha pipes
It is generally not just smoking, it's a mini "happening." More and more are discovering the pleasures of this age-old Oriental smoking ritual. Obviously, the society's perception of shisha smoking has been completely redefined. Shisha smoking, for example, is no longer an exclusively male pastime.Women enjoy the water pipe just as much as men do. The sight of an Arab woman puffing away at a shisha no longer raises any eyebrows. Many women in the Arab world, however, still tend to smoke at home rather than in public. The water pipe is not popular only amongst young people. The truth is, shisha is now appreciated by guests of all ages and from all social groupings. That includes lawyers and doctors. Men and women of the upper classes in the Arab world have been entertaining guests with shisha pipes for centuries. And it's wrong to think of pipe-smoking as an exclusively male domain.Throughout the Arab world, shisha is a traditional accompaniment to friendly gatherings particularly in tearooms, coffeehouses and cafes. This old Arabic tradition has been used for centuries to smoke away the day's stress, while relaxing with friends and family. Friends congregate and sit for hours at a time having shisha while chatting, sipping mint tea and playing chess or backgammon through the night, or listening to Arabic music. They lie on long cushions and spend time talking to friends and enjoying this Arab delight.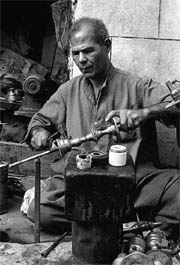 Habitual smokers talk about the various flavors with excitement. Lately, shisha has become a fashionable home accessory for the Arabs, and unique pipes, inlaid with silver, gold and precious stones, are prized possessions. To older generation, smoking shisha is nothing like smoking a cigarette. They believe cigarettes are for nervous people, competitive people, people on the run. They say when you smoke shisha, you have time to think. It teaches you patience and tolerance, and gives you an appreciation of good company.Shisha smokers have a much more balanced approach to life than cigarette smokers. Shisha is something special. Many feel much healthier since they stopped smoking cigarettes and took up shisha instead, pointing out that the water filters out the harmful tar.Tobacco is soaked in fruit shavings such as strawberry, apples or grapes. This mixture is then smoked through a large water pipe. The hookah uses a small charcoal tablet to gently heat a special, flavor-infused tobacco blend.The tobacco never burns, but is filtered as it is drawn through the water-filled, hand-blown glass base and inhaled through ornate, embroidered hoses. The vapor is incredibly smooth, sweet and aromatic.The mouthpiece is attached to a long tube; the water bubbles and gurgles in the pipe as the mouthpiece is passed from hand to hand.It almost acts as an excuse for people to spend time together. It just happens to be a very pleasurable way of doing so.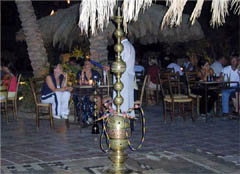 A group of Egyptians enjoying shisha
There are, however, a few rumors circulating about shisha that make many people wary about trying this fine treat. Shisha detractors claim that it causes pollution and that dirty mouthpieces and pipes are liable to spread infection.They say that while the shisha mouthpiece may be regularly changed, it's very difficult to clean the actual pipe, which may harbor infectious diseases.It's not tobacco, marijuana or crack cocaine, but this smoking fad has health officials very concerned. They say that since people sit at hookah stations for 30 or 40 or 60 minutes, the amount of nicotine that goes into the smoker during this period is quite significant.Technically speaking, yes, it's unhealthy, although only negligibly. The water takes away approximately 90 percent of the harmful chemicals, and so a pipe contains merely 0.5 percent nicotine and 0 percent tar. Also, if its not inhaled, there is no danger of lung cancer.Since shisha is tobacco, smoking it likely involves some of the same ill effects as other types of smoking. However, whereas cigarette smoke fills one's chest with a harsh, burning sensation, one can barely feel shisha smoke in the lungs. Because of the smoothness and the fact that it is light, filtered, and cooled, it is very probably the safest form of smoking there is.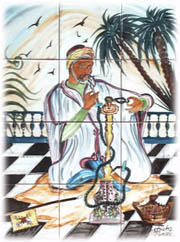 And because it takes a few minutes to set up and then a long time to savor (similar to pipes and cigars), shisha smoking is unlikely to entail that psychological addiction for a quick puff that cigarettes can. Shisha outlets claim they always provide a new plastic mouthpiece, hygienically wrapped and sealed. It may not be politically correct, but tobacco and related paraphernalia is still a big part of the Arab culture.Remember shisha is still tobacco, and that means all the health risks are imminent if one is not responsible. It is better to limit your intake to a few times a month or less. Restrict your shisha smoking to social gatherings and you'll be fine.Currently, health watchdogs are looking closely at the smoking of shisha in public places and how it will fit into new guidelines on public health. Specific guidelines will sharpen the fight to protect the environment and protect the health of the public.