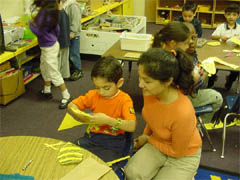 Like any other human organ, the brain needs exercising. By using it in two languages, bilingual children develop a mental agility which monolingual ones lack. That's what Laura-Ann Petitto, a researcher at Dartmouth University, revealed in a study published last year. Bilingual children can perform certain cognitive tasks more accurately than monolinguals. They are also more creative, better at problem-solving, and also score higher on literacy tests.Now new research suggests that bilingualism also affects adults by slowing down the aging process and may also offer some protection against Alzheimer's disease and other forms of dementia.The new study by a team of researchers led by Dr. Ellen Bialystok of York University, Canada, showed that bilingual adults had quicker minds than people who spoke only one language. Bilingual people also showed less of a decline associated with aging than monolingual people.Dr. Bialystok and her team tested a total of 154 individuals, all university graduates, some living in Toronto and the others in the Indian state of Tamil Nadu. The bilingual individuals have been speaking English and Tamil or English and French since they were ten years old.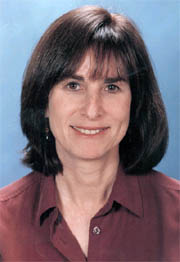 Prof. Ellen Bialystok

All the people tested were at the same level of education and had performed equally well on memory tests and had the same score on knowledge of English vocabulary. The difference between the two groups was bilingual vs. monolingual. The bilingual people spoke either French or Tamil at home and English outside. The monolingual people spoke English in both situations. Those who learned a second language in school were not included in this study.The total group was subdivided in a group of 104 monolingual and bilingual middle-aged adults aged 30 to 59 and another of 50 older adults aged 60 to 88. The test used is called the Simon Task, which measures reaction time to cognitive tasks. These ask people to identify on which part of a computer screen a colored square appears.In both cases, the bilingual middle-aged group and bilingual older group were faster on the test than the monolingual groups. Bilingual people were also less distracted by other stimuli.Dr. Bialystok said the bilingual individuals' advantages came about because of being forced from an early age to function in two languages. The bilingual activity forces people to keep the two languages separate and the brain develops a mechanism to allow the speaker to block out intrusions from the unwanted language. This ability to compartmentalize and focus on a task (fluid intelligence) carries over to other functions and that's why bilingual individuals remain sharper as they age.The Bialystok's study with bilingual adults confirms Petitto's research with children. Both, particularly the one with children, would provide ammunition for emphasizing bilingualism.Some of that is happening in the U.S. The number of dual-language schools, which teach all subjects in two languages, is increasing rapidly although its numbers are little more than a fraction of American schools.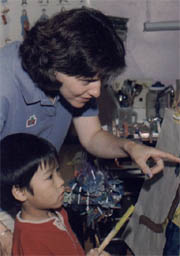 A Gallup poll in 2003 found that 58 percent of Americans support bilingual education, defined as using the native language of non-English-speaking students for several years until they learn English. The highest support for bilingual education came from those in the 18-to-29 age group, 75 percent of whom support bilingual education.In spite of this, plenty of people in the United States view anything bilingual with skepticism. For example, three American states have virtually eliminated bilingual education through the referendum process.Twenty-seven American states have passed laws declaring English their official language, primarily as a result of concerns about the multilingualism created by increasing immigration. Americans want the U.S. to remain an English-speaking country. In essence, many Americans believe that monolingualism is the way to go.Research that bilingualism is indeed a plus for young and old alike is not going to sway many Americans from their belief that one language ensures peace and tranquillity.Switzerland, of course, comes to mind as a multilingual country which is indeed peaceful and prosperous for many reasons, one of them being respect for its language diversity. By learning the national languages of their country, the Swiss develop a tolerance and an appreciation of their diversity. This linguistic and cultural diversity becomes a plus in dealing with the rest of the world.Will Americans learn from the Swiss? The latest study suggests they should because it will improve their lives in many ways.