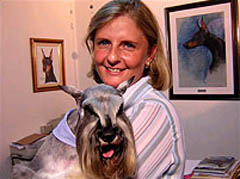 Anita Alt has an award-winning dog
thanks to Dr Brito
"Plastic surgery is good for dogs," declares the website of Dr Edgard Brito. There follows a list of available procedures: wrinkle-reduction, eyebrow-correction and even full canine facelifts. "Why shouldn't a dog be beautiful?" asks Edgard. "Beauty is desirable. We all like talking to someone who looks good and smells nice. It's the same with dogs." On the wall is photographic evidence of Edgard's success. He is pictured with a who's-who of Brazilian models, actors and television presenters, all of whom have asked the Sao Paulo vet to beautify their favourite pooch. "He's a miracle worker," smiles Anita Alt, a dog breeder specialising in miniature schnauzers. She is visiting the clinic with four-year-old Brutus, one of Edgard's most celebrated patients. "We imported Brutus from Argentina to be a show dog," Anita explains.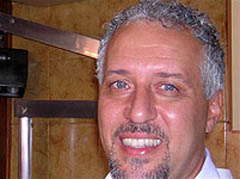 There's nothing wrong with all-pervasive beauty, says Dr Brito
"But then one of his ears started drooping — which is the kind of thing that would disqualify him from a competition." Dr Edgard straightened the ear by injecting Restylane, an organic substance commonly used to treat human wrinkles. "You only need one application," he says. "The ears will stand up forever." The cost of the ear treatment is $75 (£40). There is a detailed price-list for other procedures — including Botox injections to correct facial wrinkling. Since undergoing surgery Brutus has become one of Brazil's most successful competition dogs. "He's been a pan-American champion," says Anita, "and he's won the best-in-show category a few times. "This is quite an achievement for a small dog."
Genetic defects
But many Brazilian dog lovers believe it is unethical for a surgically-enhanced animal to win a top show. "You really hope people won't bring you dogs like that," says Suzanne Blum, who has been judging competitions for more than a decade.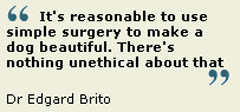 "At a crowded show the judges get only three minutes with each animal. "That's not long enough to tell whether a dog has had surgery." The main objection to cosmetic surgery, voiced by Brazilian animal welfare groups, is that it might be used to conceal genetic defects. Suzanne Blum offers an example: "A dog may have surgery to correct imperfect teeth or a tail. And then it might win a show. "At that point, it commands huge stud fees — even though it has a concealed genetic defect." The most extreme cases of concealment have involved testicles. Unscrupulous vets have been known to disguise the fact that an animal has only one testicle — by attaching a suitably-shaped prosthesis.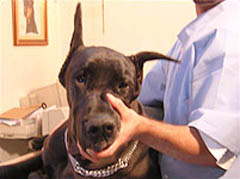 Drooping ears can disqualify a dog from competition, say owners
Is canine cosmetic surgery illegal? Brazilian law does not address the controversy directly. A statute of 1943 bans the mutilation of animals, but there is no legal consensus on whether cosmetic surgery should be classed as "mutilation." Back at his Sao Paulo clinic Dr Edgard Brito is dismissive of calls for new legislation. "It's perfectly reasonable to use simple surgery to make a dog beautiful," he says. "There's nothing unethical about that. "But I agree that vets should not conceal hereditary defects. It's not fair on the dog, the judges or the other competitors. "Here at my clinic I would never attach an artificial testicle."
The above article is from BBC.