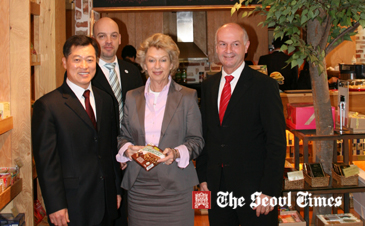 Frankfurt Mayor Petra Roth (2nd from right) poses for The Seoul Times with KGCCI Sec. Gen. Jurgen Wohler (right), and President An Byung-Joo (left) of BJ Lohas at Mr. An's building on Nov. 17, 2009.
"As mayor of Frankfurt I want to help boost bilateral ties between South Korea and Germany, particularly in the field of South Korea's fledgling organic food market," said Ms. Petra Roth, mayor of Frankfurt, the financial center of continental Europe. On Nov. 17, 2009 Mayor Roth met with President An Byung-Joo of BJ Lohas, a representative South Korean company of the German "Reformhaus" at President An's office in Seoul. The gathering also drew a small legion of local journalists including ones from The Seoul Times.The conference was arranged by Secretary General Jurgen Wohler of Korean-German Chamber of Commerce and Industry (KGCCI). President An is the promoter of eco-friendly foodstuffs of Germany in the potentially-rich organic food market of South Korea.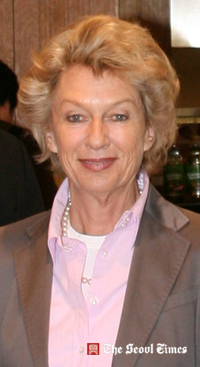 Frankfurt Mayor Petra Roth
"Mr. An is playing a great role in introducing products of German organic market and related technologies to the local Korean market,"Mayor Roth praised him. "His Reformhaus is leading the local market in importing our advanced products."Mayor Roth emphasized the close economic relations between the two nations and also the exchanges of human resources for promoting South Korean organic food industry.Mayor Roth also stressed the intimate ties between Seoul and Frankfurt."There are about 8,000 Koreans living and working in Frankfurt," Mayor Roth said. "Such South Korean business giants as Kia, Samsung, and LG have there European headquarters in my city."In particular, Mayor Roth said that she is interested in forging cooperation with South Korea's provincial government and regional cities.She said that she would meet with Gov. Kim Moon-Soo of Gyeonggi Province that encompasses Seoul.Mayor Roth said that Frankfurt would seek exchange of technology and economic cooperation with Gyeonggi Province.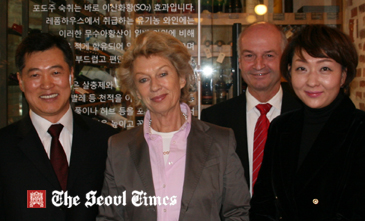 Frankfurt Mayor Petra Roth (2nd from left) poses for The Seoul Times with KGCCI Sec. Gen. Jurgen Wohler (2nd from right), and President An Byung-Joo (left) of BJ Lohas at Mr. An's building on Nov. 17, 2009. At right is Manager Lee Joung-Hwa of BJ Lohas.
Mayor Roth described herself as a "fan of South Korea." She is often dubbed by her friends as "pro-South Korean politician."She said that this is her fourth visit to South Korea.Regarding her impression about Seoul, Mayor Roth said "explosive economic growth" in reference to the rapid economic development of the South Korean capital."Despite its fast growth, the streets of Seoul is very clean," she said. "I believe that Seoul has focused on environment."
When asked about why she became a politician, she said "It's fun." She said that she is proud of her role in helping others.
Who is Mayor Petra Roth?
Petra Roth was born in Bremen in 1944. She began her political career 1973 in Frankfurt, where she served as Honorary Social Services Ombudsman for a local district. She retained that position for 15 years. From 1977 to 1989 Mrs. Roth served as a representative for the Welfare Organization of Hesse.She was a member in the Frankfurt City Council, serving as Chairperson of the Sports Committee. In 1993, Mrs. Roth took on the role of Speaker of the Frankfurt City Council. From 1987 to 1995 she was a member of the State Parliament of Hesse, winning three elections in her constituency.From 1990 to 1998 she served as a member of the Executive Board of the CDU in Hesse. She became Chair of the Frankfurt CDU in 1992, a position she held until 1995. She was the first Frankfurt Mayor to be directly elected and took office on July 5, 1995. On April 1, 2002 she was confirmed in this position.Since 1997 she has served numerous terms as President of the German Association of Cities and is the current President there.She represents Frankfurt in a variety of international institutions, such as the Committee of the Regions in Brussels and the Executive Committee of Eurocities.Petra Roth chairs the supervisory board of the Frankfurter Messe AG and is a member of the supervisory board of Fraport AG (Frankfurt Airport).
For details or inquiries contact the Mr. Kim Young-Min, assistant managger of the Korean-German Chamber of Commerce and Industry (KGCCI) at 82-2-3780-4631 or leave him an Email at ymkim@kgcci.com