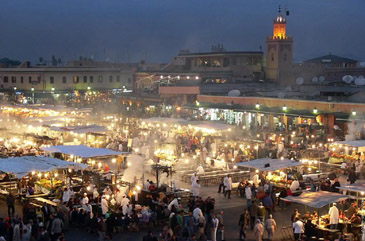 Morocco's Marrakech, the venue of The Marrakech Film Festival
The Marrakech Film Festival, to begin its ninth edition on December 4, has been a boon not just for the fledgling Moroccan/African cinema industry, offering an effective platform for their directors, but also for the city's tourism. Funded entirely by the country's ruling monarchy with Prince Moulay Rachid (King's brother) presiding over the nine-day run (though the management is with a French public relations firm, Le Public Systeme.), the Festival pumps excitement into the city's innumerable hotels and wayside eateries The marketplace, known as Souk, comes alive with the local cuisine spicing up the screen. Hotels go full, and the Souk looks like a mela with the Festival crowds taking a breather between movies tucking in street food or haggling over the prices of curios. For an Indian, the place is a virtual paradise for pirated DVDs of the country's latest blockbusters that can be had for a song.
These bustling street scenes or the expansive vistas or the awesome palaces, intricately designed and decorated in Islamic style, in Morocco have played a part in cinema. They have provided fabulous locales for both Moroccan and foreign films. Ridley Scott and Oliver Stone among others have used the country to shoot their works. A part of Alejandro González Iñárritu's "Babel" is set in Morocco.
The African nation that still has an unmistakable French flavour once transcended cultural barriers, especially in times of geopolitical crisis, through Michael Curtiz's 1942 classic, "Casablanca". That it was never shot in Casablanca is another story, but Morocco has since then extensively used its Moorish art, décor hotels, winter sun and celebrity pull to carve out a niche for itself on the global movie map.
While the Marrakech Festival screens some of the world's best cinema, it has also been making efforts to help the local cinema industry take the place of the now sinking – but once flourishing — Egyptian show business. As Bruno Barde, Marrakech's Artistic Director and head of the Le Public Systeme, once told me "the Festival is a great opportunity for Moroccan directors and scriptwriters to learn how to fish".
The Moroccan monarchy is keen on promoting cinema. The Prince is extremely knowledgeable about this art, I am told, and would like films to showcase the country's open culture and society. There rigid Islamic laws are not enforced. Women need not cover their heads, and many of them can be seen in daring Western wear.
Though a tiny movie producer with about 25 or so movies a year, Morocco is undoubtedly far ahead of others in Africa, such as Tunisia or Algeria or Lebanon or even Egypt. The nation's transparent culture, Barde quips, is not to be found even in Dubai, and its seeds were planted by the King a decade ago when he envisaged the Marrakech Festival. A kingdom that is ruled with the help of a Constitution and bicameral legislature, Morocco seems all set for great cinematic times.
Gautaman Bhaskaran has been covering the Marrakech Film Festival for several years.