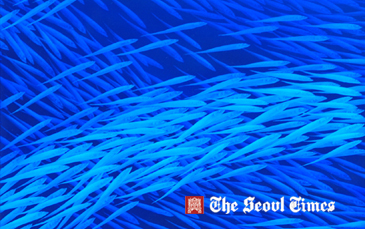 Yun Woo-Seung's "Lifish" 65x52cm, mixed media 2009
The posh street of Seoul's rich Cheongdam-dong areas has turned into a "Street of Arts" as the annual "Cheongdam Art Fair" is being held from Nov. 26 to Dec. 5, 2009.Some 400 works of arts from 70 local and foreign artists are on display in the coming "19th Cheongdam Art Fair." A total of 23 art galleries are participating in this year's art exhibition."Such foreign galleries as British, French, German and American galleries are all joining this year's festival," said Ms. Han Kyung-Sim, curator of Galerie Bhak."More freshing and unconventional works of arts will be shown to the public this year due to the more participation by young and emerging artists," Ms. Han said. "Also people will be able to watch and enjoy more and better works of arts by global artists."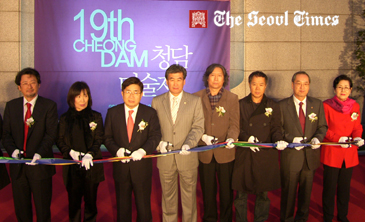 Gangnam Mayor Maeng Jung-Ju (3rd from left) cuts the tape with other dignitaries at the opening ceremony of "the 19th Cheongdam Art Fair" held at the Galleria Department Store in Seoul's Cheongdam-dong on Nov. 26, 2009. At far left is Chairman Lee Soon-Jo of MAC Architects-Consultants Group.
Ms. Han is currently attending "Daegu Art Fair," being held from Nov. 25, to Nov. 28, 2009.Among the participating galleries are Gallery Mee (Tel: 542-3004), Opera Gallery (Tel: 3446-0070), Park Ryu-Sook Gallery (Tel: 549-7575), Galerie Bhak (Tel: 544-8481), 123 Gallery (Tel: 3445-5123), PKM Trinity Gallery (Tel: 515-9496), Gallery 2 (Tel: 3448-2112), Michael Schultz Gallery (Tel: 546-7955), The Columns Gallery (Tel 3442-6301), and Pyo Gallery (Tel: 543-7337).
All the participating galleries are hosting distinctive exhibitions of their own. Park Ryu-Sook Gallery is hosting a rare photo exhibition "Micro-Macro."Ten local and global photo artists are displaying scores of works of photo art on flowers, buildings, and landscapes.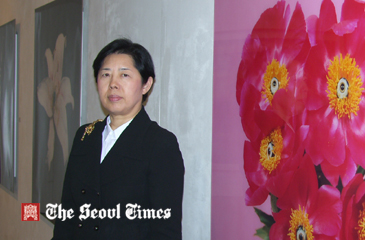 President Park Ryu-Sook poses at her "Park Ryu-Sook Gallery."
They include a veteran photo artist Kim Jung-Man; young and emerging German-educated Korean photo artist Park Sang-Ho; Natalia Edenmont, Russian-born Swedish photo artist; Candida Hofer, German photo artist; and Massimo Vitali, Italian photo artist.The photo exhibition runs from Nov. 26 to Dec. 8, 2009.The Columns Gallery has also prepared an exhibition of photo art by several world-famous photographers including Brian Mackey and Lina Kim.Galerie Bhak is holding an arti exhibition by mid-career oil painter Yun Woo-Seung under the title of "Lifish (Life and Fish)." More than 20 works of art are on display between Nov. 26 and Dec. 5, 2009.Opera Gallery is hosting a solo art exhibition by Brazilian neo-pop artist Romero Britto.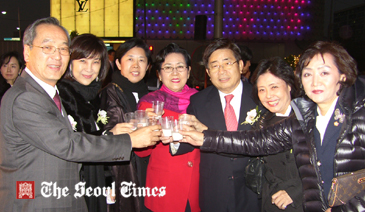 President Yoo Myung-Boon (2nd from left) of CAIS Gallery poses with other VIP participants at the opening ceremony of "the 19th Cheongdam Art Fair" at Galleria Department Store in Seoul on Nov. 26, 2009. Third from right is Gangnam Mayor Maeng Jung-Ju.
Britto is a Brazilian neo-pop wall decorator, painter, serigrapher, and sculptor. The contemporary artist is well-known for combining s stereotyped elements of cubism, pop art and graffiti painting in his work.Pyo Gallery is showing exhibitions of seasoned artist Kim Chang-Ryul, oil painter Lee Woo-Lim, and Lee Hyun-Jean.Opening ceremony of "Cheongdam Art Fair" was be held at Galleria Department Store at 5 p.m. on Nov. 26, 2009. Gangnam Mayor Maeng Jung-Ju delivered a special congratulatory message in front of the gathering.A jazz concert was also be thrown in front of the department store in celebration of the opening of the art festival.With famous designer boutiques and art galleries lined, the posh Seoul area of Cheongdam-dong in Seoul's rich Gangnam-gu district, is often called South Korea's "Beverly Hills."For details or inquiries contact the Park Ryu-Sook Gallery at 549-7575.