| | |
| --- | --- |
| | Ukrainian Amb. Volodymyr Furkalo poses for a photo prior to his interview with The Seoul Times at his embassy in Dongbinggo-dong on Aug. 19, 2004. |
Only 14 years ago South Korea, the world's 11th largest economy, did not have formal ties with Ukraine with nearly 50 million population. Still, the relations of the two nations may be at its incipient stage. Yet, the bilateral ties might grow exponentially between the culture-rich but largely agrarian country and what the top Ukrainian envoy in Seoul called "highly industrialized international country."Amb. Volodymyr Furkalo recently revealed his plans for boosting bilateral exchanges in his recent exclusive interview with The Seoul Times. This special interview was granted on the occasion of Ukraine's National Day, which falls on Aug. 24, 2004. Here are the contents of the ambassadorial interview.
Question:
Could you tell us about the National Day of Ukraine? What significance does your National Day have on Ukrainian people and Ukraine itself?
Answer:
Fist of all, I heartily thank "The Seoul Times" for cooperation and your sincere interest in my country. I would also like to share with you my views on important events which happened in Ukraine over the year and plans for the nearest future.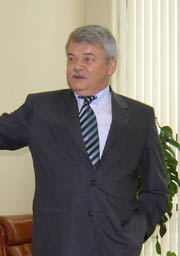 Amb. Volodymyr Furkalo
On Aug. 24, 2004 Ukraine celebrates the 13th anniversary of its independence. Over the last years the absence of ethnical and national conflicts, irreversibility of democratic transformations, active reforming of economic, political and social life have become inalienable features of state-building processes in Ukraine. A new stage of internal reform in Ukraine is aimed at securing profound systematic transformations in the country's life, corresponding to the standards of a democratic state with socially-oriented market economy.Over several consecutive years Ukraine's economy has demonstrated one of the highest growth rates in Europe. Against the background of stable financial situation the exports are rapidly growing, the Ukrainian goods strengthen their competitive capacity on the domestic market; the volumes of investments and construction are growing, as do the volumes of consumption and household income.
Question:
What is the trade volume between Republic of Korea and Ukraine? What should be done to expand bilateral trade volume?
Answer:
At present, we may ascertain that our two countries have achieved a significant volume of trade and economic co-operation, and hopes for their further development. Ukraine considers the Republic of Korea among the promising economic partners in the Asia-Pacific region, first of all because of the perspective of its transformation into Northeast business hub, and strives to develop the bilateral economic co-operation.
Ukrainian Amb. Furkalo (left) talks with Joseph Joh, editor-in-chief of The Seoul Times
at his embassy in Dongbinggo-dong in Yongsan-gu.
According to the statistics made public by the Customs Service of the Republic of Korea we together with our Korean partners have succeeded in maintaining positive dynamics of bilateral trade. Turnover last year amounted to 600.3 million US dollars showing the increase of 149.8 million US dollars compared with the year 2002.During the first six months of this year Ukrainian export to the Republic of Korea marked 245.2 million US dollars showing substantial year-on-year increase of 130.9 percent, while its import from the ROK recorded 194.0 million US dollars indicating year-on-year growth of 21.6 percent. Turnover amounted to 439.2 million US dollars.
Question:
A lot of South Korean corporations are now operating in your country. What are their major contributions to your country? What can South Korean government do to send more Korean corporations to your country?
Answer:
We highly appreciate the activity of leading Korean companies in Ukraine, in particular Samsung, LG, Daewoo and others, since they create opportunities to satiate Ukrainian market with modern production and satisfy growing needs of Ukrainian customers.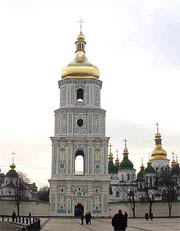 Saint Sophia Cathedral
Ukraine is interested in attracting experience, technology, know-how and investment of Korean businessmen to Ukrainian economy, first of all in its manufacturing sector. Now in Ukraine there are 18 enterprises with investment from the Republic of Korea, of which five are joint ventures.
Unfortunately, the volume of Korea's direct investment in Ukraine remains insignificant and, according to the State Committee of Statistics of Ukraine, and as of April 1, 2004, amounted, to 172.4 million US dollars that is equal to 2.5 percent of all FDI (Foreign Direct Investment) attracted to Ukraine. We believe that in this very sphere our countries have good prospects for further cooperation.
Question:
What is the most pressing or important economic issue facing two countries? What could be done to enhance bilateral economic relations in general? Particularly, what could you do to further improve bilateral relations for the remainder of your ambassadorship here in Seoul?
Answer:
Although figures of our bilateral trade are of buoyant trend, they do not reflect the potentialities of our countries. It's worth to remind that the share of bilateral trade is rather insignificant in terms of the total volume of either country's foreign trade.The structure of Ukrainian exports is also our concern, because it is formed mainly by raw materials and semi-finished products. We are going to make every effort aimed at diversifying Ukrainian exports so that high-tech products in its structure would prevail. Recently some indications have shown that the share of the products with high added value in Ukrainian exports is gradually growing.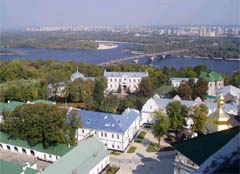 Kiev, capital of Ukraine
Availability of cooperation in agricultural sphere should be mentioned. In particular, by attracting Korean investments for creation of agricultural enterprises in Ukraine with the following arrangement of Ukrainian agricultural production supplies to the market of the Republic of Korea.
Question:
What are the present state of people's exchanges, and cultural exchanges between the two countries? Do you have any plans to introduce more Ukrainian culture to Korean people, or vice versa?
Answer:
Public of both countries shows considerable interest in learning history, present-day situation, and culture of Ukraine and Korea. In particular, the evidence of this is a well-developed structure of the bodies that look after these matters: created and operate actively the Korean-Ukrainian Inter-Parliamentary Association of Friendship, Ukrainian-Korean Friendship Society, Committee for Promoting Unification of Both Korean States, and Ukrainian Cultural Center in Seoul.Centers for Scientific Research of Ukrainian Problems are not many in the world, but soon one more is to join them, which is the Institute of Ukrainian Research at the Korean University. Starting this spring, preparatory work has been started to realize the Ukrainian Research Project — the first full-scale study program of Ukrainian intended for three years.
Ukrainian beauty
Anna Bazsonova of Ukraine, 2003 World Champion, performs with a ball during the Grand Prix International Deriugina Cup rhythmic gymnastics competition in Kiev, Ukraine March 14, 2004. Courtesy AP
The research is to be carried out in such fields as Ukrainian language and literature, culture, ethnography, sociology, Cossack history, Ukrainian Diaspora, modern history, as well as regional problems. Provisions were made for publication of a series of articles and monographs based on results of the research.For its part, already in the middle of 90s, Ukraine has directly taken to profound studying of its partner. Since 1996 at the Kyiv State Linguistic University, and from 1995 at the Shevchenko National University of Kyiv, experts in Korean language and history are being trained.The Center of Korean Research was founded in 2001 at the Krymskyi Institute of Oriental Studies with the Ukrainian Academy of Sciences. It is intended for developing and coordinating scientific, cultural and educational work regarding Korean language, literature, history, economics, politics and culture, and promote expansion of scientific links between Ukraine and the Republic of Korea.
Question:
In the face of strong opposition from some politicians and people, South Korean government is trying to move its capital to an area of South Choongchong Province. Do you think the issue of this magnitude should be decided by national referendum instead of a president's decision?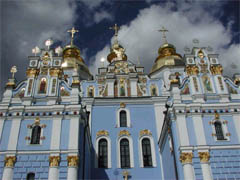 Answer:
I understand that some people are worried that the presence of Seoul is very close to DMZ (demilitarized zone), it causes some concerns. But from the military point of view it creates little problems.Considering the positive developments in inter-Korean relations, the capital city of Seoul should be left where it is now. It is exactly geographical center of two Koreas (the Korean Peninsula) and hopefully of one (unified ) Korea in the future.For some embassies, moving capital will be quite a problem because they have properties here in Seoul. The prices of their properties will go down in case South Korean government move its capital out of Seoul.
Question:
What could be the ideal policy of South Korean government for the unification of Korea? What are the desirable attitudes of South Korean people for that goal? How soon could Korea be peacefully reunified?
Answer:
I want to point out that Ukraine stands for resolving inter-Korean problem including "nuclear issue" through the direct dialogue between Seoul and Pyongyang as well as through multilateral negotiations. Ukraine shares the principles laid down in "the South-North Declaration" of June 15, 2000, which was signed by the Presidents of two Koreas, and principal approaches of new President Roh Moo-Hyun toward North Korea called "the policy of peace and prosperity."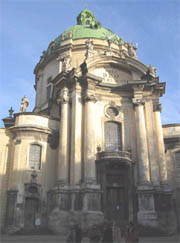 Lviv cathedral
Ukraine, as a participant of Nuclear Non-Proliferation Treaty (NPT), and as the state which proclaimed itself free of nuclear weapons shares the deep concern of the world community caused by the fact of possession of nuclear weapons by the Democratic People's Republic of Korea. Ukraine considers the possession of weapons of mass destruction (WMD) by North Korea as breaking the obligations taken by the country in compliance with the NPT. We think that such actions contradict the main principles of the international law, and first of all the principle of conscientious performance of obligations in respect of the international law. It also threatens the existence of the NPT itself as the basis of the global regime of non-proliferation of nuclear weapons.The position of North Korea in this matter can pose a threat to further development of inter-Korean settlement process and lead to a new wave of armaments race in the region as well as can endanger international peace and security.Ukraine calls the leaders of North Korea to reconsider its actions in favor of observance of the NPT provisions as well as the Geneva agreement of 1994 on overcoming the crises in connection with the nuclear program of North Korea.With the future of Asia-Pacific region and the place the Republic of Korea occupies in mind, it would not be an exaggeration to assert that relations between Ukraine and South Korea are highly promising.
Question:
What was the most impressive thing you went though after you arrived in South Korea?
Ukrainian Foreign Minister Kostyantyn Gryshchenko (right) shakes hands with President Roh Moo-Hyun during his courtesy visit to Chongwadae on June 8, 2004.
Courtesy Yonhap
Answer:
To tell you frankly, I expected Korea and Seoul more Asian. Actually, Seoul is much more international city than I imagined. When I came to Seoul in December in 2001 I was greatly impressed by the size and modernity of Incheon International Airport building.Fifteen years ago we did not even have formal diplomatic relations. Now Ukrainians are well aware of South Korea's economic success, which is outstanding. Particularly, in the areas of shipbuilding and IT industry.
Question:
What do you think is the best thing (tangible or intangible) Korean people can boast of?
Answer:
I was impressed by the Koreans wearing the traditional clothes locally called "hanbok." You can be really proud of your traditional dress (hanbok) particularly, hanbok for ladies. Also it was also fascinating for me to visit a Buddhist temple, arranged by South Korean government. The lives of Buddhist monks were very unique and impressive.
Question:
Which areas of bilateral exchanges have you focused on or will focus on in your efforts to enhance overall ties between the two countries?
Answer:
I would like to emphasize three major areas of political, economic, and cultural ones. First I would like to maintain the high level of bilateral exchanges among each country's political leaders. Yet, it has been quite lopsided in disfavor of Ukraine in political exchange area in particular.
President Kuchma
Ukrainian President Leonid Kuchma speaks at UN's General Assembly.
For instance, no South Korean president has ever visited Ukraine. In contrast, our current President Leonid Kuchma visited Seoul already. The speaker of our parliament visited Seoul twice, including Chairman Ivan Plyushch's visit.Our Foreign Minister Konstantin Gryshchenkowas was here in June this year and squeezed an answer from President Roh Moo-Hyun that he will visit Ukraine next year. My Turkish colleague told me that no Korean president ever visited Turkey which Koreans love to call their "brother country."Luckily, economic relations are progressing very rapidly. In mid-1960 the total volume of trade was only 15 million US dollars, but this year it will reach 1 billion US dollars.On cultural exchange front, we have already signed an agreement to boost bilateral cultural exchanges including exchanges of musicians and opera. At five higher academic institutions in Ukraine, Korea or Korean language is being taught currently. Korean music Prof. Shin Mun-Hee is widely respected at Odesa National Music Conservatory in Ukraine.
Who is Amb. Volodymyr Furkalo?
| | |
| --- | --- |
| | Ukrainian Amb. Furkalo (right) poses for a camera with his daughter Olena during an interview with The Seoul Times. |
Amb. Volodymyr Furkalo was born on June 5, 1950. He earned his BA (Bachelor of Arts) degree in international law from the Institute of International Relations in Moscow in 1972. In 1982 Amb. Furkalo received his Ph.D. in international law from the Academy of Sciences of Ukraine.As soon as he finished his military service in 1977 he joined the Ministry of Foreign Affairs of Ukraine. He started his hitherto 27-year-old diplomatic career as an attache, and third secretary at the ministry.After nearly two decades of diplomatic services the career diplomat was appointed as ambassador to Canada in 1996 for a two-year term. He also served as ambassador of Ukraine to Federal Republic of Yugoslavia between 1998 and 2001.His diplomatic services include a high-level post at UN and permanent representative of Ukraine to ICAO (International Civil Aviation Organization). Between 1994 and 1996 Amb. Furkalo was also involved in the settling the conflict in Transnistrian Region of the Republic of Moldova.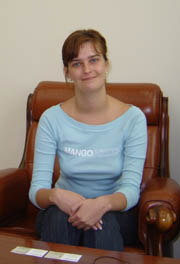 Ms. Olena Furkalo
Amb. Furkalo's outstanding performances in diplomacy were recognized with a series of high awards including Order for Merit (1996), and Bernardo O'Higgers-Chile (1999), all for promoting cooperation in peace-keeping efforts. Currently, Amb. Furkalo is living with his wife Madam Irina. His daughter Olena, the only child between the ambassadorial couple, is studying international relations at National Univ. of Kiev. She is now spending her summer vacation in Seoul, helping her dad at the embassy. This is her third visit to South Korea.
Country Profile: Ukraine
Ukraine gained independence after the collapse of the Soviet Union in 1991. Sandwiched between Russia and Europe, it tries to keep on good terms with both.A significant minority of the population are Russians or use Russian as their first language but Ukraine has largely been free of the ethnic conflicts which have dogged some other former Soviet republics. The country's first president, a former Communist Party official, Leonid Kravchuk, presided over a period of economic decline and runaway inflation. He was narrowly defeated in the 1994 presidential election by Leonid Kuchma, who advocated closer ties with Russia.
OVERVIEW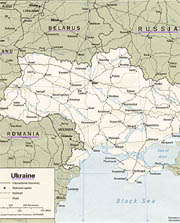 The economy continued to fare badly under President Kuchma who became embroiled in a series of stand-offs with parliament and failed to push ahead with economic reforms. Corruption is a major problem and investors have been wary. However, the new millennium has brought economic growth for the first time, with rising industrial output, improving exports and falling inflation. Throughout the last decade Ukrainian foreign policy has played a delicate balancing act between the West and Russia It played an active part in Nato's Partnership for Peace programme and has declared EU membership to be a strategic objective. In May 2002 it announced that it intended to abandon neutrality and apply formally for Nato membership. The alliance has welcomed the bid but says that further political, economic and military reforms are needed before it can be successful. Nevertheless, Ukraine has sent over 1500 peacekeepers to Iraq as part of the stabilization force led by Poland, a NATO member, and has also contributed troops to peacekeeping operations in Kosovo and Afghanistan. Millions continue to suffer as a result of the 1986 nuclear accident at Chernobyl, during which about 8% of the country was contaminated. Crimea is an autonomous republic within Ukraine. It was transferred from Russia in 1954.
FACTS
Population: 48.5 million (UN, 2003)

Capital: Kiev

Area: 603,700 sq km (233,090 sq miles)

Major languages: Ukrainian (official), Russian

Major religion: Christianity

Life expectancy: 65 years (men), 75 years
(women) (UN)

Monetary unit: 1 hryvnya = 100 kopiykas

Main exports: Military equipment, metals, pipes,
machinery, petroleum products, textiles, agricultural
products

GNI per capita: US $780 (World Bank, 2002)

Internet domain: .ua

International dialling code: +380LEADERSPresident: Leonid Kuchma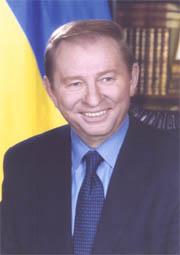 President Leonid Kuchma

A former director of the world's largest missile plant, Leonid Kuchma was first elected in 1994 on a promise to introduce market reforms and boost ties with Russia. He was slow to push ahead with economic changes and constant wrangling with parliament delayed reform still further. Since his re-election in 1999 for a second five-year term, the economy has shown signs of recovery. However, questions remain over Mr Kuchma's commitment to reform and he has survived calls for his resignation. The president has consistently denied allegations of involvement in the killing in 2000 of journalist Georgiy Gongadze, who had been critical of his administration. He also rejects opposition accusations of displaying dictatorial tendencies in his leadership style. Presidential elections are due in October 2004. Following a ruling by the Constitutional Court, President Kuchma has the opportunity to run for a third term, although he says he does not intend to do so. Mr Kuchma is engaged in a complex constitutional reform battle with the opposition which accuses him of seeking to manipulate the constitution in order to keep hold of the reins even when he is no longer president. Mr Kuchma insists that reform is needed to bring Ukraine more into line with European neighbours. Under a previous Constitutional Court ruling, Mr Kuchma will be immune from criminal prosecution for as long as he remains in office.
Prime minister: Viktor Yanukovych

Foreign minister: Kostyantyn Hryshchenko

Interior minister: Mykola Bilokon MEDIAMany Ukrainian media outlets are privately-owned but this does not prevent the government and authorities from trying to influence their output.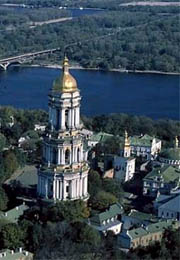 Kiev, capital of Ukraine

While the authorities attempt to keep the media in line, Ukraine still has a significant — albeit struggling — opposition media. The Kuchma government has seen the closure of several opposition papers. However, the range of opinions represented in the national press suggests that the printed media enjoy much more freedom than TV and radio stations. Several journalists investigating high-profile crimes have died in mysterious circumstances. Journalist Georgiy Gongadze disappeared in 2000, his body was found and eventually identified a year later. In 2002 the media watchdog Reporters Without Borders reported that 10 journalists had died in suspicious circumstances in the last four years. Ukraine's commercial TV networks, particularly Inter TV and Studio 1+1, attract the lion's share of the viewing audience. The FM radio band in Kiev is busy, with more than 20 stations competing for listeners.The press

Fakty i Kommentarii - mass-circulation daily

Silski Visti - daily, popular among rural readership

Vecherniye Vesti - mass-circulation daily

Segodnya - mass-circulation daily

Kievskiye Vedomosti - daily

Kyiv Post - English-language daily

Den - daily, English-language pages

Zerkalo Nedeli - political weekly, English-language
pages

Ukrayinska Pravda - online news, English-language
pagesTelevision

National TV Company of Ukraine - state-run,
operates UT1, UT2, UT3 networks

Inter TV - national, commercial

Studio 1+1 - national, commercial

STB - commercial

Novy Kanal - commercial

ICTV - commercialRadio

National Radio Company of Ukraine - state-run,
operates UR1, Promin, Radio Muz networks

Russkoye Radio - commercial

Europa Plus - commercial

Hit FM - commercial

Nashe FM - commercialNews agencies

Interfax-Ukraine - English-language page