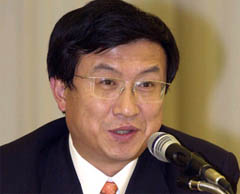 Ruling Uri Party Chairman Shin Ki-Nam
The powerful chairman of South Korea's dominant Uri Party, Shin Ki Nam, resigned Thursday after disclosures that his father was a collaborator during Japan's occupation of the Korean Peninsula from 1910 to 1945. Shin's resignation underscored how Japan's quest for military domination in the early 20th century remains a powerful memory in Asia. It is history that is alive in the minds of Japan's neighbors and that has, in recent months, become the flash point for a number of anti-Japanese incidents in China and South Korea. In South Korea, where nationalism is on the rise as the governments in the communist North and capitalist South engage in a broad rapprochement, President Roh Moo Hyun marked Liberation Day Sunday by announcing plans to form a legislative commission to investigate Koreans who benefited under Japanese rule. The commission would also probe those who gained under the U.S.-backed military dictatorships that governed South Korea before democracy was restored in the 1980s. Roh's move was viewed by some analysts as partly designed to undermine Park Geun Hye, the head of South Korea's main opposition Grand National Party (GNP) and the daughter of longtime dictator Park Chung Hee. Her father, assassinated in 1979, had earlier served as a junior officer in the Japanese military. But instead, the announcement backfired on the Uri Party, allied with Roh, which won control of South Korea's national assembly in April. After the unveiling of Roh's plan, allegations quickly surfaced in the South Korean news media that Shin's father had served as a military police officer under the Japanese and had done the occupier's bidding. Shin initially denied the allegations and refused to resign, then acknowledged the reports were true. Pressure mounted on him this week to step down, and he succumbed Thursday with an emotional resignation and apology to Korean independence fighters.
| | |
| --- | --- |
| | Park Geun Hye, chairwoman of S. Korea's main opposition Grand National Party (GNP). Park served as de-facto first lady after he mother was assassinated during the authoritarian rule by his father Park Chung-Hee. |
"I am now leaving the party chairmanship that you have given me so as not to injure the determination to clear up the history of Japanese collaboration," Shin said at a news conference. "I still find it shocking and difficult to believe details of recent reports about my father." Some South Koreans have asserted that a broad investigation into those who collaborated with the Japanese, and with the subsequent homegrown military rulers who ushered in dramatic economic advances at the expense of human rights, would amount to a witch hunt of the nation's upper classes. Many of the prominent families that have prospered over the past century are believed to have had at least some ties with the occupiers, the dictators or both. Park said Thursday that her conservative GNP would endorse the proposed commission only if it also investigates South Koreans who have engaged in pro-North Korean activities. The GNP has accused some of Roh's advisers, as well as several leaders in the Uri Party, of being Pyongyang sympathizers. "The committee will have to bring to light who defended the country in the Korean War, who suffered from the atrocities done by the invasion, who defended the nation and who threatened national security in the showdown period between communism and liberal democracy," Park told reporters in Seoul. Shin's resignation highlighted lingering memories in the region of Japan's past aggressions. Some of Japan's neighbors have become increasingly uncomfortable with a new debate here over a proposed revision to this nation's pacifist constitution — one that would allow more flexibility in deploying military forces to global hot spots. U.S. Secretary of State Colin L. Powell recently spoke out in favor of such a change, and the government has already taken a bold step by dispatching noncombat troops to Iraq in Japan's largest military-related operation since World War II. That has riled some in the region. Last week, anti-Japanese passions flared in China during the Asian Cup soccer championship there. Chinese fans booed and heckled the victorious Japanese team. Violent anti-Japanese protests included flag-burning demonstrations and an attack on a Japanese diplomat's car.
The above article is from The Washington Post.