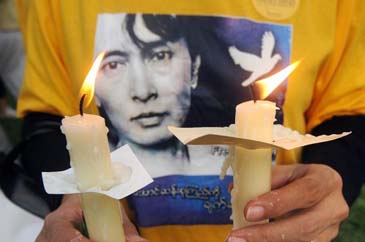 A pro-democracy demonstration in Berma
A group of pro-democracy parliamentarians from various Asian countries have emphasized for a free and fair Burma elections duly monitored by a team of impartial international observers and not "under the fraudulent Constitution of 2008."The group consisting parliamentarians from India, Nepal, Singapore, England, Burma (Myanmar) and Tibet, was also unanimous that all political prisoners must be released unconditionally and stop the ongoing violent repression against ethnic groups and political opponents of the military regime, before the proposed general election in 2010.In a Consultation meeting of Parliamentarians' Solidarity for the Struggle of Democracy in Burma on Nov. 27, 2009 in the Indian capital, they also urged to pave way for enabling all stakeholders to participate in planning for and setting the ground rules for the forthcoming election.Organized by the Indian Parliamentarian's Forum for Democracy in Burma, the meeting in the resolutions say, "The Burmese military junta is tearing the Burmese society asunder by promoting ethnic strife and has launched a brutal offensive against various ethnic communities under the guise of combating armed resistance groups which is resulting in large scale human rights violation of the civilian population."The group opined that 'the Constitution of 2008 under which the military regime intends to hold the 2010 elections is a travesty of democracy and will only reproduce a repressive regime'.However, it added, 'the new found desire of the military regime to seek legitimacy from the international community provides us a window of opportunity to mount greater pressure on the dictatorial regime' and hence they appealed ' the International community to impose a global arms embargo against the Burmese military regime and use all possible influence on the Burmese military regime to free the unquestioned leader of the Democracy Movement, Aung San Suu Kyi and enter into a comprehensive dialogue with her as a first step towards restoration of democracy in Burma'.Commenting that 'thousands of political prisoners are still languishing in Burmese jails without trial and many more thousands have been done to death', the group specially urged New Delhi saying, "India as a neighbor and the largest democracy should have a comprehensive policy on Burma that strengthens the forces of democracy in the country."The appeal from the group, which is endorsed by Charles Chong (MP and Vice Chair, ASEAN Inter Parliamentary Mynamar Caucus, Singapore), Chandrika Yadav (Chief Whip of MPRF, Nepal Parliament), Baroness Barbara Cox (MP, British Parliament), Dr Tint Swe (MP-elect of NLD,
Burma and Information Minister, National Coalition Govt. of the Union of Burma), Rev. Achariya (M.P. of Tibetan Parliament in Exile) with Indian MPs D. Raja, Chandan Mitra, Brinda Karat, Sharad Joshi, Thomas Sangma etc, concluded appealing New Delhi 'to join and actively engage with ASEAN and UN in finding ways to urge Burmese SPDC leaders to pave the way for genuine democracy in Burma'.