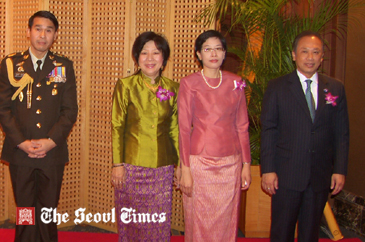 Thai Ambassador to Seoul Theerakun Niyom (right) poses for camera while receiving guests at its National Day ceremony held in a Seoul hotel on Dec. 4, 2009.
On the occasion of the 82nd anniversary of Thai King Bhumibol Adulyadej's birthday, Ambassador Extraordinary and Plenipotentiary Theerakun Niyom of the Kingdom of Thailand to South Korea hosted a gala reception at Lotte Hotel in downtown Seoul on Dec. 5, 2009.The dinner reception brought together more than 300 well-wishers of local Koreans and Thais from the Thai community in the nation. Scores of top foreign envoys, local Korean politicians, businesspeople, and journalists were also invited.Buddhist monks of both South Korea and Thailand were present among the guests.The high-level foreign diplomats included Pakistani Amb. Murad Ali, Brunei Amb. Dato Haji Harun Ismail, French Amb. Elisabeth Laurin, Deputy Head of Mission Fabricio Perez-Cadalso of Honduras Embassy, and Iranian Amb. Mohammad Reza Bakhtiari.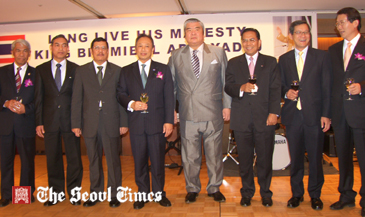 Thai Ambassador to Seoul Theerakun Niyom (4th from left) poses for camera with other foreign envoys at its National Day ceremony held in a Seoul hotel on Dec. 4, 2009.
Amb. Niyom started the festivities with a welcoming address to send a congratulatory message to King Bhumibol Adulyadej. He said that December 5th is an auspicious day and hopes for his majesty's longevity. He wished all attendants' prosperity and success in the future as well.After delivering welcoming speech, Thai Amb. Theerakun Niyom suggested a toast in front of the invitees to celebrate Thai King Bhumibol Adulyadej, world's longest-reigning monarchy with 63 years on throne.As an opening ceremony, a Thai student studying in Seoul performed a traditional folk dance in a traditional Thai costume, and amused the spectators in the function.A military band from US Army's Second Infantry Division played jazz music, making the reception all the more entertaining.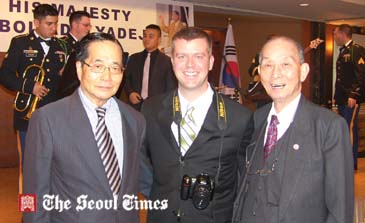 Chairman Yun Ik-Han (left) of The Seoul Times poses for camera with a member of US Army's Second Infantry Division's band. At right is Chairman Lee Sang-Seoul of Sakang International Cooperatin Institute.
The Kingdom of Thailand maintains official diplomatic relations with both South Korea and North Korea. Thailand opened diplomatic ties with Seoul on Oct. 1, 1958 and with Pyongyang in May, 1975.Although official diplomatic relations between Thailand and South Korea were set up in 1958, unofficial bilateral ties started earlier.During the Korean War (1950-53) Thailand dispatched to South Korea the fifth largest troops only after the US, Great Britain, Canada, and Turkey. It sent a total of 6,326 soldiers to fight alongside South Korea against North Korean Communist invaders.A total of 1,273 Thai soldiers were either killed, wounded, captured as POWs during the fratricidal Korean War. Under the UN flag a total of 16 nations sent troops to aid South Korea during the conflict.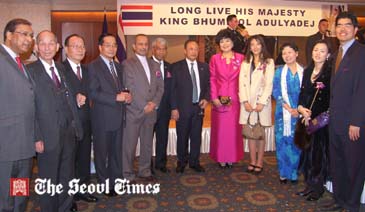 Thai Ambassador to Seoul Theerakun Niyom (6th from right) poses with dignitaries at Thai National Day reception held at a Seoul hotel on Dec. 4, 2009.
Overall bilateral relations have been stedily developing since opening of the official diplomatic ties in 1958. A trade agreement was signed in 1961.Since then mutual cooperation and exchanges have been rising in nearly all spheres of trade and economy, tourism, culture, and science and technology.The bilatral trade volume rose to 10. 53 billion US dollars in 2008, a 27.33 percent increase from the previous year.Major exports of Thailand to South Korea are crude oil, rubber, electronic integrated circuits, and automatic data processing machines in the order of trade volume.In return, major import items of Thailand from South Korea are iron and steel products, chemicals, machinery and its parts, and electronic products.As of the end of 2007, South Korea's foreign direct investment to Thailand amounted to 1. 2 billion US dollars, becoming the 6th largest investor to the tropical nation.Such South Korean business giants as Hyundai, Samsung, HyoSung, POSCO, Dongbu Steel, and LG Display are currently operating in Thailand. Approximately 25,000 South Koreans are living in Thailand.For more details and inquiries contact the Embassy of Thailand in Seoul at 790-2955 or 790-0095.