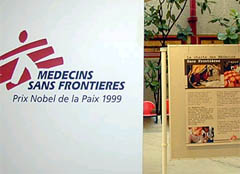 It might be that one of the worst blows ever delivered to our fragile system of international law and order was carried out a few months ago when, on June 2, 2004, five members of a Medecins Sans Frontieres (Doctors Without Borders) team were murdered in northern Afghanistan.The Taliban has claimed responsibility for those deaths. Yet, given the media's fascination with all that happens in Iraq, and their focus on the U.S. presidential elections, this event received far too little attention, as does the steady collapse of law and order in Afghanistan itself.Indeed, these assassinations, and the subsequent withdrawal of Medecins Sans Frontiers (MSF) from Afghanistan, could have a far-reaching effect.To understand why, it's necessary to comprehend MSF's importance in world affairs. This extraordinary organization was founded in 1971 by a group of French doctors to provide emergency medical assistance in wartime and in crisis areas. Currently, it has about 2,500 volunteers including doctors, nurses and technical support, joined by roughly 15,000 local staff across the globe. MSF, active in 80 countries, goes into places where angels fear to tread.Being one of the first non-governmental organizations to go into troubled zones such as the western Sudan MSF draws international attention to burgeoning crises. It will also go into countries after the fighting is over to pick up the pieces, so to speak. MSF is usually welcomed by all sides in a dispute or a famine because its intentions are so transparent to bring medical services, food supplies and sanitation. Its charter proudly states that its volunteers "are aware of the risk and dangers of the mission they undertake, and have no right to compensation for themselves or their beneficiaries other than what Medecins Sans Frontieres is able to afford them."While MSF strives to avoid taking sides, it is not bound to political neutrality in word and deed, like the International Committee of the Red Cross. For example, in 1999 the same year that MSF was awarded the Nobel Peace Prize the group's chairman openly appealed to Russian President Boris Yeltsin to stop bombings of civilians in Chechnya.Before announcing its decision after much agonizing to withdraw its 80 foreign volunteers from Afghanistan and dismiss its 1,400 local staff, MSF had worked in the country for 24 years. The group had become famous decades earlier by bringing medicine to stricken Afghan communities by packhorse and mules.It is hard to read about this withdrawal without losing a tear. And, as I write this piece, the word comes in that MSF is scaling down its work in neighboring Pakistan because of worries of imitation attacks.So, here are two poor and populous countries in great need of the MSF's unselfish work that are now made to suffer from calculated extremist attacks. And other relief organizations are also considering pulling out of Afghanistan. Overall, 30 relief workers were killed in Afghanistan during the first six months of this year. Why can't this be headline news?That, alas, is not the worst of it. The MSF deaths, and the organization's decision to withdraw from Afghanistan, point to two large questions regarding international peace and security in the 21st century.The first question is whether any international relief organization (devoted to human rights, women's issues, the environment, child-care) that has its headquarters in New York, Paris, Geneva, or Vienna can avoid the suspicion that it is just another form of Western intrusion in a troubled land and thus be denounced and attacked by malcontents. Are not German religious and relief workers in distraught Kosovo part of a NATO plot? Is not the news that Tony Blair has asked the British chiefs of staff to prepare plans to send a military contingent to Darfur to stop the dreadful genocide just another demonstration of the West's continuing imperialistic ambitions?To many of us, these seem totally absurd suspicions. Yet, when one learns of MSF's complaints that the U.S. military had badly mixed its role in Afghanistan with those of the civilian aid groups by distributing relief to communities that would offer intelligence and also by sometimes wearing civilian clothes one cannot be completely surprised at the local response, even if carried out by deliberate extremists.This leads to the most disturbing question of all: Can the United Nations, the great and small powers that are central members of it, and the agencies that report to and support it maintain the current assumption that a distinction can be made between its "hard" work (peace enforcement, Chapter Seven operations, eliminating rogue states) and its "soft" work (rebuilding economies and helping the distressed, wounded, displaced and other victims of conflict and disaster)?In most past peace-keeping operations, that was a reasonable assumption. Local antagonists would be very willing, as in Mogadishu in 1993, to damage the U.N.'s (or the delegated U.S.'s) armed forces. But neutral, philanthropic and church-based organizations on the ground were rarely assaulted. That is no longer the case. Why? The answer is perfectly plain. For some years now, scholars in what is called the "security community" (i.e. those who think about war and peace) have been discussing the problem of asymmetrical warfare.The logic chain goes like this: The United States is in such a dominant position in terms of traditional military power (right now, it may well be spending one-half of the world's total defense expenditures) that its various foes are not going to attack it in a Battle of Midway manner, big fleet against big fleet.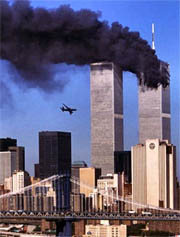 World Trade Center building on Sept. 11, 2001
No, they will attack the United States in a sneaky, underhand way, as in 9/11. They will attack the U.S.'s weak points, not its strengths. This is why there are large cement blocks outside the New York Stock Exchange and checks on trucks going up and down the coasts, and why people take off their shoes at airports. This is why the United States is demanding that its new embassy in Berlin be in an area totally open on all sides (never mind the historic district that will be obliterated).But abroad, generally, and in the Middle East, in particular, where both the present U.S. administration and its Democratic contenders maintain that America has vital interests, the asymmetrical attacks are coming to us in a much subtler way, as the deaths of the five MSF volunteers prove.Our enemies, while still doing daily battle for Fallujah, keep conjuring up new ways to hurt us. Why not also blow up a gas line? Why not kill Turkish truck drivers? Why not destroy men lining outside an Iraqi police station in hopes of recruitment? Above all, why not hit the "soft" parts of the international system? Why not bomb the U.N. headquarters in Baghdad and kill lots of outstanding people, including that remarkable ambassador for peace, Sergio Vieira de Mello? After you have done such a terrible crime, why not indeed kill a Medecins Sans Frontieres team? What could the next boundary of atrocity be? How far can this madness go? A nursing home in Chicago? There are no answers to such questions that, for me, carry any surety. And I am left, sadly, with John Donne's immortal poem about troubled times, and whose title is the headline of this humble piece. "No man is an island, entire of itself," wrote Donne. All of us, not just in Asia and the Middle East, are going to feel the pressures described above. Not even the United States of America these days can escape Donne's words. Therefore, do not ask for whom the bell tolls. It tolls for thee.