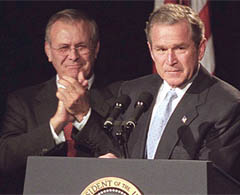 George Bush (right) with Donald Rumsfeld
NEVER before in the recent dossiers of American foreign policy has so small a group of neo-cons wreaked so much damage and divided so many in so short a space of time. Could this be the epitaph of a one-term Bush presidency? Now that the Iraq war has proved to be an unmitigated disaster of unintended consequences for President George W. Bush's unilateralism, one proposition is for Americans to start anew by changing their leader. This is something only American voters can decide in November's presidential election. Mr. Bush's foreign policies had divided "new" and "old" Europe, in US Defence Secretary Donald Rumsfeld's parlance, just as they stirred controversy among Asians. Like their European counterparts, Asian policy-makers are forced to make a stark choice. They were either "for" or "against" the Bush administration's policies on Iraq. There is no middle way, even for Americans themselves. This week, yet another group — this time comprising former senior US diplomats and military leaders — felt compelled to openly condemn President Bush's foreign policies for making the US more isolated and less safe, and damaging its standing in the world. The trouble with the Bush administration's policies is that its good intentions had often paved the way to hell. The fact is that the world has become a much more dangerous place after the invasion of Iraq because Mr. Bush went after Saddam Hussein, who proved to be a paper tiger with neither weapons of mass destruction nor terrorist links, instead of the true enemies — Al Qaeda and Osama bin Laden. All this makes the Bush administration's policies controversial. Worse, the impact can be negative even when they make sense. Take shipping security in the narrow Malacca Strait, one of the busiest waterways through which a quarter of the world's trade and half the world's oil passes each year.
A C-130 Hercules aircraft from the Japan Air Self Defense Force lands at Yokota, to assist U.S. military airlift missions in the Pacific during Operation Freedom Lift. At the request of U.S. Pacific Air Forces, two C-130s from the 401st Tactical Airlift Group from Komaki Air Base.
US Air Force Photo
The deep distrust in Kuala Lumpur and Jakarta over Washington's policies diminishes the prospect of any US move to improve security and forestall terrorist attacks in the Malacca Strait, where piracy is rampant and difficult to police. Given the limited resources of the littoral states, Malaysia and Indonesia can benefit by working closely with the US. Yet Washington's unpopularity and the prevailing anti-America sentiments in the Islamic world effectively limit such cooperation. Malaysian Deputy Prime Minister Najib Tun Razak said "a foreign military presence will set us back in our ideological battle against extremism and militancy." US military presence in the Malacca Strait "would trigger public anger and breathe new life into terrorist groups," he warned. True or not, the message is that America is not welcome, even when there is clearly a role it can play in safeguarding maritime security. But Mr. Najib did not entirely close the door to Washington. He said: "We should definitely expand our cooperation with the US and others, in terms of acquiring and sharing quality intelligence, collaborating on the latest intelligence techniques and working together to choke the financial and logistics networks of terrorist groups." The US Pacific Fleet commander Adm. Thomas Fargo will be visiting Kuala Lumpur for talks later this month.Like it or not, the Bush administration has to live with the reality of a two-faced policy in Islamic countries as a fallout of the Iraq war and its Middle East policies. Working on the premise that prevention is better than cure, Singapore has urged Malaysia and Indonesia to join hands with the US in meeting the threat of maritime terrorism in the Malacca Strait.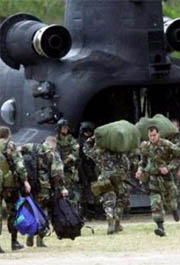 US soldiers in S. Korea
But the two countries, cool to the proposal, choose instead to dwell on sovereignty, maintaining that the strait's security is solely a matter within their national jurisdiction. Because of this, Washington has back-pedalled on its Regional Maritime Security Initiative, which entails joint action to combat terrorism, piracy and trafficking in people and drugs.Indonesia's attitude is telling. "These types of proposals should be initiated and led by countries of the region," its foreign ministry spokesman said. "We are keen to avoid the impression that ours is a region in need of dire help, one that needs an external fire brigade to put out our fires for us. We are not that desperate." Indonesia, which wants to set up an ASEAN Security Community, clearly sees itself, not the US, playing a key role in Southeast Asia. In any case, US credibility has suffered on account of the Bush administration's undisguised support for Prime Minister Ariel Sharon in the Israeli-Palestinian conflict. Ironically, the Middle East road-map which the US helped to draw is in tatters because of this. The central flaw in Mr. Bush's initiatives stems from his unilateralism and handling of the Arab-Jew conflict. He alienates when he should coalesce. What makes the Bush White House particularly dangerous is its self-righteous conviction that everything it does is justified in the war against terror. The consequences, highlighted by the Iraq invasion, have become the divisive issues of American foreign policy. US Deputy Secretary of State Richard Armitage, speaking at the Australian American Leadership Dialogue in Washington on June 11, said: "We're both Asian powers with a common stake in the future of an Asia that is prosperous, democratic, and increasingly at peace.""We're destined for partnership, in Asia, in the Middle East, and in a whole host of challenges and opportunities that defy narrow geographic definition." Pity this is true only for Australia. America under the Bush presidency has far fewer friends today than it had after the Sept. 11 attacks. America badly needs to rebuild a new global alliance through the United Nations. Mr. Bush lately realized that he had to change course, like enlisting the UN's diplomacy, as part of his exit strategy from Iraq. Despite the Bush administration's unpopularity, its commitment to stay engaged in Southeast Asia is palpable. This is evident from its close collaboration with Singapore, and its allies — the Philippines and Thailand — both of which designated major non — NATO allies, a status which gives them privileges in the acquisition of US military hardware.Despite opposition from the anti-America leftist groups in the Philippines, President Gloria Arroyo has struck a deal with Washington to let US troops "train" Filipino forces to fight Muslim separatist rebels in the southern Philippines.Japan, which hosts 50,000 American troops, has upgraded its collaboration with the US since Sept. 11 to deal with terrorists as well as the threat of North Korea's intercontinental missiles and nuclear programme. Tokyo's defence stance has undergone a profound change. New laws will give the US access to Japanese facilities such as seaports and airports. At any rate, Japan's move to deploy an anti-missile defence system in an uncertain security environment is best done in collaboration with the Americans. This will help to allay the fears and suspicions of its Asian neighbours. Washington's decision to cut by one-third its 37,000 troops stationed in South Korea won't change the military balance on the Korean peninsula. Which is why it has caused few ripples in east Asia. To be sure, China is not disinterested. As long as Beijing reckons it can count on the US to rein in Taiwanese President Chen Shui-bian's quest for independence, tensions in the Taiwan Strait can be managed and war averted. As long as Washington is preoccupied with Iraq and needs Beijing's help to rein in North Korean President Kim Jong-Il, the quid pro quo holds. Will US military commitment in Asia be drawn down drastically to leave it exposed with the global redeployment of its troops? Not if the Pentagon's revised strategy — putting greater reliance on mobile forces armed with superior weapons and technology — is to be believed. What the Americans want is access to facilities rather than establishing huge military complexes like the ones they once operated in Subic Bay and Clark Air Base in the Philippines. Singapore, a staunch believer in strong US military presence as a force for stability in Asia, provides logistical support. The Americans are also eyeing their former naval base in Cam Ranh Bay but the Vietnamese are coy about this even though the first US warships sailed into Ho Chi Minh port recently for the first time since the end of the Vietnam war. As long as the US remains a benign superpower, Asian acquiescence is expected. But more than this, its strong military presence helps to shore up regional stability. Far better an America which remains deeply committed to Asia than one which vacillates and temporizes. A giant with feet of clay can neither serve its own strategic interests nor ensure the peace in Asia.